APR Energy plc (OTCPK:APRYF) (OTCPK:APRYY) operates in the same market as its five times larger competitor Aggreko plc (OTCPK:ARGKF). For an analysis of the basic economics and market characteristics please refer to my article on Aggreko, specifically my analysis of Aggreko's Power business.
APR currently trades below its book value and analysts are forecasting strongly growing earnings for the years ahead, while they are far more pessimistic for Aggreko. So let's try to understand whether APR really offers better value.
Differently from its larger and older peer (Aggreko is 50 years old, while APR was founded in 2009), APR has no local rental business and focuses solely on large projects:
Rapidly delivered, large-scale power projects are our sole focus. Our business model is based on selling the capacity for power generation as well as the power itself. APR Energy installs, owns, operates, and maintains its power plants, providing the customer with a complete turnkey solution. Through this approach, APR Energy helps customers by rapidly deploying the power capacity to address their supply gaps without requiring the customer to fund the up-front capital investment. (Source)
According to Aggreko, APR has a market share of about 21%, with Aggreko itself holding 45% of the Power Projects market. In order to properly understand the most important differences between these two service providers, we have to delve deeper into the technological specifics of their respective offers.
Like Aggreko, APR offers diesel and (few) gas reciprocating power modules. The key difference here is that APR has a global framework agreement with Caterpillar (NYSE:CAT) and sources its power modules exclusively from there. Aggreko, on the contrary, builds its own reciprocating modules and claims to have a far lower cost base per MW of capacity. Aggreko also offers HFO generators, which have a far lower power generation cost than diesel generators (although still much higher compared to gas).

But 56% of APR's business comes from mobile turbine power, which Aggreko does not offer at all.
As the world's leading provider of fast-track mobile turbine power, APR Energy uses some of the most rapidly deployable and reliable mobile gas turbine technology in the market today. […] A key advantage of a mobile turbine solution is the fuel flexibility it brings, with the ability to switch seamlessly between diesel and natural gas. Mobile turbines also produce significantly less emissions than reciprocating engine solutions, making them a good fit for environmentally conscious customers and developed markets with stringent regulatory controls. APR Energy's mobile turbine fleet features the GE TM2500+™. The power-dense turbine is capable of producing up to 30MW of power - the equivalent of approximately 18 - 30 diesel or gas reciprocating generators - and is quick to dispatch, achieving full power in less than 10 minutes. The TM2500+ can be easily transported anywhere in the world and set up on a significantly smaller footprint than an equivalent-MW reciprocating generator plant. Through our strategic alliance with GE, a world leader in turbine technology, APR Energy has access to the fleet and technology needed to grow into the long-term.
But why does Aggreko stay away from turbines?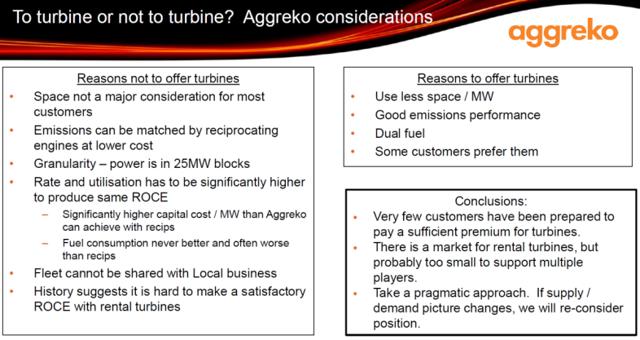 Click to enlarge
So this looks like it is all a matter of ROCE. Historically, Aggreko has achieved ROCE ratios far north of 20%. This is not the case of APR: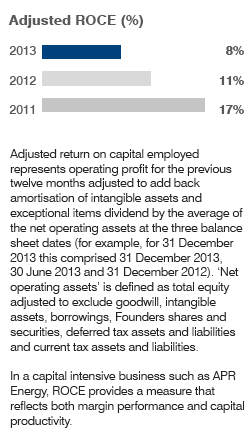 Although APR uses a different (and more favourable) formula to calculate ROCE, its profitability seems to be far lower than Aggreko's.
Let's take a look at comparable data sets:
| | | | |
| --- | --- | --- | --- |
| | 2011 | 2012 | 2013 |
| Aggreko (£m) | | | |
| Total assets | 1,772 | 2,124 | 1,975 |
| Sales | 1,396 | 1,583 | 1,573 |
| EBTA | 328 | 365 | 338 |
| | | | |
| APR ($m) | | | |
| Total assets | 1,191 | 1,373 | 2,172 |
| Sales | 165 | 266 | 308 |
| EBTA | 14 | 53 | 36 |
| | | | |
| Aggreko RoS | 23% | 23% | 21% |
| APR RoS | 8% | 20% | 12% |
| Aggreko RoA | 19% | 17% | 17% |
| APR RoA | 1% | 4% | 2% |
So Aggreko definitely seems to be right: It is hard to make decent returns on rental turbines. APR's profitability ratios are abysmal. Even considering the wildly optimistic consensus forecasts, APR's projected ROE in 2016 would stand at 9%, while Aggreko has historically achieved returns on equity between 20 and 30%. So there is a reason for APR trading below book value.
Now let's take a look at cost per MW, which is the most important factor to consider in this commodity business. If a company can build its power generation capacity at the lowest cost per MW, it enjoys strong competitive advantages, as it can undercut all its competitors when it comes to pricing.
| | | |
| --- | --- | --- |
| | Aggreko | APR |
| Total fleet capacity (MW) | 9,500 | 2,074 |
| Original cost (£m) | 1,960 | 613 |
| Cost per MW (£) | 206,316 | 295,660 |
(APR $ figures have been converted into £ at current exchange rates.)
When comparing these figures, we have to take into account that Aggreko's fleet includes a huge number of smaller generators for the local rental business, which probably have a far higher cost per MW than large scale power generators. So probably, if we could compare only Aggreko's Power segment to APR, the cost difference would be even higher.
Conclusion
There obviously is a market for turbine power. It can be deployed very fast, requires less space per MW, can be more reliable and has low emissions. So there certainly are customers that prefer to use turbines, but the market may be too small for multiple players. However, in order to stay competitive, APR can't raise prices too much, otherwise its clients would likely switch to Aggreko as the low-cost provider. This indicates that APR's returns on capital will probably stay low, despite the new alliance with GE. Aggreko's larger scale and in-house manufacturing capabilities result in a far lower building cost per MW of power generation capacity and constitute a very strong competitive advantage.
Valuation
All this must not mean that APR at current prices can't be a buy. At a certain price every stock becomes a bargain. APR currently trades at about $13.2 per share, which is less than 12 times projected 2014 EPS or about 10 times projected 2015 EPS. This is certainly not a very demanding valuation. But is the stock really worth more? We have to keep in mind that the business to a great extent relies on emergency events, has very tough economics and a ROE below 10% certainly does not warrant premium multiples.
After all, the valuation question boils down to how fast turbine power will grow. Considering its most important advantages - fast delivery and installation and semi-permanent technology, which can be integrated seamlessly into existing power plants - turbine power demand will strive in cases of extreme urgency and when generation capacity shall be rented for a longer period of time. In this last case, however, pricing could become an issue. So I don't see turbine power endangering Aggreko's market position over the long term. And I don't see how to make the case for a significant and permanent multiple expansion for APR.
Where to trade
APR and the APR American Deposit Receipts trade very thinly on the OTC segment in the USA. Better liquidity is offered by the stock's home exchange in London (ticker APR).
Resources for further analysis:
Article on competitor Aggreko with basic information on industry dynamics
Disclosure: I have no positions in any stocks mentioned, but may initiate a long position in ARGKF over the next 72 hours. I wrote this article myself, and it expresses my own opinions. I am not receiving compensation for it (other than from Seeking Alpha). I have no business relationship with any company whose stock is mentioned in this article.
Editor's Note: This article discusses one or more securities that do not trade on a major U.S. exchange. Please be aware of the risks associated with these stocks.