In yesterday's article (located here) we highlighted a few names we saw as logical buyout candidates for the largest pharmaceutical companies. Today we woke up to a flurry of deals in the sector, but only one true merger, the other deals were acquisitions of specific segments. Some might say we embarrassed ourselves with yesterday's prediction as the next day a major acquisition is announced and none of our handpicked names were involved. We would disagree and instead insist that today's deals simply highlight the demand for deals that is out there.
Now we continue to believe that M&A activity will be strong in 2014, and today's deals helped a lot. We want to stress that the help is not just on the total deal value numbers increasing but the fact that the more of these deals which are done the more the animal spirits come out; and that drives deals and higher prices for those companies getting acquired.
Chart of the Day:
We have seen a nice bounce in the biotech index of the Nasdaq, and although we are bullish we are not all in at this time. Our thinking is that one should not have a complete position until after the move takes us above the 240 level.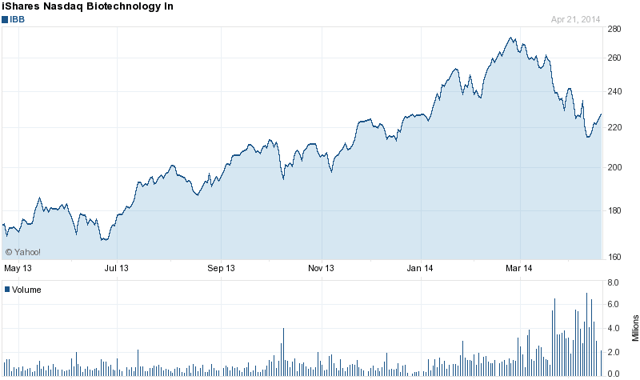 Source: Yahoo Finance
We have economic news today, and it is as follows:
FHFA Housing Price Ind (9:00 a.m. EST): Est: N/A Actual: 0.6%
Ex. Home Sales (10:00 a.m. EST): Est: 4.60M Actual: 4.59M
Asian markets finished mixed today:
All Ordinaries -- up 0.46%
Shanghai Composite -- up 0.34%
Nikkei 225 -- down 0.85%
NZSE 50 -- up 0.03%
Seoul Composite -- up 0.25%
In Europe, most markets are trading higher this morning:
CAC 40 -- up 1.26%
DAX -- up 1.84%
FTSE 100 -- up 1.19%
OSE -- up 2.06%
M&A Activity Heating Up
Bill Ackman's Pershing Square and Valeant Pharmaceuticals International (NYSE:VRX) have teamed up to buy Allergan (NYSE:AGN), best known as the maker of Botox. Under the terms of the deal, shareholders of Allergan would receive $48.30 in cash and 0.80 shares of Valeant Pharmaceuticals for each share of Allergan that they own. With the reaction from the market it appears that this deal will have little trouble getting passed and will also result in considerable annual cost savings, some $2.7 billion.
Valeant has been a great stock to own over the past five years, as the chart below indicates. With the company's tax situation and business plan, we like it over the next five years as well.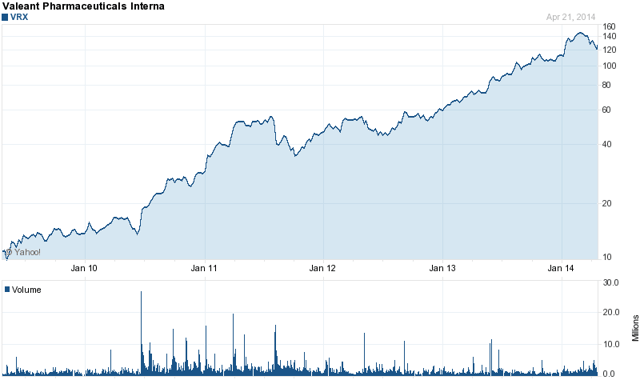 Source: Yahoo Finance
In yesterday's article we discussed larger companies being the acquirer, but this is a unique case as Pershing owns 9.7% of Allergan and will use Valeant (which is about the same size) to lower the company's tax rate due to its overseas domicile. Expect further acquisitions in the years ahead as Valeant's game plan is to become a top ten pharmaceutical company.
Other Pharma Deals
While Valeant plays Pac-Man, the larger players in the industry are fine tuning their portfolios as they seek to bulk up in certain fields in order to build lasting franchises. Novartis (NYSE:NVS) is active today with two deals that it announced, one with GlaxoSmithKline (NYSE:GSK) and another with Eli Lilly (NYSE:LLY).
In the first deal, Novartis is buying GlaxoSmithKline's cancer treatment business for $14.5 billion while selling most of its vaccine business (not the flu vaccines) to GlaxoSmithKline for $7.1 billion plus royalties. The two companies also announced that they will form a joint venture in consumer healthcare, a deal that we think could lead to a future spin-off down the road.
The second deal has Novartis selling its animal healthcare unit to Eli Lilly for $5.4 billion. All of these moves strengthen Novartis and their cancer division, solidifying their top three ranking. These deals remind us of kids trading baseball cards, which is fine, but we do expect to see continued consolidation on a larger scale as the world's largest pharmaceutical companies look to replenish development pipelines that have fallen behind their biotech brethren.
Disclosure: I have no positions in any stocks mentioned, and no plans to initiate any positions within the next 72 hours. I wrote this article myself, and it expresses my own opinions. I am not receiving compensation for it (other than from Seeking Alpha). I have no business relationship with any company whose stock is mentioned in this article.