With the growth of smartphones, companies such as Monitise PLC (OTCPK:MONIF) have begun to take advantage of this trend by developing mobile applications. Monitise is a British corporation that has an established presence in mobile banking and trades on the London Stock Exchange and the OTC Markets Group financial platform in the U.S., and its definitive strength in payment and commerce technology has successfully linked it to major financial institutions across the globe, such as Visa (NYSE:V), PNC (NYSE:PNC), MasterCard (NYSE:M), Standard Chartered, and Bank of China. As it is at the forefront of the mobile transactions industry, it is critical to examine its core strengths and analyze where it will go in the future. Its strong backing from its major shareholders, as well as the strength and potential of the mobile transactions industry make Monitise a lucrative growth investment for the long-term future.
The stock is currently trading at 1.05, and it has seen immense growth over the course of its history. With a market capitalization of only 1.9 billion, it is a small-cap company that with keen observation makes it a fantastic opportunity to capture for astute investors.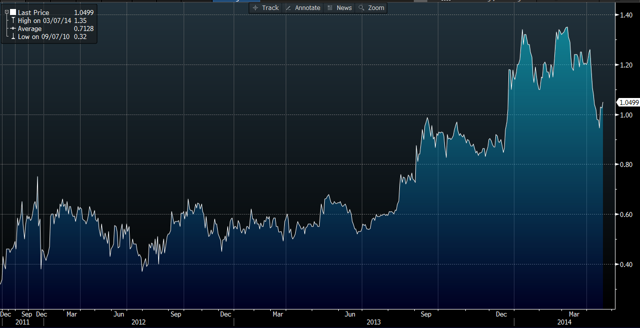 Click to enlarge
Investment Summary
The underlying idea of this investment is that the company exists in a sphere that will see exponential growth within the next decade. Smartphone growth continues to take place, which means that mobile banking will be a necessity for financial institutions around the world. Many financial institutions are already taking advantage of Monitise's products and services, and the company has formed strategic partnerships with Visa and MasterCard, which connects it to hundreds of millions of people. At the moment, the company remains small, but there is tremendous room to grow with the advancement of mobile devices and technology.
My recommended investment action for the company is that it is a growth buy. I am confident that the company will do well in the long term, as its range of products and services meet all of the demands in the mobile financial services industry. Mobile banking will continue to grow, and Monitise will become a major player in the future.
Business Description
Bank Anywhere - The Bank Anywhere product gives financial institutions the ability to have a unique and highly differentiated mobile banking experience for its customers. Monitise markets the product by highlighting its core strengths, including its rapid deployment of new mobile banking features, its monetization strategies for financial institutions, as well as its attractive capabilities, such as mobile banking deposits and bill pay. The product also has an underlying goal of reducing costs for banks, as it takes away the need for call centers by redirecting common support calls through its own interface. Regarding mobile deposits specifically, a 2013 study interestingly revealed that over 12 million users have used mobile devices to make banking deposits; this number is expected to grow to 30% of all smartphone users by 2016. Monitise's technology is immensely prevalent in new and existing mobile platforms, and Bank Anywhere is Monitise's attempt to create a fully-featured banking experience for those platforms.
Pay Anyone - Monitise creates a channel for point-of-sale transactions, bill payment, peer-to-peer transfers, and mobile wallet functionality through its Pay Anyone service. The company strives to facilitate transactions for consumers and merchants by creating a single experience that aims to drive transaction activity, increase customer value for financial institutions, and retain and acquire commercial customers. What is particularly interesting about this service is its link to one of Montise's major shareholders, Visa. Monitise has an application for Visa customers that offers similar functionality to PayPal by allowing the sending and receiving of payments through mobile numbers, card numbers, emails, and Facebook IDs. This is an attempt to bring together different segments of the World Wide Web, while also integrating the power and functionality that the mobile transactions industry has to offer.
Buy Anything - Buy Anything brings together the needs of customers and financial institutions by making the purchase of goods and services simple for both consumers and merchants. For banks, in particular, the product is able to drive revenue by cross-selling or up-selling bank relationship products, as well as offering complementary financial products retailed by the company's trusted third-party partners. What is special about Buy Anything is its ability to tie in loyalty and rewards programs into the mobile banking experience, which not only helps banks retain customers, but also entices users to continue using the service. Going forward, my prediction is that Buy Anything will become Monitise's largest segment, as the growth of smartphones and other mobile devices will lead to a greater boom for mobile transactions. We see this today with new products being released by Google (GOOG, GOOGL), Microsoft (NASDAQ:MSFT), and Apple (NASDAQ:AAPL) that introduce wallet functionality into their mobile devices. In the future, when you want to make a purchase, you will simply scan your phone, and this technology is the backbone of Monitise's Buy Anything service.
Engage Anytime - Last month, Monitise launched Engage Anytime, which is heralded as a next-generation consumer alerting and engagement solution for financial institutions. While existing mobile banking applications are capable of performing one-way alerts for its users, Engage Anytime and its Alerting+ technology can evolve those alerts into real-time, two-way conversations between consumers and their banks. This paves the way for revenue generation, customer retention, fraud reduction, and customer engagement. Greg Jacobi, senior vice president at Webster Bank, praises Alerting+ saying, "Alerting+ gives us a unique ability to connect with our customers beyond what any other alerting system can do, and communicate with them in real-time, developing two-way conversations that resolve critical account issues and help them manage their money more effectively." By evolving from simple one-way alerts and notifications, Alerting+ gives financial institutions the leverage to take advantage of mobile's full capabilities. My prediction is that with further advancement of artificial intelligence technology in phones, as evidenced by the development of Siri, Google Now, and Cortana, using mobile banking will engage users in a way similar to walking into a bank.
Industry Overview and Competitive Advantage
The internet has had a profound effect on society, and mobile technology and the growth of smartphones and tablet devices have given way for a new opportunity to arise for the banking industry to capitalize on. Sunil Gupta of the Harvard Business School estimates that over 900 million people are expected to transact $1 trillion in the global payments market by 2015. This is supported with the exponential increase in smartphones over the past decade, as global smartphone penetration has shot up from 5% of the global population to 22% from 2009 to the end of 2013. Regarding how this affects mobile banking, this makes the technology that Monitise offers very attractive, as smartphone growth has a direct correlation to the demand of mobile banking. Over 250 financial institutions are currently connected to the Monitise global platform, and the company has a worldwide reach that covers Europe, North America, Africa, India, and the Asia-Pacific region.
When inputted into a Bloomberg peer analysis spreadsheet, the only major competitor that appears for Monitise is Optimal Payments PLC, which is another company based out of the U.K., but is primarily concerned with the mobile transactions industry. With this in mind, Monitise is in the unique position to lead mobile banking through the different product suites that it offers. By taking advantage of smartphone growth across the globe and fully utilizing is acquisitions and strategic partnerships, the company is positioned well to grow in the future. Let's take a look at Monitise from the perspective of the Porter's Five Forces:
Threat of New Entrants - Moderate. Although mobile banking is an industry that will show immense growth and profitability in the long term, Monitise has little competition in its sphere today. The only reason I believe the threat of new entrants is moderate is because Monitise is still a very small company, making it difficult for it to overcome giants such as Google or Microsoft who could enter the field if they choose to develop their own mobile banking platforms. However, I think a more likely scenario would be for the company to be bought out. It already has a large number of strategic partnerships with financial institutions around the world, has the most advanced platform technology and network for mobile banking, and has a unique scalability that grows as the number of smartphone users grow. Warren Buffett described the competitive advantage of a firm as its economic "moat." These characteristics of Monitise form its moat that protects its business castle.
Threat of Substitute Products - Weak. Mobile banking is a necessity that will facilitate even more users as time goes on, and the platform that Monitise offers is already successful and implemented into the structures of many banks. There are very little substitute products in the mobile sphere that are related to what Monitise does or can replace what it has to offer. Bringing up the company Optimal Payments, which was discussed before, what they do, Monitise already includes in its full system, and Monitise has greater backing and support that will allow it to expand rapidly.
Bargaining Power of Customers - Weak. As mentioned before, Monitise already has a strong foothold with financial institutions, as the reason why financial institutions use Monitise in the first place is to increase its mobile banking exposure, while at the same time, cut costs. Furthermore, financial institutions will see their bargaining power continue to decrease as smartphone growth continues to expand. More and more mobile users will demand mobile banking capabilities, which necessitates platforms such as what Monitise has to offer.
Bargaining Power of Suppliers - Weak. Monitise operates its own distribution channel, as it creates mobile banking solutions for its clients. The main factor for affecting the bargaining power of its suppliers would be the demands of its labor.
Intensity of Competitive Rivalry - Weak. Few financial institutions are working to create their own platforms, and many of them are looking to Monitise for their mobile banking solutions. Monitise maintains a strong competitive advantage in the industry with the huge network that it already possesses, and the company is only looking to keep growing with new partnerships such as MasterCard.
Major Shareholders
The company's major shareholders, as of April 2, 2014, are Omega Advisors with 10.9%, Norges Bank with 7.6%, Visa EU with 6.6%, and Visa with 5.8%. Leon Cooperman, who manages Omega Advisors, has been bullish on Monitise for a long time. Last year, he stated that he believed the company would have over 100 million users by 2016, and it is important to note that Monitise's stock has more than doubled since then. Monitise is not Cooperman's largest investment. However, Cooperman does have a strong belief in the impact that mobile's growth will have on technology, as his largest investment is Sprint Corporation (NYSE:S).
Visa's stake in Monitise is noteworthy, as the direct effects of this partnership allows Monitise to make a significant investment into taking full advantage of Visa's large consumer base. By integrating Visa into its business model, it can help to improve Visa's mobile technology, and it has already done this through different project that it has been involved in over the past year. These projects include: functionality enhancements to the Visa DPS Mobile Card Management Services, a collaboration on Visa PayWave (contactless payments application), and support for V.me (mobile wallet for smartphones). As Visa is one of the world's largest financial institutions, Monitise can have a strong global reach with its partnership with the company.
Investment Risks
The main risk that is imposed on the company is, without a doubt, the partnerships that it has formed with major financial institutions. The strength and viability of the Monitise platforms relies on the contact that the company has formed with major banks and commercial merchants, and loss of contact with these partners can have a significant impact on the company's financial performance. However, Monitise attempts to mitigate this risk through its strong account management. It also plans on continuing to expand the reach of its partnerships by forming new collaborations, as evidenced with the partnership with MasterCard that was only recently established. As the mobile devices market continues to grow though, mobile banking will continue to see an increase in demand, which means that financial institutions will continue to rely on Monitise's products and services.
Other risks that are pertinent to the company are standard risks relevant to all technology companies, such as failure to keep up with new advancements and change, as well as operational and financial risks that inhibit the company's intrinsic skill and liquidity.
Recent News
In February, Monitise acquired Pozitron Yazilim, a privately-owned mobile technology company based in Turkey that delivers mobile banking, payments, and commerce solutions to businesses in the Middle East. This acquisition will help to grow Monitise's international exposure, which is already strong in Europe, North America, Africa, India, and the Asia-Pacific region.
In late March, it was announced that Monitise is looking to raise over $100 million in order to fund a shift towards a subscription-based model that would slow company growth. The company stated that it would offer over 160 million new shares, a tenth of the issued capital, to selected institutional investors and buyers such as MasterCard. The company's current business model is based off of licensing, which requires financial institutions to pay a large fee upfront, and the new subscription-based model is aimed to reduce costs and expand the company's consumer base. Furthermore, with MasterCard becoming a new major partner of the company, it is expected that Monitise will put as much investment into developing opportunities for MasterCard as it does for Visa. This will connect the company to even more mobile users around the world, as MasterCard is Visa's main competitor.
The company stated that it aims to increase its registered users from 28 million to over 200 million by June 2018, suggesting strong growth in the mobile banking network. With MasterCard and Visa now both major partners, the company has immense backing and support to expand its business and take mobile banking to new territory.
Conclusion
The continuing growth of smartphones and mobile devices will see a greater need for improved mobile banking capabilities. The products and services that Monitise offers work to achieve this by connecting financial institutions with their customers in a revolutionary way that gives them a full banking. New services that are based off of the Monitise platform improve the relationship between users and banks, and the strong support from the company's major shareholders and partners evidences the strong belief that mobile banking is set to grow rapidly. Although Monitise may be a small company at the moment, I am fully confident that it will perform well over time, as mobile commerce is a growing sector that will be met with great demand.
Disclosure: I am long MONIF. I wrote this article myself, and it expresses my own opinions. I am not receiving compensation for it (other than from Seeking Alpha). I have no business relationship with any company whose stock is mentioned in this article.
Editor's Note: This article discusses one or more securities that do not trade on a major U.S. exchange. Please be aware of the risks associated with these stocks.