Brief Background
Earlier this month, I published my dividend investment plan, quite belatedly. You can read the plan's details here.
After having invested for a couple of years, I finally took the advice of some of my S.A. heroes and developed an investment plan based on the ideas of Bob Wells as presented in several of his articles. I also drew on astute comments made by other readers of my previous articles in this series.
After publishing my plan, I thought it made sense to see how my existing portfolio -- created without an investment plan -- stacked up; in other words, I wanted to see what the plan looked like in the light of my portfolio's present reality.
In the conclusion of my plan's presentation, I wrote, "At this point I feel that our portfolio is closer than ever to where it ought to be."
I thought that assessing our holdings in light of the plan would help me determine whether or not I was kidding myself about where we are.
Preparing to Assess
In order to do that, I created a spreadsheet that contains all the plan's criteria, and then I filled in the blanks. This took quite some time, because there was a lot of data to gather.
Here are several of the column headings in list form with some explanations.
Payout Ratio: I want our dividends to have a good chance of continuing.
Dividend Growth: We need to account for inflation and have some extra income as time goes by.
P/E vs. Industry: We need to know that we're not buying an overvalued stock and we also need to know when a holding is too overpriced. P/E ratios vary widely, and I think comparing them to their own industry gives one a better sense of what they mean.
Revenue Growth 3 yr. Average vs. Industry: Obviously we want to see revenues increasing; this often indicates positive management and operations. However:
Net Income Growth 3 yr. Average vs. Industry: If net income is not rising too, then we might draw some negative opinions about management and operations: for example, excessive costs incurred in order to increase revenue growth or a general lack of sound controls.
Return on Equity vs. Industry: This is one of the ways we can get an idea of our company's profitability. At the same time, by comparing it to the industry, we also get an idea of how competitive and well-performing our company is compared to its peers.
Return on Assets vs. Industry: This is another measure to help us gauge the company's profitability. And it also gives us more insight into management's ability to generate profits based on efficient use of assets.
Debt to Equity vs. Industry: High debt can put a burden on the company, its profits, and, especially important for us dividend investors, can inhibit continuing and increasing dividend payments.
Later, when I talk about the scoring system I developed for evaluating our holdings, I'll speak more about other relationships between these metrics.
Continuing with the columns:
Beta Between 0.5 and 0.7: At this point in our lives, my wife and I do not want to deal with a great deal of volatility in our portfolio. Lower betas will help us sleep better.
Credit Rating: I had neglected to include this in my plan when I published it. Clearly we do not want to own any deadbeat companies. Unlike some of my fellow contributors to S.A., I am willing to have a BBB-rated company in the portfolio. If all the other metrics look good, I can take a chance on an investment-grade company, even if it's the lowest investment grade.
Current Yield: This will be of more value to me when I'm actually looking for stocks to acquire. In the meantime, however, having it on the spreadsheet lets me take a quick look and see if I'm where I want to be, that is, >3.0%.
Rating System
I felt that I needed to rate my holdings based on how they meet my plan's criteria. I originally came up with a 10-point system -- all the columns listed above without the yield column. There are only two stocks with a yield of under 3.0%, and I bought them before I had established that criterion and didn't want to penalize them when I was collecting the scores.
As I learned more about the criteria I was using, I realized that in order to get a better picture of the companies' health, the criteria couldn't all stand alone.
ROE, ROA and D/E
For example, ROE and ROA taken separately could be misleading, while considering them both might give a sounder picture of management effectiveness. As stated by Infopedia:
So, be sure to look at ROA as well as ROE. They are different, but together they provide a clear picture of management's effectiveness. If ROA is sound and debt levels are reasonable, a strong ROE is a solid signal that managers are doing a good job of generating returns from shareholders' investments. ROE is certainly a "hint" that management is giving shareholders more for their money. On the other hand, if ROA is low or the company is carrying a lot of debt, a high ROE can give investors a false impression about the company's fortunes.
Consequently, I decided to award an extra point to holdings that were doing better than their industries in ROE, ROA, and D/E.
Payout Ratio and Dividend Growth
I also thought that while dividend growth was very important for our portfolio's goals, if it were combined with a lower payout ratio, that would speak to better chances of a company's ability to maintain continued dividend growth. Therefore, I decided, here, too, to award an additional point to those companies whose payout ratio was lower than its industry's and whose dividend growth was higher.
Looking at the Results
So now there was a total of 12 possible points for each company.
The score card eventually looked like the three following images.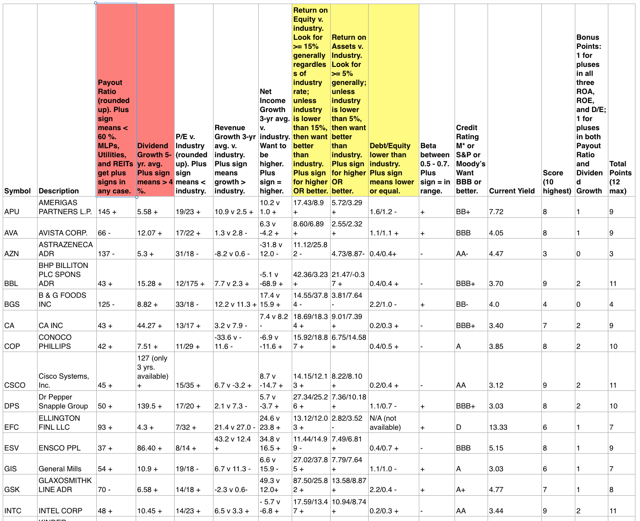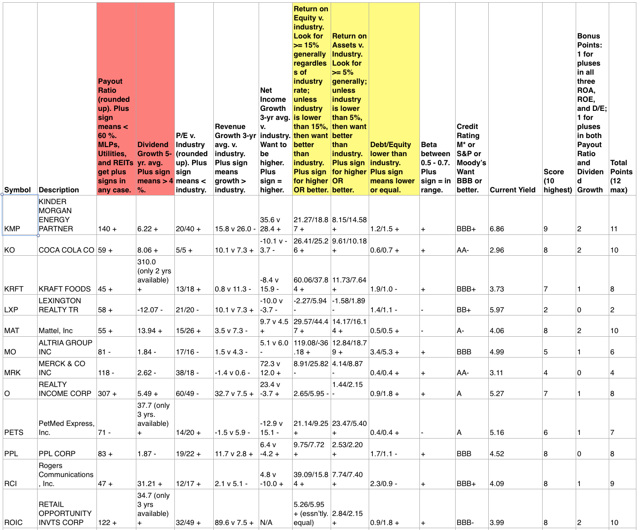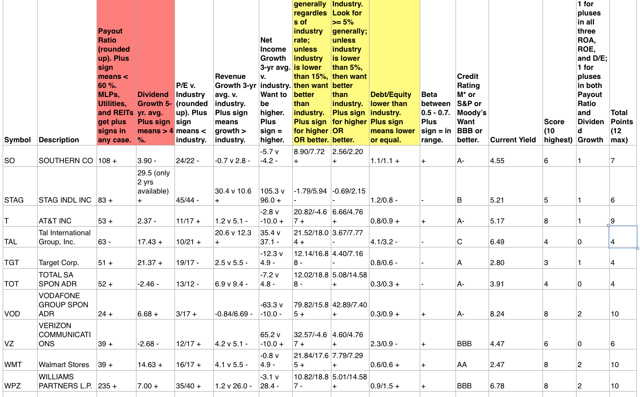 What's Next?
So I have the chart. Now the real work will begin. It'd be nice if I could say, "O.K., everything that has a score of 5 and below gets dumped and replaced." But of course, that's not going to work. There are other aspects that have to be looked at if I want to keep pursuing our chief goals: safety/stability and a steady and increasing revenue stream.
What needs to be done at this point, which I'm just about to begin, is to look at each holding and decide whether anything needs to be done about it or not.
For example, B & G Foods, Inc. (NYSE:BGS) has a terrible score of 4, no bonus points, and a below-investment grade credit score. It would seem that I might want to sell it (with a capital gain of about $1,000) and replace it.
At the same time, BGS has a nice yield currently of 4%. I'd want to find something at value or below that had that kind of yield to replace my income lost in the sale.
Even more complicated, from my perspective, is AstraZeneca (NYSE:AZN) with an even worse score than BGS, in fact, the second worst score in the list. I'm way ahead on AZN, about 48%, even after having sold some shares recently.
The stock really popped today, 4/21/14, up almost 9% on the news of Pfizer (NYSE:PFE) making an offer to buy the company. One might expect the stock to rise even more. But waiting for that strikes me as greedy, and I want to avoid making the decision based on emotion. My sense is that I need to sell. But I'll also need to replace the almost 4.5% yield.
And so it goes. A lot of consideration, analysis, and decision-making to be done now.
I'll let you know about some of the decisions and the whys thereof in the next installment.
Finally, I'd love to hear your thoughts on the portfolio's state and any suggestions you'd care to offer.
Disclosure: I am long APU, AVA, AZN, BBL, BGS, CA, COP, CSCO, DPS, EFC, ESV, GIS, GSK, INTC, KMP, KO, KRFT, LXP, MAT, MO, MRK, O, PETS, PPL, RCI, ROIC, RTN, SO, STAG, T, TAL, TGT, TOT, VOD, VZ, WMT, WPZ. I wrote this article myself, and it expresses my own opinions. I am not receiving compensation for it (other than from Seeking Alpha). I have no business relationship with any company whose stock is mentioned in this article.