Kids aren't playing with toys anymore these days - they are playing with apps. In recent years sales of Barbie dolls and Matchbox cars have deteriorated. Last Thursday Mattel (NASDAQ:MAT) posted a loss of 3 cents per share and much lower revenue than Wall Street predicted. Classic toys are being left on shelves while children increasingly spend time playing with entertainment apps and social video games like Candy Crush.
Mattel:

The makers of Candy Crush, King Digital Entertainment (BATS:KING), have a product that is bringing in cash by the bus load but a stock that is performing terribly. On March 25th King had its IPO, and it was one of the worst opening day performances in recent memory. Shares opened at $20.50 before pulling back to close the day at $19.00. Since its opening day loss of 7.3% King has receded further and now sells at $17.61 per share. Despite the poor stock performance Candy Crush Saga averages 93 million daily users and King reported annual revenue of $1.9 billion. So what's happening?

The video game industry is a battle of blockbusters. A single big hit can drive years of profitability for a game studio. This can allow companies like King to run up huge valuations in an initial public offering if they produce one smash hit. But at the end of the day they will need all of the cash they raise to hire an army of developers and they'd better come up with something at least as good as the game that put them in the position they're in in the first place. There is a huge risk involved when new entertainment app and games companies take the King approach to go public because the majority of games made are commercial flops, and they can be expensive to produce.
One of the other social games studios is betting big on its original flagship franchise. Just last week Zynga (NASDAQ:ZNGA) launched Farmville 2: Country Escape and for the first time ever Farmville is coming to mobile. The first Farmville game was tremendously successful - since its launch five years ago the game has attracted 400 million players and over $1 billion in sales. Like many other games coming out these days, the new Farmville title will be free to download and play but users have the option to purchase micro transitions within the app to enhance their experience. Unlike the original Farmville the newest iteration will have a standalone mode, and players won't need to go on Facebook (NASDAQ:FB) and bug everyone they know to sign up and lend a hand. The new version should be way less annoying for those of us who opt not to indulge in the fantasy of growing our own virtual farms. Zynga has made a few other major improvements. The new Farmville has been designed to be an enjoyable experience in short sessions, so if a player has a few minutes to kill they can jump on Farmville and plant a few crops here and there throughout the day whenever they have time.
When CEO Don Mattrick took over Zynga 10 months ago he set his initial focus on blowing out Zynga's mobile presence, an area where Candy Crush dominates. Under Mattrick's leadership Zynga has now committed 75% of its development pipeline to mobile games. And for the first time ever this quarter analysts expect Zynga to report more mobile revenue than desktop revenue.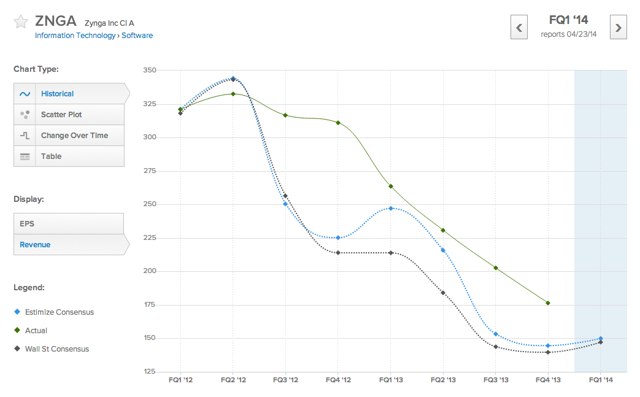 Sales at Zynga have been sliding lower over the past two years however. Revenue has steadily declined and Zynga is desperate to find some some wind in its sails. Taking a small one-hit wonder game studio public is risky business. It often leaves the company with more capital than it knows what to do with and no clear direction on how to leave the shadow of the original title that made the company famous. That's why Zynga is betting big on the latest iteration of its flagship franchise, Farmville, and hoping that Farmville 2: Country Escape will provide a bountiful harvest and a path to get back in gear and move forward.
Disclosure: None.