By Chad Karnes
What does the performance of S&P 500 industry sectors telling us right now? For one, the recent sell-off that took the S&P 500 and Dow Jones Industrial Average down a few percentage points looks very different than recent pullbacks.
While most everyone is breathing a sigh of relief after last week's rally brought the S&P and Dow back near all time highs, the lack of a similar result in the other, higher beta, indices should keep prudent investors skeptical.
From their peaks in early March, the Nasdaq and Russell 2000 fell over 7% and haven't rebounded near as healthily as their less volatile counterparts. Digging deeper, we can see what really is occurring is a larger trend change out of growth stocks and into value shares.
Sector Rotation Model
Over the past 75 days there have been two sectors that have seen a dramatic shift in their performance returns.
The chart below shows what has occurred year-to- date in the nine S&P 500 sectors with two very large standouts.
The Utilities sector shown in purple on the left has greatly outperformed all the other sectors. You'll also note how stocks in the consumer discretionary sector (shown in red) like Amazon.com (NASDAQ:AMZN) and Home Depot (NYSE:HD) are lagging.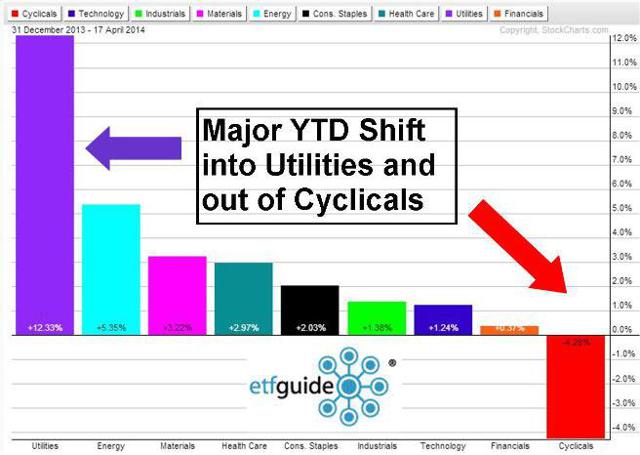 This kind of shift out of the more traditional risk on sector, cyclicals, and into the risk off sectors of utilities and energy has only been seen three other times in the past ten years. Utilities are now outperforming cyclicals by over 15% over the four month period, which has only previously occurred during times the S&P and Dow were in the midst of 20%+ pullbacks.
A massive shift out of high flying sectors and into the safer areas of the market is already under way and may be warning of a larger trend change brewing in the markets.
One Way to Protect
After exiting our April VIX trade on April 7 for a 21% profit, we think it's time again to look at the VIX as inexpensive insurance. Last week's rally brought the VIX's price back to levels of long term support and in an area we've been able to pounce with profitable trades.
Given the increased risk of a market continuing to look for safety over growth, this makes the defensive VIX trade only that much more attractive.
Sector rotation trends suggests the recent pullback is very different than ones from recent history, making portfolio protection a priority. Also, the shift from growth to value could be part of a larger defensive trend change in the market's psychology.
Disclosure: No positions
Link to the original post on ETFguide.com