Chevron Corporation (NYSE:CVX) and ConocoPhillips (NYSE:COP) - lone rangers in Unearthing Poland's Gas reserves
Poland is estimated to be a storehouse of more than 146,000 billion cubic feet of shale gas along with 1,800 million barrels of shale oil, per the U.S. Energy Administration. A clear interpretation of the said number would be to check the exact consumption of natural gas in US and Poland. In total, 20 trillion feet of natural gas can meet the requirements of 10 million American residents for 30 years. When you compare this to Poland's population of approximately 38.5 million, one can understand why Poland is so desperate to have exploration in full swing.
While the French Major Total SA (NYSE:TOT) acknowledged that the Polish gas reserves are quite promising, the exploration costs are proving to be prohibitive for them. The investigation process is still in its early stages, and the Polish gas reservoirs are more taxing than the industry expected. The industry may need to invest much time before one starts the exploration process. Deep research is needed at the current juncture to accumulate and analyze huge amounts of data. ConocoPhillips and Chevron are collecting this data and checking on the economic feasibility as Total has decided to call it a day as far as Poland is concerned.
Chevron and ConocoPhillips together to decide the future of Poland's Energy Sector

Total declined to renew a lease for exploring gas in Poland. This adds to the long list of energy companies that decided to stay away from drilling Polish shale gas reserves. Currently, Poland is hugely dependent on Russian gas supplies. The changing dynamics in the politics of Europe, especially Russia's aggression in Ukraine and a takeover of Crimea, is a definite motivating factor for Poland to be self-sufficient with respect to natural gas. As things stand, Chevron and ConocoPhillips are the only hope for Poland to unlock the potential of Polish gas reservoirs.
Challenges in the future
Meanwhile, ConocoPhillips in coordination with 3Legs Resources is planning to conduct vertical testing in two shale gas wells and another long lateral well testing during the current year. A positive result here can provide a huge boost to ConocoPhillips as the company pockets around 354,000 net acres in the gas basins with a huge working interest in shale gas reservoirs.
Chevron has partnered with Polish Gas Major PGNiG for the exploration of Poland's shale gas. This is a safety measure to reduce the risks and expenditure costs during the exploration, and it is a 50-50 deal. Currently, only 50 gas wells have been drilled in Poland. Chevron is analyzing the exploration results on four Polish wells where it has conducted drilling exercises. It is a long way from understanding the exact potential of Poland's shale gas basins as it needs to drill through more than 100 gas wells. But the initial research has been so discouraging that more and more companies are exiting as the capital expenditure is hitting the roof.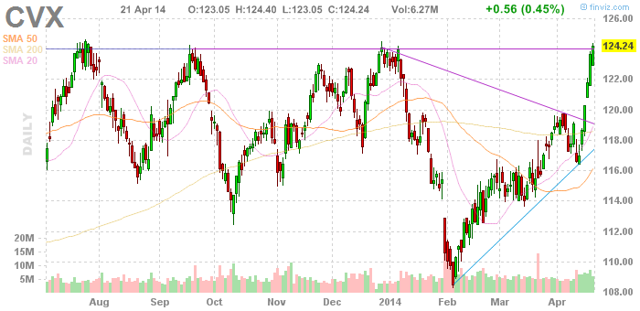 Investor Takeaway
Though Total has exited, more and more companies are looking at Poland's shale gas reserves as a potential goldmine as the country has huge gas basins. And With Russian aggression coming into the picture, the energy industry is eagerly awaiting the results of ConocoPhillips and Chevron exploration efforts to understand the economic viability. Everyone accepts the presence of huge gas reserves in Poland. It is just a matter of time when Poland can wean itself away from depending on the Russian gas supply, with ConocoPhillips and Chevron being the largest beneficiaries. The stock price looks to be hitting a key resistance point, so it may be wise to wait for a pullback.
Disclosure: I have no positions in any stocks mentioned, and no plans to initiate any positions within the next 72 hours. I wrote this article myself, and it expresses my own opinions. I am not receiving compensation for it (other than from Seeking Alpha). I have no business relationship with any company whose stock is mentioned in this article.