As investors, we often have to take a critical view on our investments in order to be able to beat the market. This is especially the case with large/mega cap stocks like General Electric (NYSE:GE). While the company did post a strong Q1 2014, there were some areas of weakness that merit more observation. In particular, General Electric's healthcare division posted a surprisingly bad quarter, with declines in both revenues and segment earnings. The focus of this article is to figure out what exactly went wrong with this segment.
Q1 2014 Healthcare results: Weaker than expected
As shown below, General Electric's healthcare unit saw revenues decline 2% to $4.20 billion, segment profits decline 4% to $570 million, and margins decline 30 basis points to 13.6%. Indeed, even orders were impacted, down 1%. This is in sharp contrast to 2013, where the healthcare division posted solid growth.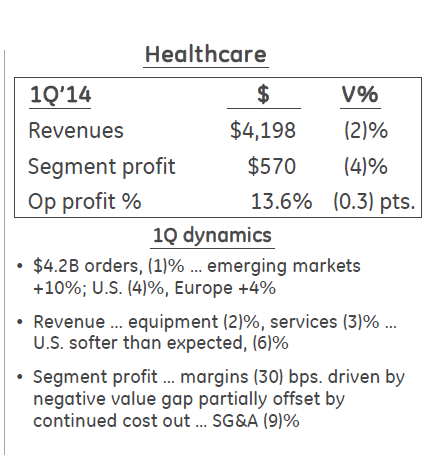 When looking at revenues, the US came in softer than expected, falling 6% y/y. However, revenues for both equipment and related services fell, signaling broad weakness overall.
For earnings, the healthcare segment benefited greatly from cost-cutting, with SG&A expenses down 9%. However, even with these rationalizations, margins still declined 4% due to a negative value gap. To put this in English, General Electric's healthcare margins declined in Q1 since it lost higher-margin US sales.
For orders, the US was also primary reason for the decline, down 4% y/y, with emerging markets, up 10%, and Europe, up 4%, mostly offsetting these declines.
The main culprit for General Electric's healthcare woes: Obamacare
Notice a trend? General Electric noted that its higher-margin US sales declined in Q1 2014. The likely reason here is quite simple: concerns over Obamacare.
In its conference call, the company noted that hospitals and clinics appear to have been delaying large purchases in response to implementation of the Affordable Care Act ("ACA"), or more commonly known as Obamacare.
This makes a lot of sense if you think about it. If you were a healthcare provider, would you really want to make large capex purchases just when large, once in a generation, changes are occurring in your industry?
Indeed, the company noted weaker healthcare spending starting in Q4 2013 (down 1%), which decelerated even more last quarter. Only in the past few weeks or so has the US softness abated, though problems may persist into the second quarter. However, on the bright side, General Electric did note that it was taking market share and should still deliver earnings growth for the year.
Guidance for 10% organic healthcare earnings growth remains on track
Even with the Q1 weakness, General Electric's healthcare segment is still expected to deliver a double-digit earnings growth rate this year. As noted above, orders are finally gaining steam. In addition, there may be some pent-up demand for new equipment, as companies delayed their upgrade cycles in response to Obamacare. Finally, with hospitals and insurers seeing increasing consolidation, demand for IT and software systems integration services may increase.
Conclusion
While healthcare was weak in Q1 2014, General Electric's other segments more than made up for the slack. Organic industrial growth came in at 8%, beating estimates. In addition, the cost-cutting and "simplification" program started late in 2013 had considerable results last quarter, with margins way up in nearly all segments.
With General Electric, you have a stock paying you to wait, with its juicy 3.30%. In addition, the company has posted solid dividend growth, with the dividend up 120% since 2009. There has been some turmoil related to a possible CEO change. However, the company has performed well, nevertheless.
Disclaimer: The opinions in this article are for informational purposes only and should not be construed as a recommendation to buy or sell the stocks mentioned. Please do your own due diligence before making any investment decision.
Disclosure: I am long GE. I wrote this article myself, and it expresses my own opinions. I am not receiving compensation for it (other than from Seeking Alpha). I have no business relationship with any company whose stock is mentioned in this article.