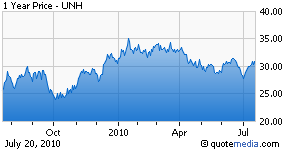 UnitedHealth Group (NYSE:UNH) has reported core operating earnings of 99 cents per share. The results are well ahead of the Zacks Consensus Estimate of 75 cents. Earnings also compare favorably with 73 cents reported in the prior-year quarter.
Better-than-expected earnings resulted from higher total revenues, which increased 7.4% year over year to $23.2 billion. All of UnitedHealth's business units contributed to the increase.
Medical cost ratio came in at 81.5%, down 210 basis points year over year, benefiting from favorable prior-year development. Though the company is limiting its spending of premium revenue on medical costs from the last year, such expenses will come under regulation in 2011, under the Patient Protection and Affordable Care Act, which will in turn hit the bottom line to some extent.
Operating costs came in at $3.4 billion or 14.4% of revenues, up 40 basis points year over year. The improvement was due to greater costs related to quality improvements and health care reform.
The Health Benefits segment, which accounts for the greatest percentage of the company's revenues (65% in 2009) and serves through UnitedHealthcare, Ovations and AmeriChoice, reported a 6.7% year-over-year increase in revenues to $21.64 billion. The increase in the segment came due to a year-over-year increase in membership in Medicaid and Medicare Advantage (government programs), partially offset by a decline in commercial enrollment.
UnitedHealth has been generating strong cashflow from operations, during the quarter cash flows increased 47% year over year to $723 million. The debt-to-capital ratio decreased to 30.1% from 35.2% as of June 30, 2009, further strengthening the company's financial flexibility.
During the quarter, UnitedHealth raised its annual dividend to 50 cents from just 3 cents per share. This is the highest level currently in the industry.
UnitedHealth upped its 2010 EPS guidance to $3.40–3.60 from $3.15–3.35 previously. Revenue expectations were upgraded modestly by $1 billion to $93 billion. Cash from operations is expected to reach $5 billion above the upper end of the previous guidance of $4.4–$4.8 billion.
Though UnitedHealth reported a very favorable result and upped its guidance, there remain concerns as to whether the earnings momentum will uphold in 2011. The company will be faced with rising costs that will unfold with the implementation of minimum MLR requirement of 85% for commercial large group market and 80% for the individual/small group market starting in 2011, aside from the reduction of rates of Medicare Advantage plans.
UnitedHealth, which is considered to be a bellwether for the industry, indicates a strong rebound in the health care sector, but we remain wary of the effect that the new Health Care Act will have on the companies.