With energy having been on a huge run lately, we have been worrying about some of our allocations within various portfolios. It is time to finally make some adjustments to rebalance risk, lock in some profits and add plays with some near-term upside due to their current value propositions. There is risk in making these moves from long-time winners, but there is also risk in doing nothing, so we have decided to become proactive.
The oil market is beginning to behave much as we thought it would, and that is a good thing as we feel that we have a handle on it for the time being. Our attention has wandered away from the energy complex recently and we are watching the metals, both precious metals and base metals, as we think that might be the next area investors look for a move higher.
Chart of the Day:
The below chart shows the two ETFs we use to track oil -- the United States Oil Fund (USO), which tracks the WTI Crude price and the United States Brent Oil (BNO), which tracks the Brent Crude price. Readers know we have been calling for the differential, or the difference in price between the two crudes, to move back toward the $5-10/barrel range. Recent price action has taken us back to more appropriate levels, but based on the economics ,we do think that the difference should be larger than it has been recently.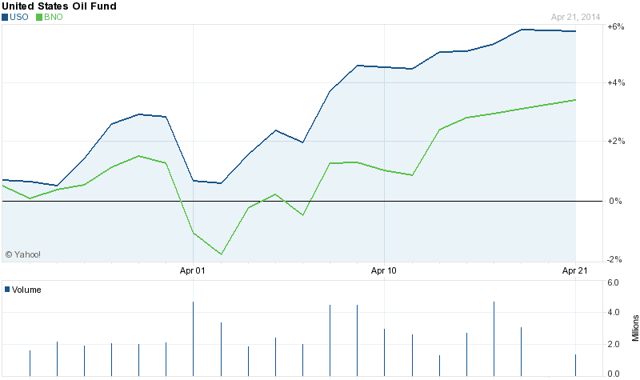 Source: Yahoo Finance
Commodity prices are as follows (at time of submission):
Gold: $1,281.50/ounce, down by $7.00/ounce
Silver: $19.40/ounce, up by $0.049/ounce
Oil: $102.22/barrel, down by $2.15/barrel
RBOB Gas: $3.0706/gallon, down by $0.0163/gallon
Natural Gas: $4.726/MMbtu, down by $0.029/MMbtu
Copper: $3.0525/pound, up by $0.0095/pound
Platinum: $1,401.90/ounce, up by $1.20/ounce
Planning Adjustments To The Portfolio
We have watched over the past few months as Gulfport Energy (NASDAQ:GPOR) has risen back to its 52-week high and then embarked on a run, which set a string of fresh 52-week highs. The move was done on the back of solid results and promising exploration data from wells, which it has drilled using new techniques. As we look at the situation, it now appears that most of the near-term news we saw coming down the pipeline has now been released and it seems to us that we will now be entering into a period where there will be little company-specific news.
Gulfport has been a big winner over the past two years for us, but we want to book some profits in the short term and redeploy that capital elsewhere.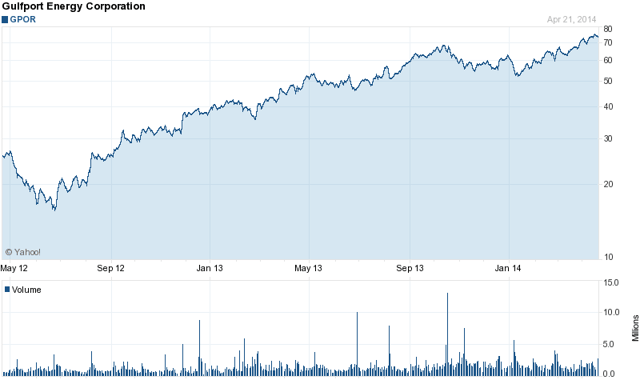 Source: Yahoo Finance
Although we still like the company moving forward, we are planning to take some profits now and investing them in PDC Energy (NASDAQ:PDCE) and EV Energy Partners, LP (NASDAQ:EVEP); two names that are already in our portfolio. We are value hunters and seek it however we can get it. PDC Energy has lagged its peers, but seems poised to have a string of good news in the months ahead as production from its wells in the Wattenberg should increase as it continues to bring production online and its drill program in the Utica continues to prove up its acreage.
Gulfport has been the big winner of the three, but PDC Energy has upside with its growing production out west and exploration in the southern Utica. EV Energy Partners, LP is finally going to drill more wells in the oil window in an attempt to create value for unit holders. Those are two situations we want to be a part of.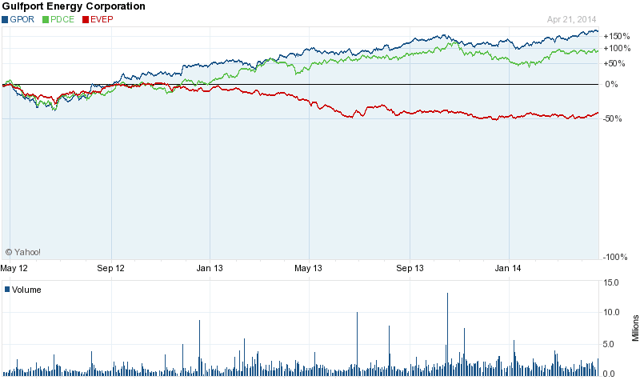 Source: Yahoo Finance
EV Energy Partners, LP is a name that has been an awful performer, but could be turning a corner as it looks to drill in the oil window of the Utica this year. Management failed to deliver on a deal whereby the company would have sold its entire Utica acreage portfolio, but after reacting to that news, we think the units have bottomed out and could be on the upswing on any remotely positive news. The midstream ramp up should also see new cash flows coming to EV Energy Partners, which will help with covering the distribution. This is an issue that has worried many over the last year and continues to be cited as a reason to avoid the name. This is by no means a sure thing, but if we are correct in our research and the partnership can come through without cutting the distribution or issuing fresh units, then this could be a solid performer over the next year. Good well results from the Utica oil window would certainly help the bulls here.
Disclosure: I am long GPOR, EVEP, PDCE. I wrote this article myself, and it expresses my own opinions. I am not receiving compensation for it (other than from Seeking Alpha). I have no business relationship with any company whose stock is mentioned in this article.
Additional disclosure: We may trade one or all of these names in the next 72 hours.