The share price of Windstream Holdings (NASDAQ:WIN) has gone up by 11% year to date, compared to a gain of just 2% for S&P 500 Index. The shares continue to offer a tempting dividend yield of 11.3%. In my view, WIN still deserves a buy rating at this level as its dividend should remain secure over a near term (while long-term sustainability is questionable) and the shares are reasonably priced.
WIN's consumer (voice) and wholesale businesses continued to drag on revenue performance in Q4 2013, offsetting growth in other businesses such as consumer broadband services. Looking forward, management will focus on expanding growth areas including consumer broadband and enterprise services with a belief that their revenue growth will more than offset the declining consumer voice and wholesale revenues.
Based on management's financial guidance for 2014, I have performed a cash flow analysis to gauge WIN's capacity for sustaining the current dividend payment and debt reduction. My forecast periods are from 2014 to 2016 (see chart below).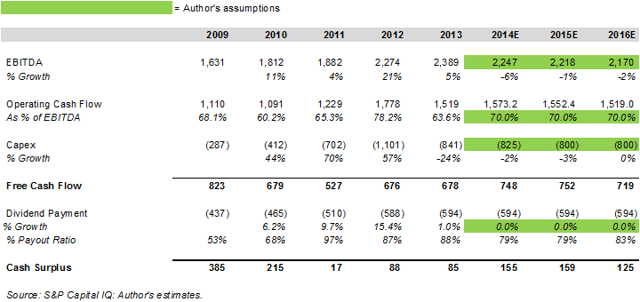 The calculation started with consensus estimated EBITDA from 2014 to 2016, which predict a continued declining trend. Over the past 5 years, WIN's annual EBITDA to operating cash flow ("OCF") conversion ratio averaged at 68%. Based on that metric, I assumed a flat EBITDA to OCF conversion rate at 70% through 2016. For capex, I assumed $825M for 2014, which is the mid-point of management's guidance range between $800M and $850M. I then assumed $800M annual capex through 2016 that is slightly above consensus estimates of ~$750M. Based on those assumptions, I projected free cash flow ("FCF") to decline from $748M in 2014 to $719M in 2016. It is noted that my $748M 2014 FCF forecast is even lower than the low end of management's guidance range between $775M and $885M. In terms of dividend, I assumed the current annual dividend payment of $594M continuing to hold through 2016. As such, the analysis suggests that WIN would have sufficient free cash flow to cover its dividend commitment through 2016. However, the implied dividend payout ratio was projected to increase from 79% in 2014 (compared to management's guidance in a range of 68%-78% for 2014) to 83% in 2016, meaning that the current dividend level cannot be sustained over a long run if WIN continues to track market's expected revenue growth trajectory. If the dividend payment is assumed to decline by 2.5% per annum, the payout ratio can be sustained at ~77%, implying that WIN will eventually announce a dividend cut down the road if the company is not able to break out the market expectations (see chart below).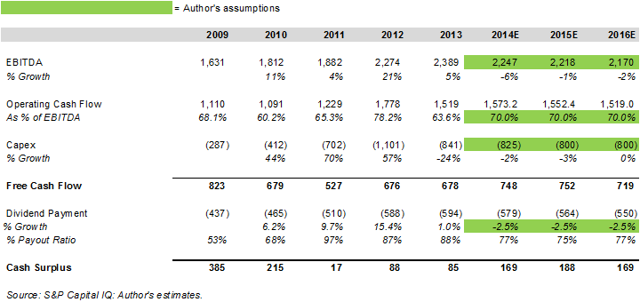 Given the above, the question now would be on the dividend growth assumption that is embedded in the current share price ($8.90). Based on Gordon growth dividend discount model, cost of equity in a range of 9%-10%, and annualized dividend of $1.0 per share, the share price of $8.90 would imply a perpetual dividend decline rate from approximately 2% to 3%, which is in line with my 2.5% annual dividend cut forecast that would allow WIN to maintain a flat dividend payout ratio (see chart below). This suggests that WIN's shares are now fairly valued.

To support my view on the valuation, I have also performed a DCF analysis to gauge the fair value. My model incorporates the following key assumptions (see chart below):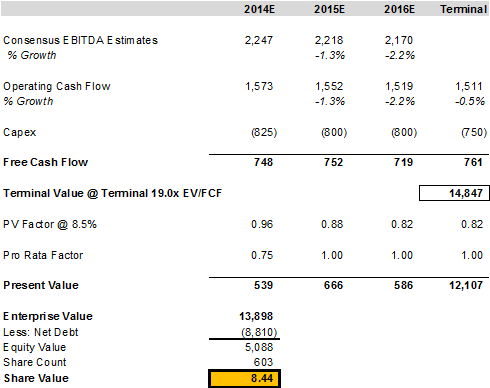 Same operating cash flow projections (from 2014 to 2016) from my previous cash flow analysis which were forecasted based on the consensus EBITDA estimates and 70% EBITDA to OCF conversion ratio;
OCF of $1.5B in terminal year (i.e. 2017) which is based on 0.5% decline rate from the forecasted level in 2016;
Same capex forecasts over 2014-2016 from my previous cash flow analysis;
Capex of $750M in the terminal year, which is consistent with the consensus estimate;
Terminal value of $14.8B which was estimated based on 19.0x forward EV/FCF multiple that is the same as the implied EV/2014 FCF based on the current enterprise value ($14.1B) and my 2014 FCF forecast ($748M); and
A WACC of 8.5%.
Based on the above fair assumptions, my model yields a stock value of $8.44, which is close to the current market price, again indicating a fair valuation.
Assuming an annual dividend decline rate of 2.5%, the dividend per share would reduce from $1.00 to $0.88 in 5 years, but the dividend yield would still look attractive at 9.9% by then (assuming no change in share price). In conclusion, despite the risk of near-term dividend cut, I still recommend buying the shares because 1) WIN still has sufficient free cash flow capacity to cover its dividend commitment in near term so a dividend cut may not happen soon; 2) even with a dividend cut, the magnitude may not be very significant (as I just proved that a 2.5% annual reduction would be sufficient to maintain the payout ratio), and thus the dividend income stream should still be compelling; 3) WIN's current valuation is reflective of the dividend risk; and 4) investors can participate in a large upside if WIN can eventually stabilize the declining revenue trend and demonstrate an ability to maintain the current dividend level (as shown on the sensitivity table above, WIN's share price would be above $11 with 9% cost of equity and 0% perpetual dividend growth rate).
All charts are created by the author, and data used in the article and the charts is sourced from S&P Capital IQ, unless otherwise specified
Disclosure: I am long WIN. I wrote this article myself, and it expresses my own opinions. I am not receiving compensation for it (other than from Seeking Alpha). I have no business relationship with any company whose stock is mentioned in this article.