Google (GOOG) (NASDAQ:GOOGL) has and will continue to dominate the global smartphone market with its Android operating system. I know that statement is going to cause havoc among both Google and Apple (NASDAQ:AAPL) supporters, but the facts show that Android is already well ahead of iOS and Microsoft's (NASDAQ:MSFT) Windows Phone and there is no reason that should change any time soon.
Google's role in the development, marketing, distribution, and growth of smartphones in the developing world is a critical factor that most other players in the industry will depend on. Apple fanatics will vehemently deny this and will share "evidence" of Apple's brand recognition worldwide, including how people are willing to pay a premium for Apple. Unfortunately, evidence has shown that that is not the case. Certainly Apple is a well-recognized brand and there are countries where owning an Apple smartphone is a status symbol, but it does not have the same cache in many of the developing countries.
Global Smartphone Market Growth
According to an A.T. Kearney in a report titled The Mobile Economy 2013, global subscriber growth for smartphones grew at a compound annual growth rate of 8.3% from 2008-2012 and is expected to reach 3.9 billion subscribers by 2017. That implies a growth rate of more than 4%, which is faster than the expected population growth of 1.1% over the same period. The implications are that there is still quite a bit of opportunity available globally. If we further consider the number of users that have multiple SIM cards, the numbers are even more staggering, as SIM enabled connections are expected to reach 9.7 2017.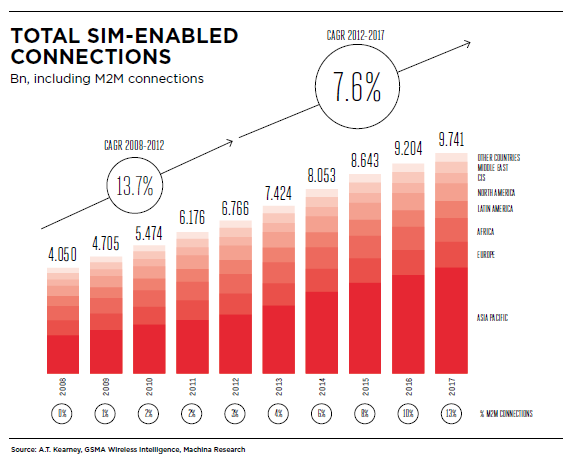 The big growth numbers however, is coming from demand for mobile broadband, which is expected to grow by 26% annually through 2017, reaching 5.1 billion connections. Most of this growth is projected to stem from the proliferation of mobile technology in the developing world and the demand for internet connectivity, both of which are key drivers of smartphone demand.
To understand the global appetite for broadband, we have to put data usage and expected demand for data into perspective. In 2012, for example, there were 0.9 exabytes of data volume used per month. That was more data traffic than all of the preceding years combined. In 2017, mobile data volume is expected to reach 11.2 exabytes per month, a 66% compound annual growth rate! (1 exabyte=1 billion gigabytes) It is difficult for me to identify any other opportunity where the underlying drivers are growing at such a high rate.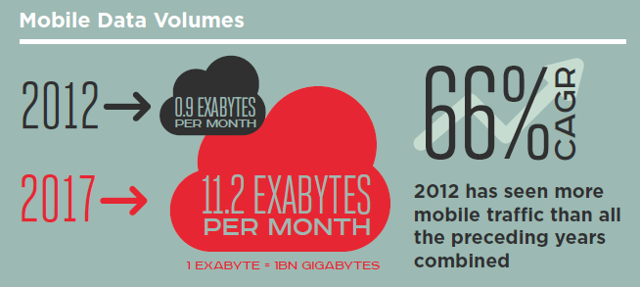 Source: A.T. Kearney
An interesting question is whether this demand for data is being driven by the increased penetration of smartphones in emerging markets, or whether the growth of smartphones is driving the demand for data? Regardless of the philosophical question of what came first, The chicken or the egg, the dynamic has resulted in a self-perpetuating virtuous cycle for mobile data on smartphones.
Developing Market Growth
While developing markets all over the world are expected to contribute to the growth of both broadband and smartphone use, the biggest impact is expected to come from the Asia Pacific region. According to A.T. Kearney, the region generated 57% of all new connections between 2008 and 2012 and is projected to grow an additional 7% annually through 2017. Of the additional 2.3 billion connections expected between 2013 and 2017, 1.4 billion are expected in the Asia Pacific region alone. Africa and Latin America are also expected to grow by 7% to 8% annually, but since they are starting from a smaller base, it results in only 800 million new connections for both regions combined.
The growth in some of these developing markets has been driven by three primary factors: the lack of alternative communication mediums; rising disposable incomes; and the availability of low cost handsets.
In many regions of the world, fixed line communication infrastructure never reached mass scale, whether it was due to capital constraints, lack of viable target market, or any other reason. Instead, innovative new technologies have enabled these regions to completely skip over the use of fixed line communication in favor of mobile communication.
The second factor impacting the rise in mobile growth is the increase in disposable income primarily in Asia-Pacific, but to a lesser extent in Latin America and Africa. The rise of the middle class in China and other Asia Pac countries is well documented. These nouveau "middle-class" consumers have been driving the demand for new technology as much as they have for luxury goods.
Finally, the availability of lower cost phones has enabled consumers to have access to mobile phones that they otherwise couldn't afford. These low cost alternatives may or may not have the full set of features available in the newest versions being sold in the developed markets, but surveys have shown that consumers are accepting of these "older tech" models. This is the Google Android sweet spot.
In fact, one of the interesting dynamics occurring in the global markets is the rapid adoption of 3G and 4G technology, but without the obsolescence in 2G technology. The reason for this is that while the developed markets are increasingly switching to 3G and 4G phones, many of the developing markets are buying 2G phones. Phones with 2G technologies may not have the full set of features found in the newer phones with 3G and 4G technology, but they are much more affordable.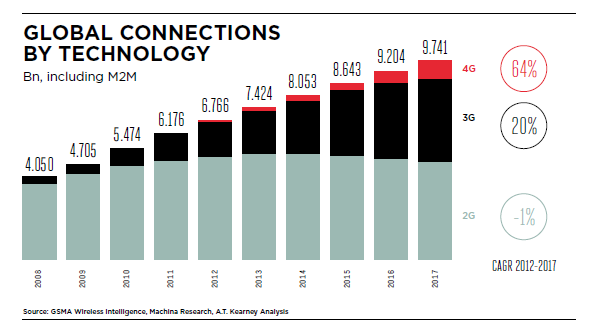 The Mobile Ecosystem
The importance of positioning within the mobile ecosystem will be critical to the success of all players and will determine who will control the dynamics of the industry. The mobile ecosystem's revenue was $1.5 trillion in 2012, which is the equivalent of 2.2% of global GDP. It is a massive market with only a few global players and many local country participants.
The level of CAPEX for the industry is second only to Electricity and Marine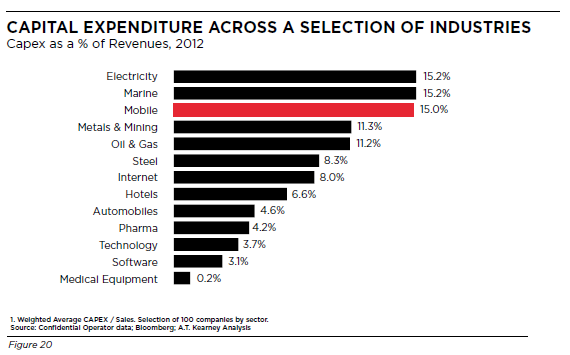 Carriers
The carriers are the service providers that provide the bandwidth for data and voice to be distributed across their network. In many countries, the carriers will control the relationship with the consumer, oftentimes choosing the handsets they want to make available through their service and setting rates for both voice and data. Oftentimes, the carriers subsidize the price of the phone to the consumer for the benefit of locking that consumer in to a long-term contract. The carriers also set the charges for connecting with users in other networks, a point of contention among the carriers that is unresolved.
Handset Makers
The handset makers seem to be the most recognized constituents within the mobile ecosystem. While AT&T (NYSE:T) and Verizon (NYSE:VZ) may be big global providers in the developed world, the developing world is dominated by companies like Telefonica (NYSE:TEF), America Movil (NYSE:AMX), and Vodafone (NASDAQ:VOD), among others.
Conversely, recognition of brand names like Samsung, Apple, and Nokia is extremely high and in some cases, are the brands that many consumers aspire to. Surprisingly, for Apple fanatics, consumers prefer Samsung (OTC:SSNLF) and Nokia (NYSE:NOK) over Apple. In a survey conducted by a company called Upstream , users were asked:
If you didn't have to worry about the price of the device, which of the following brands would you MOST like to purchase?
Over 32% of respondents chose Samsung, followed by 22% who chose Nokia, while Apple was the third choice at 21%. That Nokia ranks higher than Apple is not surprising considering its phones are considered the low cost alternative.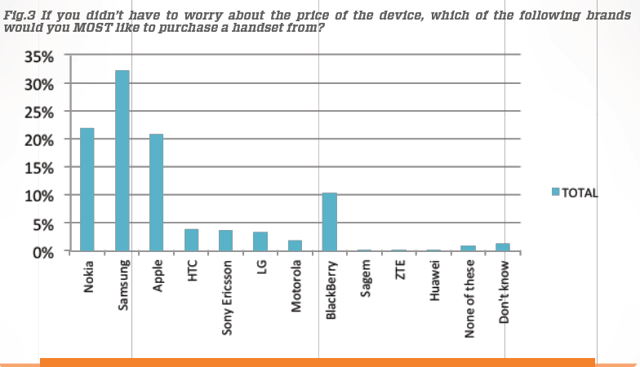 Source: Upstream
Application Developers
Developers also play a crucial role in the evolution of the mobile ecosystem and can have a heavy influence on the adoption of one operating system over another. Developers are the creators of apps, software, and other programs, which give a smartphone its appeal. Without cool apps or games, the operating system used in the phone becomes less relevant. It is important then to facilitate the process for developers to create and add apps to an operating system.
Google has made available app development funds to developers that have been set up specifically to provide incentives for development of apps on the Android platform. And the open and unregulated app store provides easy access for publishing. This means that developers are more likely to get published using Android than using iOS.
Operating Systems
The two primary operating systems in the smartphone market are Apple's iOS and Google's Android, followed by Microsoft Phone, which has been making a big push. According to IDC, Google Android is dominating the market with almost 80% market share in mobile smartphone operating systems. iOS is a distant second at 15%, followed by Windows Phone, BlackBerry (NASDAQ:BBRY), and others.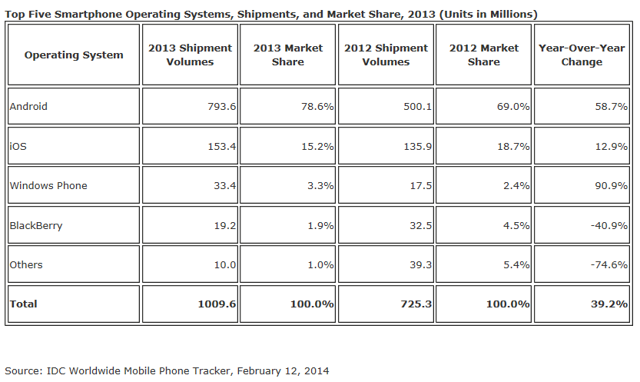 The characteristics of Google Android are what I think will enable Google to succeed in the market and continue to dominate.
Android Operating System - The 3 F Monster
Android is a software platform based on the Linux operating system initially developed by Google and further enhanced by the Open Handset Alliance. The Open Handset Alliance includes companies like Sprint Nextel (NYSE:S), T-Mobile (NASDAQ:TMUS), Telefonica, Vodafone, HTC (OTC:HTCCY), Huawei, LG, NEC, Samsung, Sharp (OTCPK:SHCAF), Sony Ericsson (NYSE:SNE), ARM (NASDAQ:ARMH), Broadcom (BRCM), Intel (NASDAQ:INTC), Qualcomm (NASDAQ:QCOM), Nvidia (NASDAQ:NVDA), Google, Accenture (NYSE:ACN), and others. Apple is NOT a member.
The home page for the Open Handset Alliance reads:
Welcome to the Open Handset Alliance™, a group of 84 technology and mobile companies who have come together to accelerate innovation in mobile and offer consumers a richer, less expensive, and better mobile experience. Together we have developed Android™, the first complete, open, and free mobile platform.
Flexibility
Of the two operating systems, Android is the most flexible, the least expensive, and the most appealing to developers. It can be developed on any platform (Windows, Vista, Linux, and Mac), and is appealing to developers because of the ease in which developers can create and add apps to the system. Unlike Apple, which has much stricter requirements before an app can be launched, Android allows developers to launch an app even before it is completely finished, and troubleshoot and enhance once the app is running. While this may lead to the launch of apps of lower quality, the simplicity of developing an app on Android can enable developers to gain a competitive advantage over peers by being first to market. Any quality issues can be addressed post launch.
The flexibility to develop apps on any platform also increases the network effect for those apps with multi-platform OS capabilities. And the Android OS doesn't differentiate between the phone's core applications and third party applications.
Another area in which Android provides more flexibility than iOS is in the selling of apps. While Apple only makes its apps available through iTunes, Android apps can be purchased on both Google Play and Amazon (NASDAQ:AMZN). The Amazon app store announced in mid-2013 that its global expansion includes almost 200 countries and it generates almost as much revenue as the Apple app store.
Features
Android has the same features as Apple. (Pause for Apple fans' exasperated sigh) It can support touchscreen, GPS, WiFi, SMS and cameras, and possibly other features that are beyond those that I use or care about.
And you can't argue with the superiority of Google Maps, which Apple attempted to exclude from one of their late models only to reinstall it after an embarrassingly failed launch of its own map service.
Email and calendar syncing also maintains information across all of the users gadgets and locations. And let's not forget about the integration of Youtube and Google docs.
Compared to business-friendly leader blackberry exchange server, Google can provide free enterprise-level service to small businesses for low cost and virtually no down time or maintenance requirements.
Free - Can't beat the price
Android is free to manufacturers. If it provides the same features or at least comes close to matching 'Apple's superiority', there is a huge incentive for manufacturers to choose Android over Apple. In fact, in the battle for low-cost alternatives in the developing world, having a low-cost smartphone may be critical to success. In the Upstream survey, consumers were asked:
Please imagine that you were looking to buy a new mobile phone/smartphone handset. Approximately how much would you be willing to pay?
While almost half of respondents would spend between $100-$300 for a new phone, 29% would not spend more than $150. There aren't many options available for less than $150 and they are certainly not iPhones. If the Android system can do just about anything that Apple can then it makes further sense that the developing market consumer will choose an Android phone.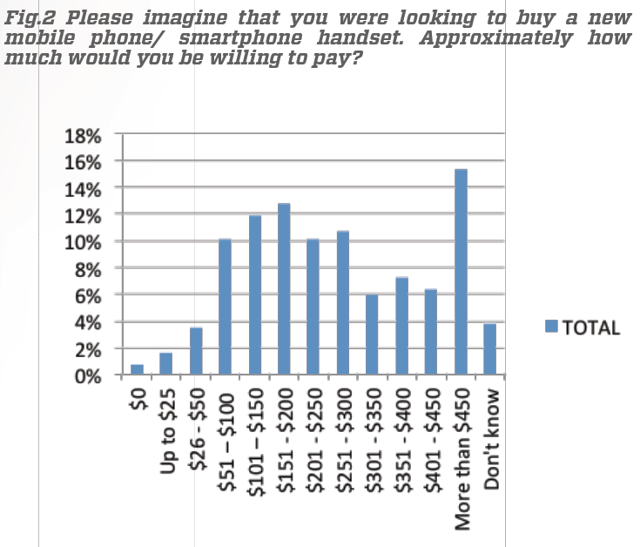 Weaknesses and Challenges
In a world increasingly at risk of hacking, fraud, and identify theft, security has become a heightened concern for consumers and business alike. The use of the Android platform increases security concerns because of the open architecture of the OS. While these concerns are being addressed, it is certainly a challenge that Android must overcome to maintain its market share lead.
Another weakness of the Android OS is attributable to one of the strengths that makes it so attractive. For example, the ability for apps to be developed across all platforms makes it difficult to guarantee the quality of those apps on all platforms. This may result in inconsistencies across the platforms for apps published through the Android system.
Development on the operating system may not be sufficient enough to compete in both the entertainment arena and business applications. While cloud computing is gaining acceptance there is still some reluctance to trust these services for computing and data storage needs.
In an attempt to keep costs low, handset developers may produce inferior phones that may result in blame being directed at the Android system. This may cause irreparable reputational damage leading to a shift towards using other operating systems.
Finally, the process of increasing advertising revenue on mobile devices is a challenge for all players involved. According to Upstream survey, over 30% of respondents suggest that one advertisement per week is appropriate. That doesn't result in a whole lot of ad impressions.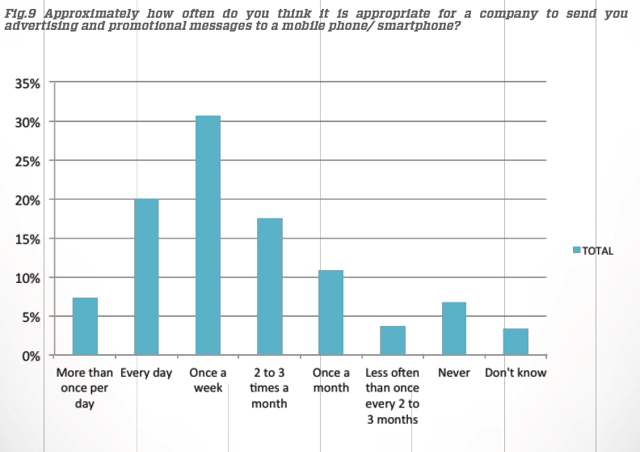 Keys to Success in the Smartphone market
Google's success isn't guaranteed just because it may seem they are currently best positioned to take advantage of emerging market demand growth for smart phones. The pie is too big and growing which attracts very formidable competitors with tons of capital and resources as well as additional competitors. And even within the mobile ecosystem, carriers and handset makers will want to be the ones to control the industry. These factors are critical for all players involved, not just Google.
o Innovation - this industry has always been one that needs to provide consumers with the next big thing. Whether it's music platforms, security, video, or features like Smart Stay, innovation will dictate who the winners are.
o Differentiation - When products start looking alike and providing the same features to consumers, it is important to have a differentiating factor to distinguish one company from the next. It may be a high meg-pixel camera, lower cost, better service, etc. The concepts are not exclusive to the mobile phone industry. Commoditization of any product or service is typically not good for the provider of those products or goods. So companies that differentiate themselves from the others will stand out.
o Collaboration - players involved in the mobile ecosystem are increasingly collaborating with one another to position themselves. They have also worked together to develop common standards on which the entire industry can benefit through collaboration with regulators, governments, other industries. It requires too much capital and resources to focus on all aspects of the industry that are required to be successful. Companies that realize this and develop strategic partnerships with other ecosystem players will have an advantage over others.
It will be interesting to see how the race for global mobile smartphones plays out. At the moment, no one company dominates its area within the mobile ecosystem as much as Google does. In my opinion, it has the right strategy in place combined with the necessary resources to continue to dominate this market.
Disclosure: I am long GOOG, AAPL. I wrote this article myself, and it expresses my own opinions. I am not receiving compensation for it (other than from Seeking Alpha). I have no business relationship with any company whose stock is mentioned in this article.
Editor's Note: This article discusses one or more securities that do not trade on a major U.S. exchange. Please be aware of the risks associated with these stocks.