What a difference a year makes. Toymaker Hasbro (NASDAQ:HAS) reported first quarter earnings on Monday, and profit rose to $32.1 million, or $0.24 per diluted share, from a net loss of $6.7 million, or ($0.05) per diluted share, a year ago. The main driver of the growth was the company's Girls category whose revenue rose a whopping 21% thanks to high sales of My Little Pony, My Little Pony Equestria Girls, and Nerf Rebelle. Hasbro's Boys category contributed more to net revenue than Girls--$247.8 million vs. $138.7 million--but the category only grew by 2% in the quarter.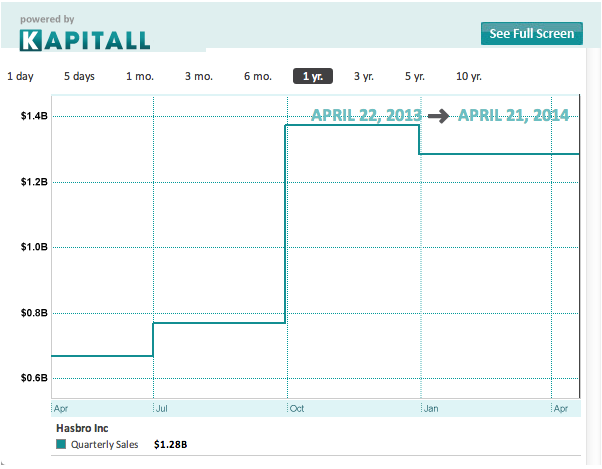 Click here to get the full, interactive chart on Hasbro Inc.
Hasbro's shares rallied 4.4% Monday morning following the earnings release, but the company isn't the only toymaker seeing renewed interest from investors. JAKKS Pacific (NASDAQ:JAKK), which reports earnings on Wednesday, is rallying 21.53% above its 20-day SMA, 31.35% above its 50-day SMA, and 43.54% above its 100-day SMA. The company has also seen a lot of activity from institutional investors, with net institutional purchases at 3.3 million shares in the fourth quarter. Those purchases represent about 21.57% of the company's float of 15.30M shares. Additionally, over the last six months, insiders purchased 858,580 shares, or 5.61% of JAKKS' 15.3 million share float, in the previous months.
JAKKS landed in the news earlier this month when a CNNMoney article revealed that its version of a dress from Disney's (NYSE:DIS) Frozen that originally retailed for $20 was fetching between $150 and $350 on eBay (NASDAQ:EBAY). A look at JAKKS' fourth quarter financials reveals that the company is having no problem clearing its inventory, which, combined with the runaway success of Frozen, helps explain the insane markups on eBay.
Revenue increased 3.16% year-over-year to $137.73 million from $133.51 million, while inventory declined by -21.63% to $46.79 million from $59.69 million a year ago. Inventory, as a percentage of assets, fell from 14.7% to 14.58%. The inventory turnover ratio shows that JAKKS is adept at managing its inventory by dividing the cost of goods sold by average inventory [(beginning inventory + final inventory)/2]. In JAKKS' fourth quarter, cost of goods sold was $81.2 million, beginning inventory was $59.1 million, and final inventory was $46.78 million. The company's inventory turnover stood at 1.534, the highest in the Toys & Games industry in Q4 2013 and above the industry average of 1.237.This means that JAKKS effectively sold 150% of its inventory over the course of the quarter.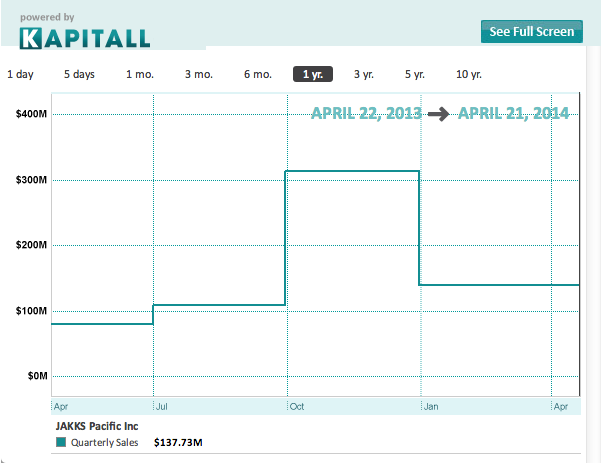 Click here to get the full, interactive chart on JAKKS Pacific.
JAKKS is also currently on a winning streak, measured by a persistence of days of outperforming the S&P 500 and little persistence of days in underperforming the index. Measured close to close over the last month, JAKKS' average daily alpha stands at 1.19% versus the S&P500 index. Its longest winning streak during this period lasted for seven consecutive days, while the longest losing streak lasted for 2 days, resulting in a winning streak/losing streak ratio of 3.5.
Co-founder Stephen Berman told CNNMoney that JAKKS' Frozen license had the potential to be one of the best properties in the company's history. JAKKS has since followed that arrangement with a deal with Warner Bros (NYSE:TWX) for its upcoming blockbuster Godzilla, one with Disney for Maleficent, and another with Nickelodeon (NYSE:VIA) for Teenage Mutant Ninja Turtles. Godzilla, which hits theaters on May 16, has received positive buzz since debuting its second trailer back in February. BOXOFFICE projects the movie will gross $75 million its opening weekend, and Empire expects it to make over $600 million worldwide during its run. Projections for Maleficent, which debuts in May, place its opening weekend gross around $60 million. Meanwhile, Teenage Mutant Ninja Turtles premieres in August and has yet to receive any solid projections. If both movies are box office success stories, JAKKS stands to make a lot of money from toy sales.
Disclosure: I have no positions in any stocks mentioned, and no plans to initiate any positions within the next 72 hours.
Business relationship disclosure: Kapitall is a team of analysts. This article was written by Mary-Lynn Cesar, one of our writers. We did not receive compensation for this article (other than from Seeking Alpha), and we have no business relationship with any company whose stock is mentioned in this article.