By Carla Fried
The $13 billion value-centric Oakmark mutual fund is showing no signs of let up. Its 27% gain over the past year is six percentage points ahead of the S&P 500. The fund owned 59 stocks at the end of the first quarter, but plenty of the heavy lifting has come from five of the top 10 holdings clocking gains of more than 35% over the past year, led by TE Connectivity (NYSE:TEL) and DirecTV (DTV):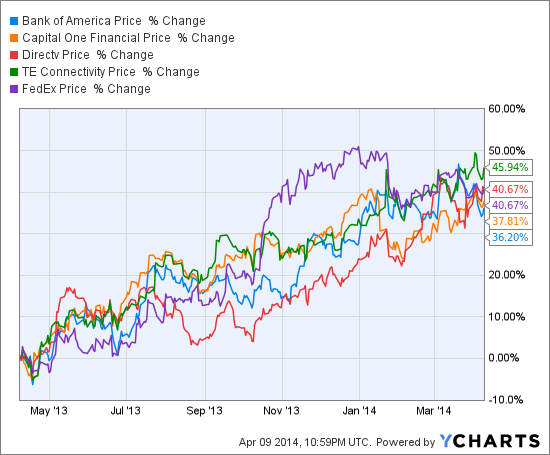 BAC data by YCharts
For the unfamiliar, managers Bill Nygren and Kevin Grant have delivered long term as well. The fund's near 9% annualized gain over the past 10 years is 1.5 percentage points better than the S&P 500. The managers' stock picking acumen actually bested the index by about 2.5 percentage points over that stretch. It's just that fund returns are net of expenses, and the Oakmark Fund charges a very pricey 0.95% for such a large portfolio.
In their first-quarter commentary, Nygren and Grant highlighted a few current holdings that still trade at a sizable discount to the managers' estimate of intrinsic value and that also can make an income seeker smile. To be clear, current income is not a focus of the fund, but in this income-starved world, it doesn't hurt to mention when a few of your value stocks deliver on that front as well.
Both spirit maker Diageo (NYSE:DEO) and pharma manufacturer Sanofi (NYSE:SNY) were deemed to still be trading at deep discounts to intrinsic value. (No, they didn't say how deep. For another perspective, Morningstar (an investor in YCharts) places Diageo as selling close to its fair value right now, and has Sanofi at an 18% discount to fair value.) Diageo accounts for 1.8% of Oakmark fund assets and Sanofi 1%. Both deliver dividend yields far ahead of the 1.8% for the S&P 500 index, with Sanofi's payout nearly one percentage point more than the 10-year Treasury rate.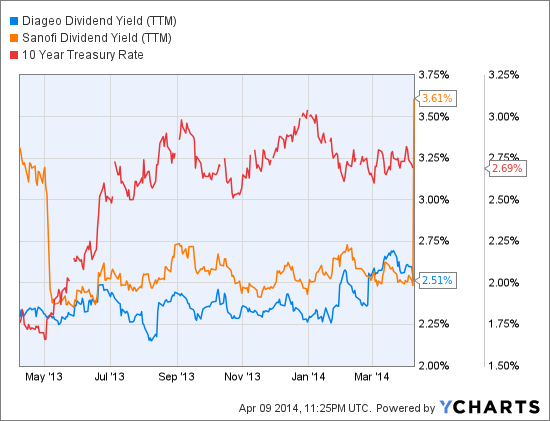 DEO Dividend Yield (TTM) data by YCharts
For a stateside value stock with an income kicker, the managers pointed attention to General Mills (NYSE:GIS). An income darling with a current yield of more than 3%, General Mills, like much of the consumer defensive sector, has suffered from a bit too much love. Its 19 trailing P/E ratio has expanded 23% since the beginning of 2013. And price-to-book-value has blown out by 30% and is well above its 10-year high: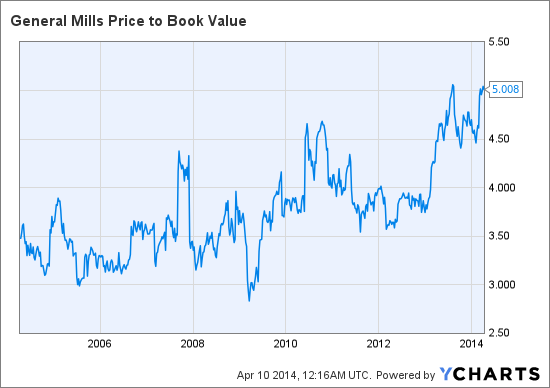 GIS Price to Book Value data by YCharts
That said, this is a stock with incredibly reliable profit growth over the truly long term. This chart goes back to 1985: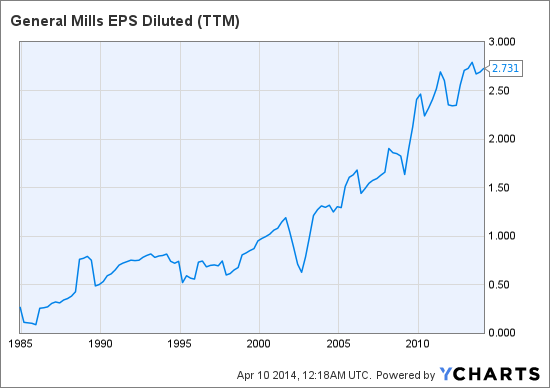 GIS EPS Diluted (TTM) data by YCharts
That makes it possible to feed shareholders plenty. As seen in this chart, the total shareholder yield of nearly 8% comes from a buyback yield that is even higher than the strong dividend yield. (Shareholder yield also includes the impact of debt reduction/expansion. Over the past year General Mills took on slightly more debt, thereby reducing the shareholder yield a fraction.)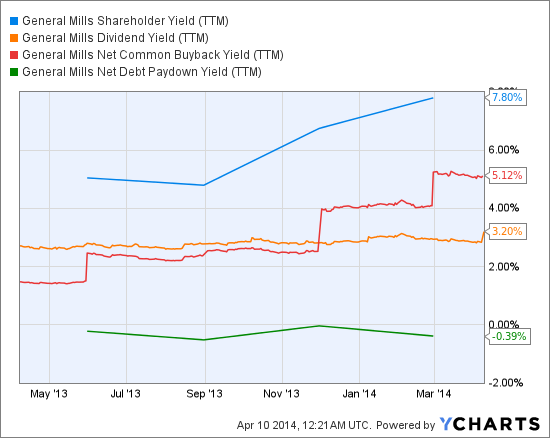 GIS Shareholder Yield (TTM) data by YCharts
General Mills has paid out a dividend for more than 100 years, and has an exemplary record of increasing the payout.
But the torrid pace of late shouldn't be taken as a given. The 17% dividend growth over the past year and nearly 75% over the past five years has pushed the payout ratio from below 40% to 55% recently. That's not a worrisome level, but suggests more moderate (but still strong) dividend growth could be in the offing. Even at half its recent growth rate, General Mills would still give you an income payout that is expanding at more than triple the current rate of inflation.
Disclosure: None