Is the turnaround at RadioShack (NYSE:RSH) failing? Shares of this Zacks Rank #5 (Strong Sell) recently sold off on worries about negotiations with lenders about store closings.
RadioShack operates 4300 stores in the United States and 270 stores in Mexico. It also has about 1,000 dealer and other outlets worldwide.
RadioShack has been in a turnaround mode since the middle of 2013.
On Mar 4, it reported fourth quarter results, which included the holiday season, and it again posted a big earnings miss. Earnings were a loss of $1.29 compared to the Zacks Consensus of a loss of just $0.16.
While the holiday season was a tough one for many retailers, it was especially so for RadioShack which saw comparable same store sales plunge 19% due to traffic declines and soft performance in the mobility business.
Store Closings Announced
RadioShack finally took the more extreme measure in March of announcing major store closings. It said it would close up to 1,100 stores which have been selected based on location, area demographics, lease life and financial performance.
But according to the Wall Street Journal, the lenders weren't too happy with the announcement, with some lenders wanting even more stores closed. The parties are apparently in negotiations but this is leaving uncertainty surrounding the company.
Estimates Cut Again
Analysts don't see much hope on the horizon for a turnaround.
10 estimates have been cut for fiscal 2014 which has pushed the Zacks Consensus down to a loss of $2.39 from a loss of $1.42 just 60 days ago.
RadioShack lost $3.04 in 2013 so the Zacks Consensus is an improvement over the prior year but not by much.
Analysts are equally as pessimistic about fiscal 2015. The Zacks Consensus has fallen to a loss of $2.14 from a loss of $1.37 just 60 days ago.
Shares at 1980 Low
RadioShack made some buzz at the SuperBowl with its ad featuring cultural icons from the 1980s. Unfortunately, that's where it's stock has slid back to with shares trading at a low last seen in July 1980.
It was so long ago Zacks doesn't even have a chart that goes back that far but you can see what the 20-year chart looks like. It tells the story.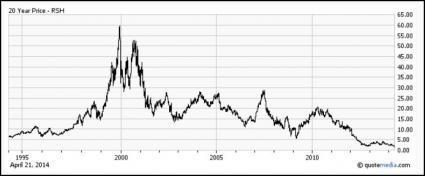 A lot of investors look at a stock like this and think because it's under $2 that it's a deal. But the company hasn't been profitable in 2 years.
Investors interested in the consumer electronics retailers should consider investing in companies in the industry that actually make money. Aaron's Inc. (NYSE:AAN) is a Zacks Rank #2 (Buy) stock and is expected to make $1.95 this year.