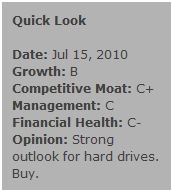 Think back a decade ago to mid-2000. The average person probably owned a single desktop computer and accessed the Internet through AOL (NYSE:AOL) dial-up. Few people bought products on-line. Nearly everyone still purchased CDs to own music and VHS tapes to own movies (DVD did not outsell VHS until 2001). Film cameras were found in 90% of homes while digital cameras had only penetrated 10%. Digital cameras still took relatively small, low-quality photos - 3 megapixels was state-of-the-art at the time. Digital video was barely even being used in Hollywood, let alone in the hands of consumers.
Most computer files were small, text-based word processing or spreadsheet documents that could easily be backed up onto floppy drives, Zip drives, or CD-ROM disks. Back in 2000, the largest hard drives you could find were about 80 gigabytes (GB) in size, and most computers had disk drives in the 20-40 GB range.
My, how things have changed today! Many people now own several computers. Music distribution has shifted sharply towards digital downloads, with Napster's MP3 sharing service beginning the process and Apple's (NASDAQ:AAPL) iTunes legitimizing it to the point where Apple is now the #1 music retailer worldwide. Digital distribution of movies has been slower, but streaming video from sources like Netflix (NASDAQ:NFLX) is coming on strong. Digital cameras have completely wiped out film at the consumer level, and almost at the professional level. The newest smartphones are capable of shooting high definition digital video. All of these mediums take up incredible amounts of storage space, both locally and in the "cloud", where people upload their media to sharing services like Youtube (NASDAQ:GOOG), Flickr (NASDAQ:YHOO), and Facebook. Not to mention maintaining backups on their external hard drive in case the computer goes belly up!
To really draw the point out, hard drives have also found their way into all kinds of new applications. Do you have a DVR? That has a hard drive. An Xbox 360 (NASDAQ:MSFT) or Playstation 3 (NYSE:SNE)? They have hard drives. A lot of scan/fax printers have hard drives. Many businesses now use network-connected hard drives instead of extra server machines for storage needs.
With this incredible expansion of the market over the past 10 years, things continue to look bright for drive makers. In particular, the move towards "cloud computing", where media and data is stored on server farms and streamed to any device, is a huge win for the drive makers over the solid-state "flash" drives that so many feared would replace them. On the other hand, proliferation of digital video and ever-larger megapixel sizes for cameras ensure that hard drives will continue to fill up.
Seagate (NASDAQ:STX) is the market leader, selling more hard drives than anyone else, although only slightly more than sworn enemy Western Digital (NYSE:WDC). With new management, an improving balance sheet, and the winds of organic growth behind them, Seagate looks like a solid Magic Formula investment today. MagicDiligence has a "buy" opinion.
The bulk of the story here is industry related. In addition to the growth trajectory, the dynamics on both the supplier and customer side has improved for the better over the last several years. Traditionally, the hard drive industry has been a difficult investment. Drives use standardized connectors, making them essentially commodities. Product cycles are very short, and prices are volatile and forever falling (to the tune of about 10% a year). There were nearly a dozen drive makers, but few PC manufacturers to sell them to.
Today, after consolidation and rationalization, only 5 global hard drive makers remain: Seagate, Western Digital, Hitachi (HIT), Samsung (OTC:SSNLF), and Toshiba (OTCPK:TOSBF). Amongst these, Seagate and WD comprise over 60% of the market. Fewer suppliers helps keep pricing rational, limiting the risk of destructive price wars.
On the other side, the customer roster has expanded as well. Disk drives demand has grown faster than PC demand due to their numerous new applications. As a result, Seagate no longer just sells to a few PC OEMs like Dell (NASDAQ:DELL) and Hewlett-Packard (NYSE:HPQ), but also to distributors, retailers, and "newer" OEMs like network storage giant EMC (EMC). While customer concentration remains a concern (70% from OEM customers alone), the trend is in the right direction.
Seagate has a dominant share (65%) of the enterprise hard drive market. Enterprise drives are optimized for speed and reliability, and are higher margin products than consumer devices. Enterprise drives are a key component of the cloud computing trend. However, the company will have to fend off new competition from Western Digital, which entered this market earlier this year.
The business trends for Seagate are improving. Strong results over the past 9 months have allowed Seagate to improve its balance sheet to the point where it now holds more cash ($2.3 billion) than debt ($2.0 billion). New management has focused on reducing the cost structure, a key in a cyclical industry such as this. They have succeeded, too - operating costs have been reduced by 23% from 2008 levels. These changes should make Seagate more competitive with WDC going forward, after losing 5 points of market share in the past 5 years.
Finally, the near-term industry outlook is strong. PC shipments grew over 20% in Q2 of this year. Intel (NASDAQ:INTC) just reported a blowout quarter, further evidence that businesses and consumers are buying computers again. While analysts have recently ratcheted down expectations for the drive makers, they may have been too aggressive. In any case, Seagate's 23% forward MFI-adjusted earnings yield is well below its long-term average of about 12%.
Seagate looks like an acceptable buy at current levels, with a "sell early" target price of $22.
Disclosure: Steve owns WDC