On November 21, 2013, Ross Stores, Inc. (NASDAQ:ROST) dropped comparable store guidance for the fourth quarter to 1%-2% from 2%-3% to reflect "an upcoming holiday season that (management) believe(s) will be the most intensely competitive and promotional selling period in recent years." The stock dropped 6.0% on the news, and ended 2013 8.2% off the highs.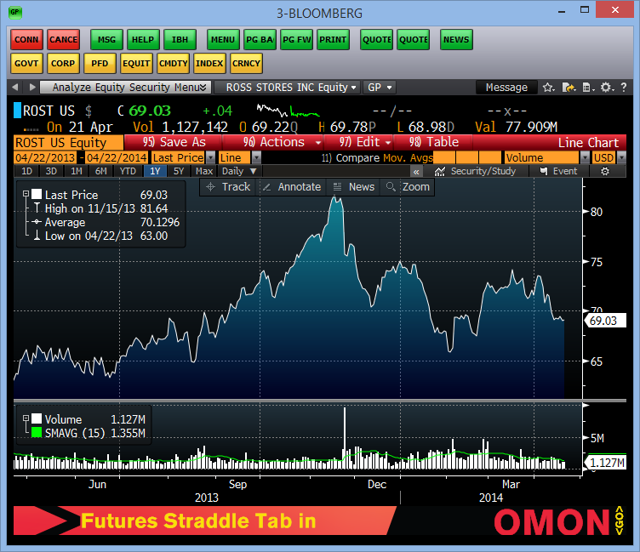 We are starting with this reduction in guidance because it offered insight into what to expect from ROST as a shareholder. The first is that management is early and conservative in outlining forward guidance. Consider the poor showing of comparable sales across the retail landscape during the fourth quarter 2013, and when the results were revealed by most companies. ROST was early, and very honest in outlining the tougher environment, preparing shareholders for the coming period with real guidance. The second is that management tends to offer conservative guidance, as the company hit the top of the revised guidance for the period (comps of 2%) and would have still hit the low end of the earlier target.
Based upon the company's business position, the growth plans, the capitalization, the historical and expected forward return of capital and the track record of the management team, we believe at the current valuation ROST represents a very compelling long-term investment.
Off-price retail offers a compelling pull for shoppers of all demographics…
We have read in several pieces on this website (here and here, for starters) that ROST compares to companies like Macy's, Inc. (NYSE:M), Kohl's Corp. (NYSE:KSS) and Nordstrom, Inc. (NYSE:JWN). We could not disagree more. M, KSS and JWN are completely different, in that all offer brand label merchandise at brand label prices with occasional promotions sprinkled in to reduce inventory. ROST really only has one main competitor, The TJX Companies, Inc. (NYSE:TJX), as they both operate in what is described as the off-price retail segment. As an off-price retailer, ROST (simplistically) buys brand name merchandise in bulk, for a significant discount, and sells the merchandise at a steep discount. Walking into a Ross Dress for Less, a dd's DISCOUNTS (the other store concept operated by ROST) or a TJ Maxx (operated by TJX), what you find are racks upon racks of clothing (as well as furniture, jewelry and other household items like towels), organized by size (speaking to the clothing) of various popular brands. Prices are anywhere from 10%-50% off the suggested retail price. Women of various socioeconomic backgrounds compromise the majority demographic of the shopper at ROST, as the ability to find value clothing appeals to low income as well as high income value shoppers. Because the merchandise is purchased in bulk (usually the excess inventory of the major brands), the business is not materially at risk to the online shopper because you really have to go to a ROST to see what they have.
Within the current economic environment (high for the cycle unemployment and stagnating wage growth), ROST offers a value shopping destination (a place to shop) where you can find a $34.99 Polo shirt for $14.99 or a pair of $44.99 running pants for $21.00. Through several site visits, the stores are open, clean and look like what they are supposed to look like: a place to find bargains! In light of many peers in the space falling prey to financial ruin and bankruptcy liquidation due to financial mismanagement (too much leverage), such as Loehmann's, Filene's Basement and Daffy's in recent years, the space is significantly less crowded than it used to be and thus, the opportunity for the well capitalized and well-managed company (or two) to grow exists.
Management has outlined significant plans for growth…
As of February 1, 2014, the company had 1,146 Ross Dress for Less locations and 130 dd's DISCOUNTS, for a total of 1,276 stores. That's up from 956 stores as of January 31, 2009, or growth of between 50-100 total stores per year. The company has outlined plans to get to 2,000 locations for Ross Dress for Less, and 500 for dd's DISCOUNTS, "over time." The company plans to open 95 locations in 2014 (75 Ross Dress for Less and 20 dd's DISCOUNTS), and if we were to simply assume the consistent trajectory of growth continues the company should approach the 2,000 and 500 store goals toward the end of this decade. Currently, 52% of the company's stores are in California, Florida and Texas. This concentration means that the model isn't stretched across the US, and growth outside of the three current core markets should occur without saturation.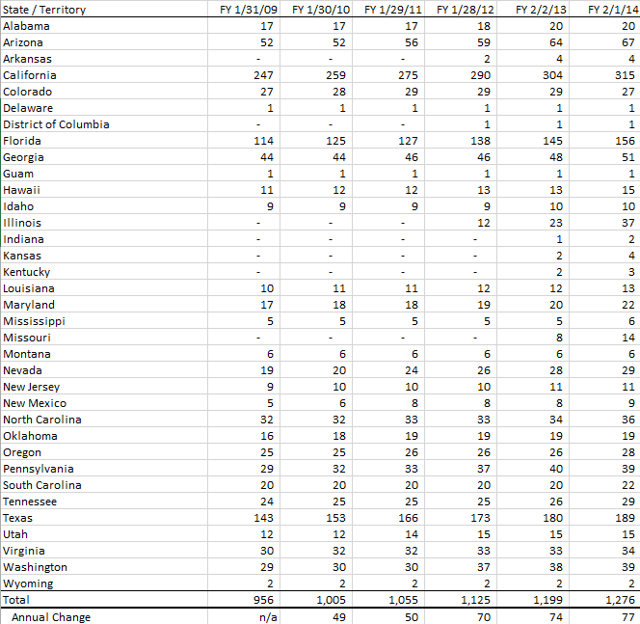 Bigger picture, unlike, for example, the social media, biotech and internet businesses (that fetch significant multiple premiums to a ROST), the company's business model is proven, and growth has led to a meaningful increase in operating revenue, earnings and cash flow and has been achieved with free cash flow and little leverage (we'll discuss shortly). For an investor looking for a growing company and a proven business model, ROST certainly fits the bill.
The capitalization is more than sound…
As of February 1, 2014, the company had $150.0 mm of outstanding debt (two tranches maturing in 2018 and 2021) against $435.0 mm in cash, for net debt of zero. The lack of leverage highlights considerable discipline and is a huge success for management considering the company has added 33% more stores (320) since the end of the financial crisis (January 31, 2009). With FCF expectations of $400-$600 mm in 2014, even with growth of 95 stores, the company continues to grow organically while setting up a consistent return of capital for shareholders.

The company has consistently grown earnings and cash flow… and has given it back to shareholders consistently…
During 2013, both topline and bottom line growth slowed relative to the previous several years on the back of stagnating economic activity and customer spending trends (particularly in the fourth quarter, where the company posted the lowest quarterly comparable sales figure of the year). Despite that, ROST still posted a respectable 5.2% growth in revenue and 5.6% growth in operating income. More notably, the company still generated Free Cash flow of $1.22 billion (consistent with the previous two years) and returned a record $728.0 mm to shareholders ($580.0 mm in repurchases and $148.0 mm in dividends). Considering, since January 31, 2009, the company has repurchased 18% of outstanding shares (almost 20% of the company) while growing stores by 33%, revenues by 57% and operating income by 171%, some period of slowdown in growth had to be expected as the low hanging fruit (defined as more working people with money to spend and exceptional comparable store growth) had been picked, the continued return of capital and the expectation for even modest growth allows shareholders to believe that more should be expected on the return of capital front going forward. The company has already outlined $550.0 mm in share repurchase guidance in 2014, as well as an increase in the annual common dividend (to $0.80/share annually), and the return of capital / share ratio (which was around 5.0% in 2013) should hold in 2014 as well. This trend should be expected to continue.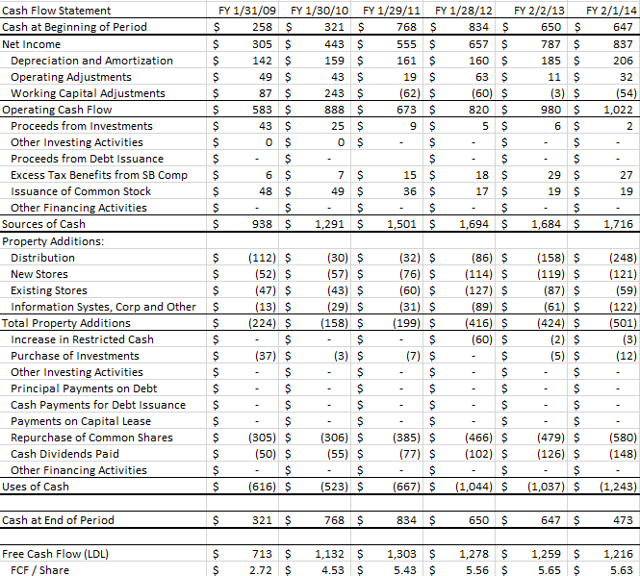 The opportunity…
In light of the 1%-2% comparable growth previewed for 2014, we should (base case) expect to see similar metrics posted year over year. Management has shown to be conservative, so the base case is that management is right and growth in comps slows considerably. A pick up beyond the management expectations (which would not be the first time) creates the possibility of upside beyond just the base case, which isn't a bad bet at the current valuation and in light of management's track record of delivering results.
Trading at 16.3x 2015 and 14.7x 2016 earnings, ROST certainly isn't trading at a discount to the market (it should not anyway, based upon the business risk profile), but relative to peer TJX, the stock is trading at an almost 2.0x discount, which is unwarranted in light of the similar guidance for 2014 and overall similarities of the business models (we like TJX as well, and can argue the merits of both businesses and as a result, do not believe one should trade at a meaningful premium to the other). Further, an investment in ROST is not for the short term. The long-term thesis for this business appears pretty simple: management grows the stores to the outlined goal, without incurring incremental leverage, retiring $500.0 mm (or more, expected) of shares, leaving the business toward the end of this decade smaller (in terms of the float) and generating (conservatively) 40%-60% more Free Cash Flow (assuming the model holds true over time with the store growth). At that level, there will be considerable options for ROST management to either find new ways to grow (international, like TJX has begun to do) or take the company private (or sell the business) to maximize the value of the Free Cash Flow for shareholders.
At the current price, ROST is a buy it and put it away for the long-term investment. Considering the aforementioned, we believe the opportunity seems quite compelling.
Disclosure: I am long ROST, TJX. I wrote this article myself, and it expresses my own opinions. I am not receiving compensation for it (other than from Seeking Alpha). I have no business relationship with any company whose stock is mentioned in this article.