On April 4th, activist investor Western Investment LLC filed an SEC form PREC14a (Preliminary proxy statements, contested solicitations) on Anworth Mortgage Asset Corp. (NYSE:ANH), which stated (emphasized italics mine):
Western Investment LLC, a Delaware limited liability company ("Western Investment" or "we"), together with its fellow participants in this solicitation is a significant stockholder of Anworth Mortgage Asset Corporation (the "REIT"). We are writing to you in connection with the election of our nominees to the board of directors of the REIT (the "Board") at the annual meeting of stockholders scheduled to be held at [ ], on Thursday, May 22, 2014, at 10:00 a.m., local time (including any adjournments or postponements thereof and any meeting which may be called in lieu thereof, the "Annual Meeting"), who, if elected, would constitute a majority of the Board.

The REIT has over a 10 year history of abysmally poor performance. Stockholders who invested in the REIT on August 31, 2003 have seen the value of their investment decline almost 6% (including dividends reinvested). In addition, as a result of the continued poor investment performance, the REIT's common stock (the "Shares"), trades at a significant discount to its net asset value or NAV. This discount to NAV has magnified the loss to stockholders. Shockingly, on December 31, 2013, the stock price closed at a 29.6% discount to NAV. We are concerned with the Board's failure to take action, and believe NOW is the time to take action that is in the best interests of all stockholders.

Our goal is to help determine the best course of action to maximize value for all stockholders. We believe the REIT has been severely mismanaged to date, and stockholders have seen years of investment declines. If elected, subject to compliance with their fiduciary duties, our Nominees will consider liquidating the REIT's underlying assets and dissolving the REIT, or exploring other strategic opportunities to return value back to the REIT's stockholders in an amount equal to or greater than the REIT's liquidation value, net of fees and expenses. Because the REIT has performed so poorly, even with any fees that would be payable in connection with the termination of the REIT's management agreement and related expenses, we believe that stockholders would still be in a better position if the REIT were liquidated, than if the REIT continues on its existing course.

We believe such abysmal performance should not be rewarded with the status quo retention of the same failing manager. In fact, we believe the performance is so bad that the best thing that can be done for stockholders is to simply liquidate the REIT and return all remaining value to stockholders, or enter into a transaction where stockholders would receive no less than the net liquidation value.
Let's take a look at the last few years' price versus mREIT peers Javelin Mortgage (NYSE:JMI), Two Harbors (NYSE:TWO), Hatteras Financial (NYSE:HTS) and American Capital Agency (NASDAQ:AGNC):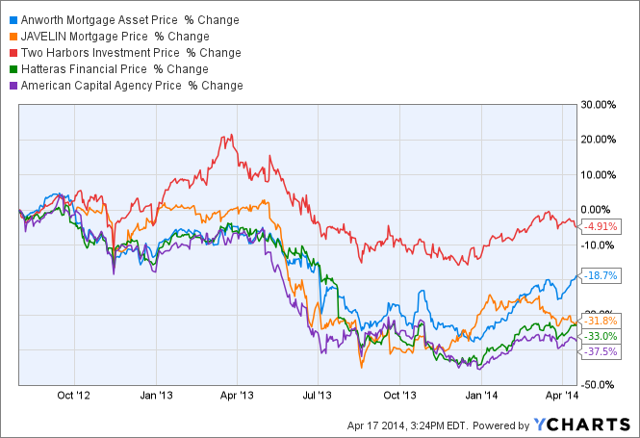 And now a look at Anworth on a price/book basis, as this seems to be the real point of contention: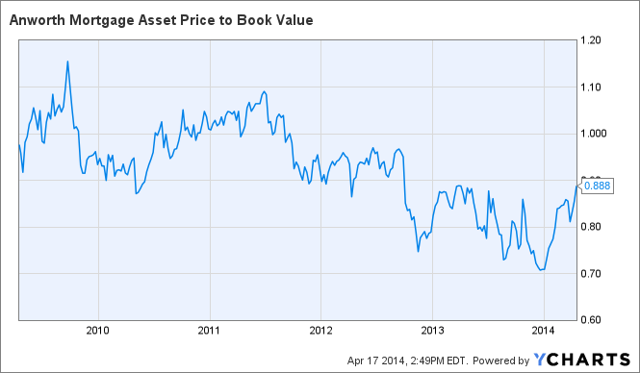 ANH Price to Book Value data by YCharts
The same thing was seen with Javelin Mortgage: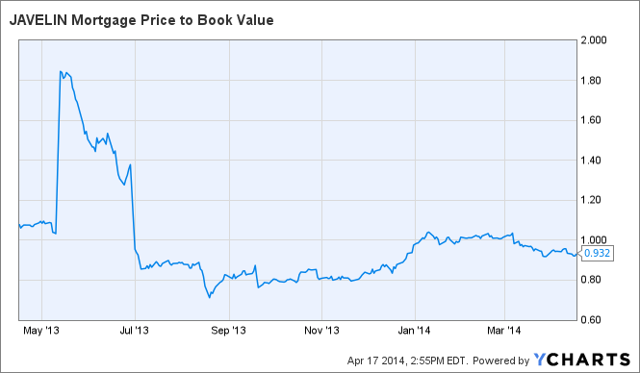 JMI Price to Book Value data by YCharts
As the REIT bounced off a 20% discount to NAV, Bulldog Investors disclosed a stake of nearly 5.5%, and subsequently increased it to over 7%. In November of 2013, Bulldog filed a Form 13d stating:
A member of the filing group has provided advance notice to the Company of its intent, at the Company's 2014 annual meeting, to (1) nominate six persons for election as directors and (2) present a proposal recommending that the Company's previously authorized program to repurchase shares be completed as soon as practicable provided such repurchases are made at a discount from book value.
The result: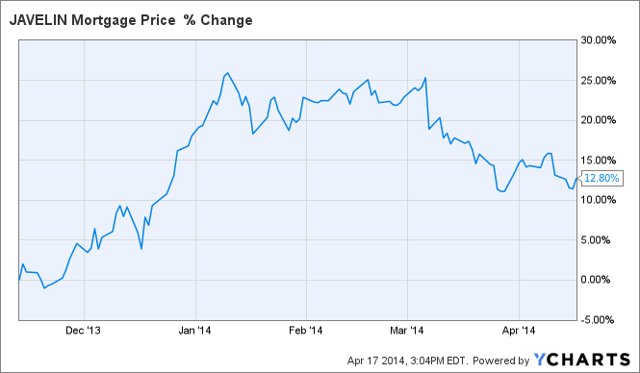 From the announcement to the following peak, the stock was up approximately 25%. Javelin remedied the "conflict" by repurchasing Bulldog's shares (as announced in the 13d filing).
Western has taken this "tactic" to a new level, calling for the potential liquidation of the REIT - at a 10% discount to book value. I have learned many things as an institutional investor, among them is this little tidbit:
There are "paper" bids, bid lists and then there is the price things trade". A 10% discount to book and liquidation is used? While I think we could see an increase in book value, I am not so sure that this is the value-enhancing transaction that it is viewed as. The REIT has indeed underperformed - of this there is no doubt, but to liquidate? Perhaps a share repurchase would be a better approach. The funny thing - Phil Goldstein of Bulldog specifically mentioned Anworth when talking about other potential targets.
Further, breaking the management agreement with PIA (the external manager) could be somewhat costly. According to the 10k (emphasis mine):
Electing not to renew the Management Agreement without cause would be difficult and costly for us. With the consent of the majority of our independent directors, we may elect not to renew our Management Agreement upon the expiration of any automatic renewal term, both upon 180-days prior written notice. In addition, if we elect to not renew the Management Agreement because of a decision by our board that the management fee is unfair, the Manager has the right to renegotiate a mutually agreeable management fee. If we elect to not renew the Management Agreement without cause, we are required to pay the Manager a termination fee equal to three times the average annual management fee earned by the Manager during the prior 24-month period immediately preceding the most recently completed month prior to the effective date of termination. These provisions may increase the effective cost to us of electing to not renew the Management Agreement.
The management fee set out in the 10k shows just north of $11 million/yr for the last two years, so the breakage fee would be approximately $35 million.
If, however, investors are looking for potential "resource conversion" plays (i.e., liquidation/buyback), here is a list of mREITs trading at a 10% discount to book value: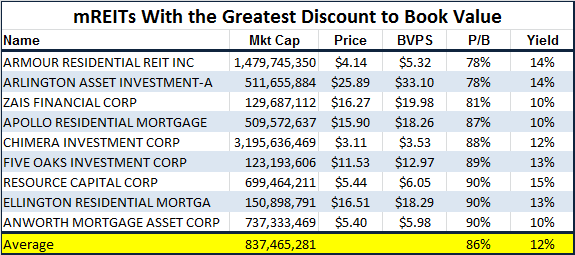 Personally, I would be looking at a greater discount to book value than 90% - and it is available.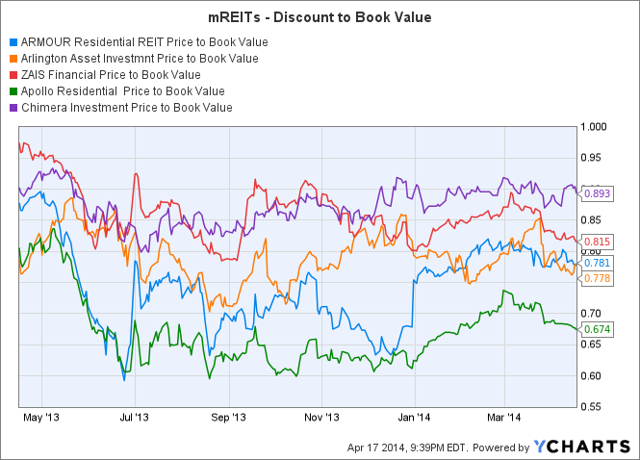 ARR Price to Book Value data by YCharts
Arlington Asset (NYSE:AI) is a principal investment firm that purchases agency and non-agency RMBS, CMBS, ABS and CRE loans, among other assets. AI would be one of the more rational choices given the market cap of the company, but there is a poison pill triggered by a 4.9% ownership, and has a dual share structure with Class B shares having three votes.
ZAIS Financial Corp. (NYSE:ZFC) primarily invests in, finances and manages performing and re-performing residential mortgage loans, which may be seasoned or recently originated. It also invests in, finances and manages RMBS that are not issued or guaranteed by an agency. It also has the discretion to invest in mortgage servicing rights, agency RMBS and in other real estate-related and financial assets, such as interest-only strips created from RMBS, commercial mortgage-backed securities and asset-backed securities. The company is smaller (market cap), and a significant position could be purchased for a smaller investment, but ZAIS has a poison pill, as well as 10% insider ownership.
Apollo Residential (NYSE:AMTG) invests in residential mortgage assets throughout the U.S. As of December 31, 2013, it held investments in Agency RMBS, including Agency IOs and Agency Inverse IOs, non-Agency RMBS, securitized mortgage loans and other mortgage-related investments. Apollo's management agreement states that termination of the Management Agreement with its Manager without cause is difficult and requires payment of a substantial termination fee or other amounts. The term "cause" is limited to specific circumstances laid out in the Management Agreement. Termination for unsatisfactory financial performance does not constitute "cause" under the Management Agreement. Its management contract states that termination without cause will call for 3x management fees ($27 million currently). It also has anti-takeover language.
Lastly, we have Armour Residential (NYSE:ARR). Armour is an agency mREIT focused of fixed-rate RMBS. Armour is externally managed by ARRM, which is also the external manager of Javelin Mortgage Investment Corp. Like the other management agreements, 3x management fees are paid on termination. Armour, while having a higher market cap, is potentially the best choice for someone looking to lean on a company for a share buyback, but a liquidation, even at a 22% discount to book, is unlikely. Management has also shown, through Javelin, that it could be open to purchasing "activist" shares.
Bottom Line: I don't think that "activism" will work with Anworth, as it is not trading at a significant enough of a discount to make a liquidation work. While this type of investment made sense when a large number of mREITs traded at 30%+ discounts, they are not that cheap at this time. If you want to invest in Anworth, consider its preferred stock.
Disclosure: I am long TWO, WMC. I wrote this article myself, and it expresses my own opinions. I am not receiving compensation for it (other than from Seeking Alpha). I have no business relationship with any company whose stock is mentioned in this article.
Additional disclosure: This article is for informational purposes only, it is not a recommendation to buy or sell any security and is strictly the opinion of Rubicon Associates LLC. Every investor is strongly encouraged to do their own research prior to investing.