Amazon.com (NASDAQ:AMZN) has always had its share of detractors who point at the company's astronomical valuation (P/E of 560), lack of consistent accounting earnings and seemingly uneconomic moves to gain market share (heavily subsidizing shipping). In my opinion, all these criticisms miss the point. Amazon's aspirations have never been about short-term earnings management or profitability - simply put, the company aspires to Sell Everything, To Everyone. All its moves should be viewed in that context, as should the opportunity. Within the next couple of decades, there will be few aspects of retail that will not have been impacted profoundly by the "Amazon effect".
I will use the US market to illustrate the extent of Amazon's growth potential, since it has the richest and most readily available data.
US Retail Sales
Below is a snapshot of the total US retail market, as well as the US E-commerce market, based on census information. The retail market is organized into different segments, and the highlighted segments represent the ones that are most addressed by e-commerce: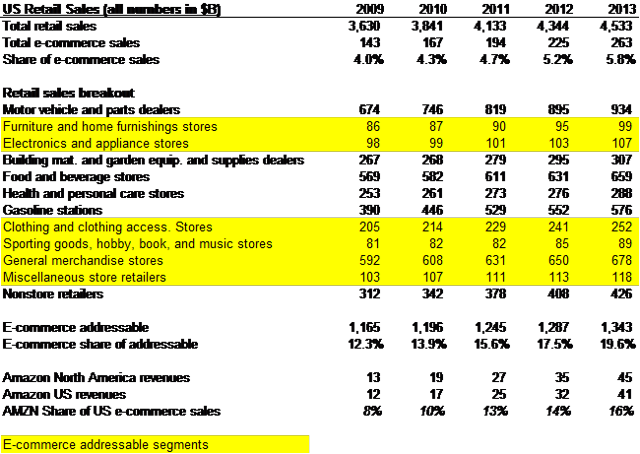 Source: US Department of Commerce
The share of e-commerce as a percentage of total retail sales has increased from 4% to 5.8% from 2009 to 2013, however, the e-commerce share of addressable segments has increased from 12.3% to 19.6%. Amazon does not break out US revenue specifically, I have assumed that US revenue makes around 92% of North Americas revenue (the actual number could even be higher, given that Amazon Canada operates in far fewer segments compared to Amazon US). Using this split to break out US sales, Amazon's share of US e-commerce sales doubled, from 8% in 2009 to 16% in 2013.
Looking ahead to 2020
Looking forward, it would not be unreasonable to expect that by 2020, around 30% of sales in addressable segments would be through e-commerce channels. This total US e-commerce revenue would be ~$517B. I believe Amazon would be well-positioned to keep growing share - a 25% share of the e-commerce market would triple AMZN US revenue to $129B. If this seems excessive, it's worth noting that it represent a CAGR of 18%, which is half of what AMZN has achieved between 2009 and 2013.
But Wait, Isn't Amazon Barely Profitable?
There is an important distinction between structural unprofitability and accounting profit. Amazon's seeming lack of profitability has everything to do with discretionary investments it has chosen to make in order to further enhance its customer value proposition and increase loyalty. What gets little press is that Amazon's gross profit and gross profit margin have been steadily increasing (see table below)

Amazon makes a conscious choice to reinvest these profits back to the business in marketing and technology investments to gain share. These, in turn, form a virtuous cycle and lead to further improvements in scale, customer insight and engagement; as is evidenced by its growth rates. If Amazon adds $90B in US revenue by 2020, that is an incremental ~$20B in gross profit to further strengthen its market position. All this without considering international, which is now almost two-thirds the size of North America and much less penetrated.
Risks
The biggest risk I see with Amazon is succession planning. There is no identified leader to succeed Jeff Bezos, and if anything were to happen to him, it is doubtful that Amazon would run the same way. Certainly, there is a risk that it would halt the process of relentless innovation and the almost maniacal devotion towards customer service, which has been one of its biggest hallmarks.
Conclusion
Amazon has decades of growth in front of it. The secular growth of the e-commerce market, both in the US and internationally, coupled with the investments it is making to gain share will hold it in good stead for years to come. If there is a stock to own for the long term, Amazon is it. Don't let the seemingly lofty valuations fool you - Jeff Bezos knows what he's doing.
Disclosure: I have no positions in any stocks mentioned, and no plans to initiate any positions within the next 72 hours. I wrote this article myself, and it expresses my own opinions. I am not receiving compensation for it (other than from Seeking Alpha). I have no business relationship with any company whose stock is mentioned in this article.
Additional disclosure: I am short Amazon puts.