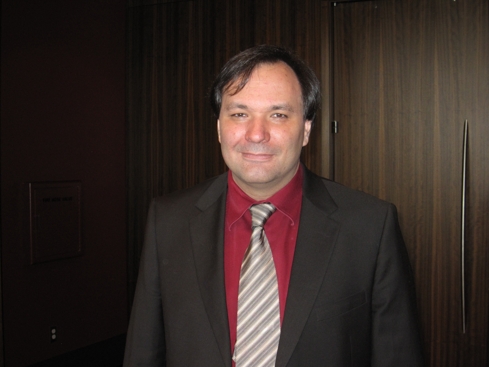 Andres Carbacho-Burgos is a senior economist at Moody's Economy.com. Previously he was an economics professor at Texas State University.
H.L.: How is the U.S. economy doing?
A.C-B.: In the U.S. we're seeing a recovery which is starting to slow because the fiscal stimulus is petering out. The majority of those funds have now been dispersed and will run out this year.
Also, the financial problems in Europe are dragging down market confidence, and this has the indirect effect of tightening credit throughout the U.S. economy, not to mention a longer-term effect of reducing U.S. exports to Europe. If East Asia and Latin America had more financial clout relative to Europe, the U.S. economy would not be experiencing that much of a slowdown right now. However, the U.S. and Europe are financially interdependent, and Europe still absorbs a large share of U.S. exports.
H.L.: What do you see for U.S. jobs?
A.C-B.: We see relatively slow growth for the rest of 2010. We won't add very much. We see job growth starting to take off only in 2011. We won't get back to the peak level which we saw at the end of 2007 and early 2008 probably until 2013 at the earliest.
The unemployment rate has started to go down. It peaked at 10 percent at the end of last year. However, labor force growth will start picking up as the economy recovers, so we predict that for about six months the labor force growth will be faster than job growth, and that will start pushing up the unemployment rate. We think it will reach a second peak of nearly 10 percent by the end of the year and early 2011, and only then will it start falling.
H.L.: What about interest rates?
A. C-B: The Federal Reserve will keep short-term Fed funds interest rates (the rate banks pay other banks to borrow overnight to maintain reserve requirements) at current levels, near zero now, through at least the first quarter of 2011. The Fed will only start raising those rates in the second quarter of 2011. Assuming that the economic recovery goes as predicted, it will start incrementally increasing it until they get to about 4 percent by the end of 2012.
What that will mean is that the economy is recovering, so the increase in short-term rates will show it's pulling back the amount of credit it indirectly gives banks.
The way things stand right now, banks can obtain additional funds from the bank at a very low interest cost. Any time a bank wants to obtain additional funds to lend it sells Treasury bonds to the Fed, and when the interest rates go up that indicates that credit is harder to obtain. If the economy is closer to full capacity it prevents it from overheating and prevents inflation or bubbles like the housing bubble that popped in 2007.
H.L.: Is inflation a danger?
A.C-B.: We don't predict any danger of inflation both because the U.S. will continue to operate under capacity for the next two years, and we believe the Fed will pull back once the economy starts recovering.
H.L.: Some analysts warn about deflation, and others urge cutting the ballooning deficit right now. What's your take?
A.C-B.: Deflation is not part of our baseline outlook, but it is a downside risk. That's mainly because there's a danger that policy-makers on both sides of the Atlantic will start to pull back on overall credit and fiscal stimulus too soon.
The danger is not so much with the Fed or the European Central Bank. The danger is that most governments in Europe and the U.S. are focusing on reducing deficits. They might be jumping the gun, because, while you do need to focus on deficit reduction, you can start doing so by cutting back on future spending, whereas if you cut back on current spending, you're risking the danger that you'll either prolong the recession by keeping people out of jobs or slowing down the rate of job growth.
The most glaring example of this was the Senate's refusal to extend unemployment benefits. Unemployment benefits have one of the largest multiplier effects, because most of them are spent very quickly and not saved, so you get a substantial bang for the buck in maintaining the overall level of spending. It's not something you want to cut off when the unemployment rate is over 9 percent.
A reduced level of spending translates to reduced income growth and therefore a reduced ability of borrowers to service their debts. That increases the likelihood of more defaults and tighter credit and therefore reduced spending and more unemployment. And once people start expecting prices to start to fall in the future, they start cutting back on non-essential purchases, so the effect is to cut spending further. That generates additional unemployment. And that's what happened from 1929 to 1933.
H.L.: Let's talk about the states and look at one, Connecticut. Howi is it doing in its economic struggle?
A.C-B.: The brief story is that in July we've moved its status from "moderating recession" to "recovery." Not only has industrial production increased, but also the economy has started to add a slight amount of jobs since February, mainly in the Hartford and New Haven areas. By comparison, Fairfield County has just started adding jobs, and the Norwich metro area has not added jobs but has stopped losing jobs for the past five or six months.
Also, continuing unemployment claims have been falling since last year, and that's a good sign. They peaked in mid-2009 at around 90,000 per week, and now they're at 70,000 per weak, which is still relatively high. The Connecticut economy is not going to be back to full capacity until continuing claims are back down to 40,000 per week.
We believe it will be until the second quarter of 2013 roughly before Connecticut can expect to regain the approximately 100,000 jobs it lost in the recession, which began in the state in mid-2008.
Housing in the state is also starting to recover, but it's going to be fairly slow, because there is a significant amount of foreclosure inventory, although it's not as large as in Rhode Island, but it's still enough to slow down house price growth over the coming year.
Currently, the recovery in Connecticut is very slow and remains fragile, but it is a recovery right now.
Disclosure: No positions