As any good investor knows, even though we might decide to do nothing with our portfolio and just let it work, passing up an opportunity to own shares of a higher yielding stock in a well balanced portfolio will add some zip to our income.
Annaly Capital (NYSE:NLY) is one that I already own at $9.79 per share but even at the current share price, the high yield and discount to book value makes it a compelling addition to any dividend income portfolio.
Discount To Book Value, Stabilized Dividends And The Fed Make This A Sound Dividend Opportunity Stock
Prior to the Fed tapering of QE, the mREIT sector took a pounding based largely on the unknown effects of longer-term interest rates.
Back in December when I called a bottom, it seemed clear to me that the elephant in the room was actually a mouse, and the price began moving up. On top of that, NLY announced that the current dividend would not be cut which also is a very good sign.
The 7% discount to book value right now, and the stabilized dividend, makes this mREIT an undervalued dividend income opportunity right now and perhaps for the next two years as the Fed has broadcast its desire to keep short-terms rates near zero.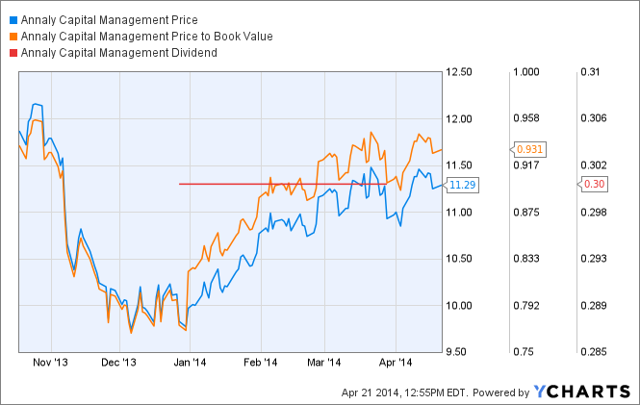 The current interest rate environment has stabilized, and the longer-term rates have not jumped quickly enough to throw the business model of NLY into disarray. On top of that, the commercial mortgage business (the CreXus deal) gives Annaly a new look and offers new opportunities.
Most importantly is the fact that with ZIRP in place, (zero interest rate policy) and a very stable longer-term interest rate environment, NLY should be able to increase earnings, pay higher dividends and turn over less profitable "inventory" more efficiently.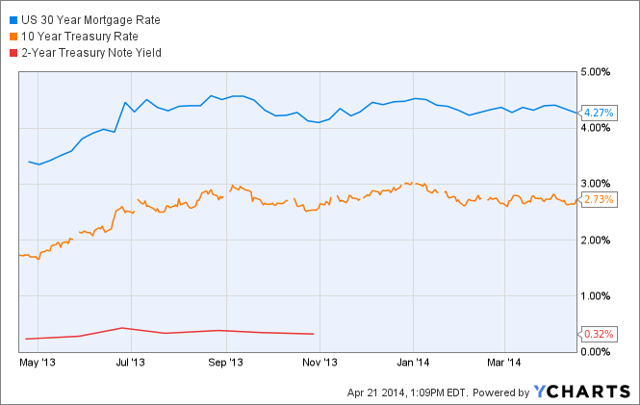 The spread has widened slowly between the 2- and 10-year Treasury rates and a 240 basis point spread is roughly 100 basis points higher in less than one year. Aside from giving NLY a larger playground to profit from, hedging costs could drop to a more manageable level as well.
The stability of all of these factors leads me to believe that the share price could see the recent highs once again, in the moderate term, and an increase in dividends appears very likely.
The Headwinds That Require Monitoring
As with any stock, there are risks and the mREIT sector is more of a risk than a regular dividend paying stock. Investors should take note of the following potential issues that could increase the risk of lower dividends and loss of capital:
If interest rates rise too rapidly, NLY would not be able to turn its "inventory (of mortgage backed securities)" quickly enough to keep up with earnings.
The cost of hedging will increase with a more volatile interest rate environment, which in turn will impact earnings.
If the housing market falls into another crisis, and another round of foreclosures and refinances (pre-payments) occur, earnings will be impacted.
If and when ZIRP is ended, short-term rates will rise and could actually invert if the Fed decides to increase interest rates, which could also hurt earnings.
If earnings are impacted then the dividends could be reduced which will have an impact on the share price as well.
It is my opinion that with inflation so low, and the Fed maintaining an accommodative policy, the interest rate environment is favorable for this sector, and in particular Annaly Capital, which is more conservative than others in the sector and the lower use of leverage, or going further out on the yield curve, also helps maintain a reliable operating procedure to lower risks and maintain dividends and earnings to offer strong shareholder value.
The Bottom Line
I would not hesitate to add more shares to a risk allocation for NLY at the current price, and opening a new position could be quite beneficial for those seeking enhanced retirement dividend income.
Disclaimer: The opinions of the author are not recommendations to either buy or sell any security. Please remember to do your own research prior to making any investment decisions.
Disclosure: I am long NLY. I wrote this article myself, and it expresses my own opinions. I am not receiving compensation for it (other than from Seeking Alpha). I have no business relationship with any company whose stock is mentioned in this article.