Facebook (NASDAQ:FB) is set to report FQ1 2014 earnings after the market closes on Wednesday, April 23. Facebook, the social network, has been grabbing headlines left and right this quarter for its aggressive acquisitions of WhatsApp and Oculus VR. Mark Zuckerberg and co. came out of left in February with a $19 billion (mostly stock) move to buy messaging app WhatsApp. WhatsApp sells subscriptions for only $1 per year, but now touts 500 million users and continues to grow by about 25 million users per month. Facebook continues to buy or build best in class mobile apps that cater to individual verticals rather than attempt to keep everything on the "one big blue app." In his recent interview with the New York Times, Mark Zuckerberg explained the importance of the ease of use and specificity of mobile apps and why he plans to continue unbundling Facebook.
This quarter Wall Street is expecting Facebook to double its EPS from 12 cents in FQ1 of last year to 24 cents this year. The Street also expects Facebook to increase its revenue by 62% on a year-over-year basis. But investors have even higher expectations than Wall Street. Here's what they expect from the social network this quarter.
The information below is derived from data submitted to the Estimize.com platform by a set of Buy Side and Independent analyst contributors.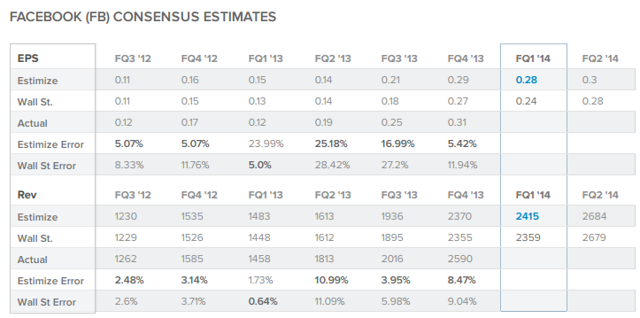 (Click here to see Estimates and Interactive Features for Facebook)
The current Wall Street consensus expectation is for Facebook to report 24 cents EPS and $2.359B revenue while the current Estimize.com consensus from 101 Buy Side and Independent contributing analysts is 28 cents EPS and $2.415B in revenue. This quarter the buy-side as represented by the Estimize.com community is expecting Facebook to beat the Wall Street consensus on both EPS and revenue by a considerable margin.
Over the previous 6 quarters, the consensus from Estimize.com has been more accurate than Wall Street in forecasting Facebook's EPS and revenue 5 times each. By tapping into a wider range of contributors including hedge-fund analysts, asset managers, independent research shops, students and non-professional investors Estimize has created a data set that is more accurate than Wall Street up to 69.5% of the time, but more importantly, it does a better job of representing the market's actual expectations.
The magnitude of the difference between the Wall Street and Estimize consensus numbers often identifies opportunities to take advantage of expectations that may not have been priced into the market. In this case, we are seeing a wide differential between the two groups' expectations on EPS.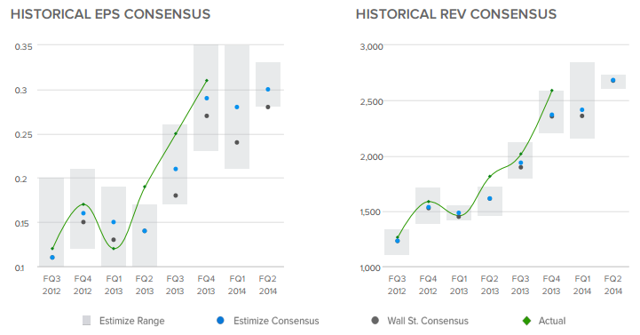 The distribution of estimates published by analysts on the Estimize.com platform range from 21 cents to 35 cents EPS and from $2.150B to $2.843B in revenues. This quarter we're seeing a wide distribution of estimates on Facebook.
The size of the distribution of estimates relative to previous quarters often signals whether or not the market is confident that it has priced in the expected earnings already. A wider distribution of estimates signaling less agreement in the market could mean greater volatility post earnings.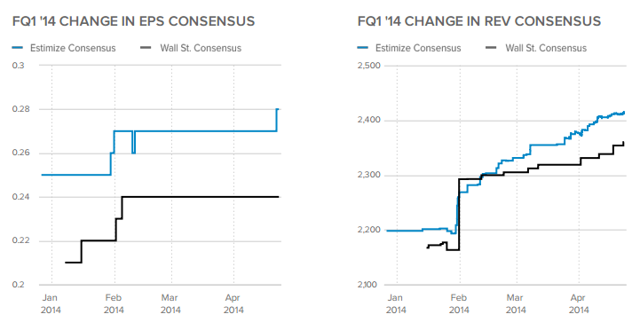 Over the past four months, the Wall Street EPS forecast climbed from 21 cents to 24 cents while the Estimize consensus also rose 3 cents from 25 cents to 28 cents. Meanwhile the Wall Street revenue consensus shot up from $2.177B to $2.359B while the Estimize consensus increased from $2.198B to $2.415B. Timeliness is correlated with accuracy and upward analyst revisions going into an earnings report are often a bullish indicator.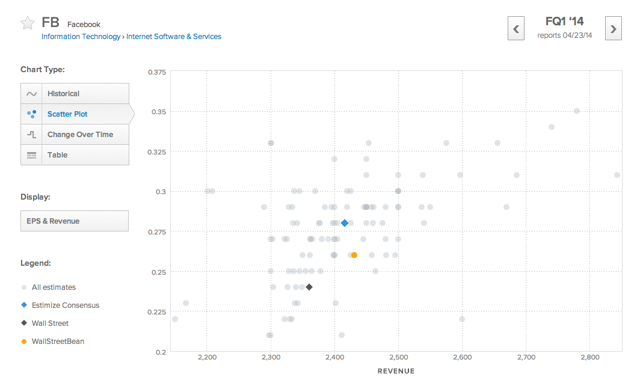 The analyst with the highest estimate confidence rating this quarter is WallStreetBean who projects 26 cents EPS and $2.431B in revenue. WallStreetBean is ranked 10th overall among over 4,150 contributing analysts. This season WallStreetBean has been more accurate than Wall Street in forecasting EPS and revenue 62% of the time each over 13 estimates. Estimate confidence ratings are calculated through algorithms developed by deep quantitative research, which looks at correlations between analyst track records and tendencies as they relate to future accuracy. In this case, WallStreetBean is expecting Facebook to beat the Estimize community's projection on revenue but not quite live up to the high EPS consensus from the community.
Facebook is reportedly getting ready to launch a new mobile advertising platform, but even before it arrives analysts have highly aggressive growth expectations from Zuckerberg's social network. On Wednesday the Estimize community is expecting year-over-year growth of 16 cents per share EPS and 66% on sales. Contributing analysts on the Estimize.com platform expect Facebook to beat the Wall Street consensus by 4 cents per share on EPS and $56 million in revenue.
Disclosure: None.