This spring, Chevron (NYSE:CVX) has further revealed and advanced its plans in Argentina's Vaca Muerta Shale and the Permian Basin's Midland and Delaware Basins. In Texas, the Permian Basin produces oil like no other because of its multiple stacked plays. For this reason, the estimates to the Midland Basin have increased from 50 billion boe to 75 billion boe as of the first of this year.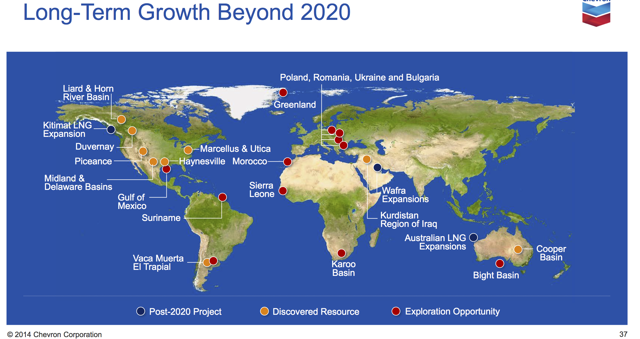 In the Midland Basin, the early Spraberry/Wolfcamp reserve estimates from the June 2013 EIA/ARI report cited about 20% of leading independent oil and gas company Pioneer's (NYSE:PXD) findings of 50 billion as noted in the spring of 2013. Reserve estimates are growing in certain shale basins.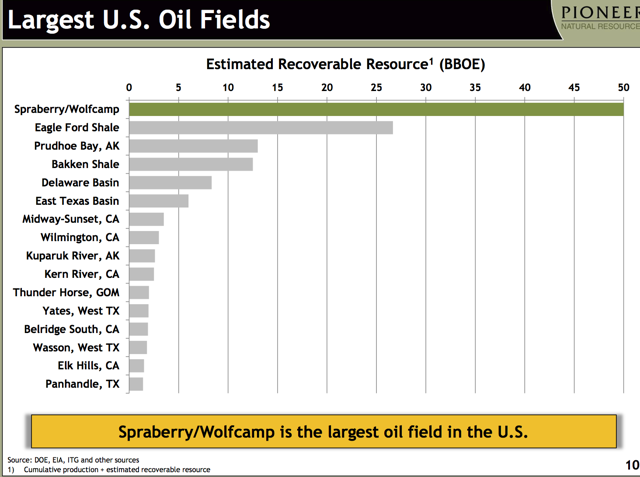 Since then, the Wolfcamp alone is estimated to hold 61 billion, as the pie chart below illustrates. After many hundreds of both horizontal and vertical wells were drilled, these reserves were increased. This has been the experience in many shale basins. The 23 billion estimate for Vaca Muerta from the analyst connected to YPF and the approximate 17 billion estimate of the EIA are proxies, but not likely the final story. The Vaca Muerta to date is more similar to an Eagle Ford Shale in terms of intervals and other geologic yardsticks versus a Midland Basin. More data in the coming years will reveal any added intervals to the Vaca Muerta of the Neuquen Basin. (See a more detailed article about Chevron and the Vaca Muerta.)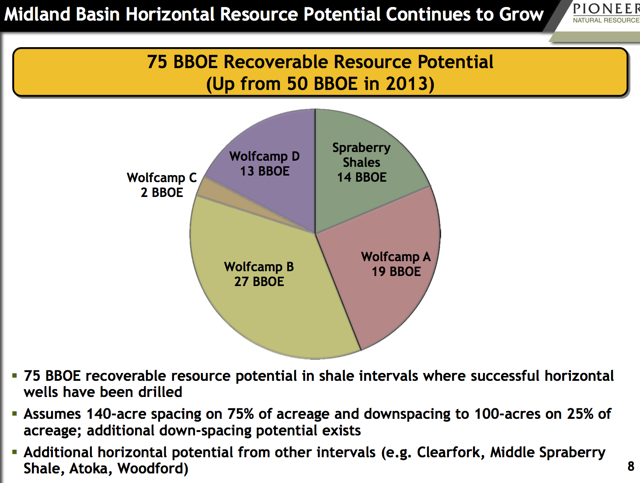 Chevron in the Permian
Why has Chevron been slow to the Permian party with its huge acreage position? Top producers Pioneer, Occidental Petroleum (NYSE:OXY) and Apache (NYSE:APA) have all detailed their plans. Chevron has held Permian acreage in its portfolio for many years, and it cites low royalty rates for 90% of its 1.5 million surface acres.
Recently, Chevron has identified 17,000 oil and gas well prospects with an additional exploration potential estimated at another 8,000 to 10,000 well locations. During its analyst day, management relayed the development plan that other leading independents are following:
"Multiple wells can be drilled from a single pad location and producing infrastructure can be shared. Compared to other basins, this lowers the risk and the cost per well. And the access to export infrastructure is also advantaged. We're optimizing our developments for value creation. We're not in a drill or drop position so we can focus on the resource and prioritize our developments...According to WoodMac data, our development plan has the highest compound growth rate of the top five Permian producers over the next few years, and again, delivers long-term profitability. "

Source: See "Event Transcript," March 11, p 15
In Midland Basin, the most prolific part of the Permian, it is targeting the Wolfcamp play, with over 8,200 well prospects identified. In 2013, it drilled 330 wells and plan roughly the same in 2014. In the Delaware basin, it also holds significant undeveloped acreage with over 6,000 well prospects, citing production rates of over 1,200 barrels per day. In 2013, it drilled 135 wells and is targeting 175 in 2014. It notes: "To date, the wells we've drilled are a mixture of development, appraisal and some exploration. As we shift into a factory drilling mode, our plan is to continue to increase rig and well counts."
Overall, CEO John S. Watson offered this during the fourth quarter earnings Q&A when he was asked why Chevron has not accelerated development and capital like other independents:
"What I would tell you is we work very hard to put together a really sustainable and capital-efficient plan over time. Having said that, we drilled some 460 gross wells in 2013, which is more than we had planned. We got 26 rigs working in the basins there. About half of those actually are non-op rigs as well as our own rigs. ... We are focused on making good returns and so we do want to be sure that we can do it in a low-cost fashion and do it in a way that will generate the kind of financial results overall that will keep us leading. I mentioned earlier that we lead in earnings per barrel relative to the majors, but we also have a big lead in return on capital and return per barrel relative to a lot of the independents as well. So we may not go as fast as some of the independents, but I think it's the right way for us to move forward.
Chevron will grow production from about 150,000 boe/d to 250,000 boe/d by 2020. It is forecasting 77% liquids, which is quite high relative to peers.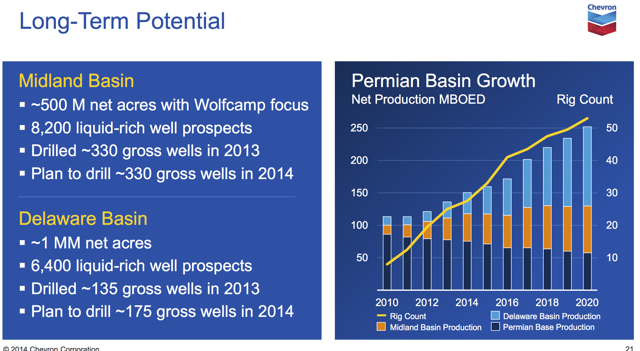 Below are the statistics Chevron cites relative to performance in earnings per barrel over ten years' time. It has delivered on this measure in the 2004-2013 timeframe.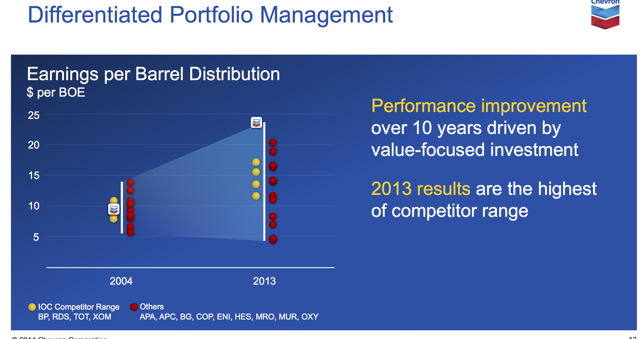 While a number of independents are shrinking to grow, Chevron says it is not: "We're not in shrink to grow mode; we're not resetting the base. But just as we've done in the downstream [areas], where we pruned the portfolio..." Chevron also notes that relative to Argentina, "as far as we know, it's the best shale outside of North America."
The Vaca Muerta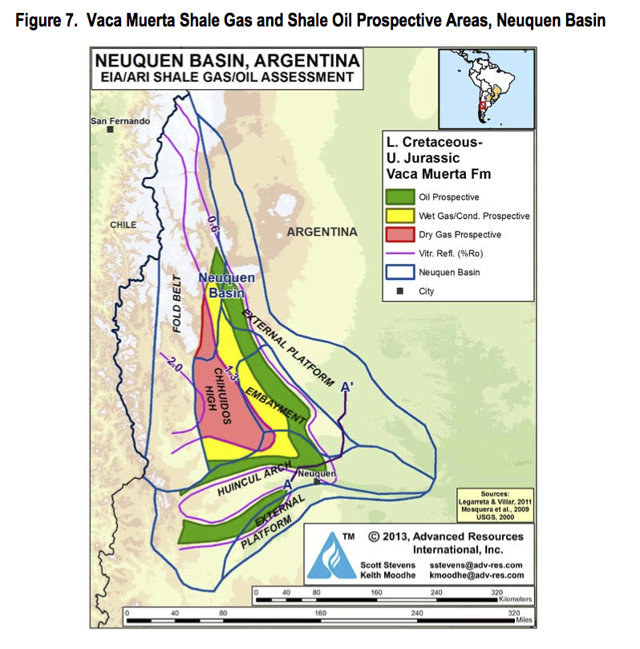 CEO Watson highlights the benefits of the Vaca Muerta being in the middle of an oil producing area and its proximity to oil infrastructure. It was running 15 rigs with plans to grow to 19. Chevron states production of 16,000 barrels a day (gross).
On April 10, 2014, YPF (NYSE:YPF) announced that Chevron was continuing its partnership with YPF in the "massive development" of Vaca Muerta. The $1.24 billion pilot phase, financed by Chevron, had developed 161 fractured wells in a 20 square kilometer area. The new phase adds 170 additional wells this year with a joint investment of over $1.6 billion, with YPF continuing as operator. In the future, the partners expect to develop an area of 395 square kilometers with over 1,500 wells producing over 50,000 barrels of oil and 3 million square meters (over 100 million square feet) of natural gas a day. This is roughly a three-fold increase in production from year-end 2013 in the Loma Campana concession.
Importantly, Chevron and YPF also agreed on a $140 million four-year exploration project to drill and analyze 7 vertical and 2 horizontal wells in a 200 square kilometer area (Narambuena) in the Chihuido de la Sierra Negra concession. Chevron Vice Chairman George Kirkland said in the company's statement: "Vaca Muerta could become an important contributor to Chevron's long-term production growth."
The Vaca Muerta is estimated roughly between the size of the Midland Basin's Wolfcamp A (19 billion barrels) and B (27 barrels) projections. If the Spraberry/Wolfcamp is the second largest oil field in the world, the Neuquen Basin with its various fields including the El Trapial is Argentina's Permian Basin equivalent.
Value proposition
Chevron has positioned itself well relative to independents and international oil company peers. It is staying true to its value proposition, as cited by CEO Watson earlier.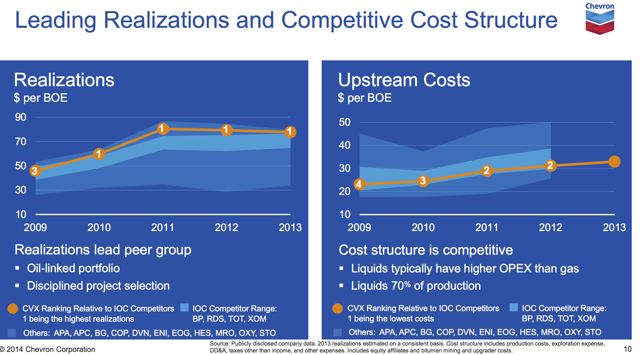 Tight oil/shale oil capital spending will comprise about 11% for 2014-2016. During its analyst meeting, Chevron said it holds more than $1 a barrel advantage over [its] closest IOC competitor, and an average of $10 over a large group of E&P and integrated companies. It also cites a 70% oil-weighted portfolio.
As mentioned in the Vaca Muerta backgrounder, Chevron's stock lifted after the April 10th announcement by Chevron and YPF. Chevron's stock price increased from under $118 to nearly $124, back in the range it traded at the first of the year. Markets gave the stock a slight push after the March 11 investor day presentation.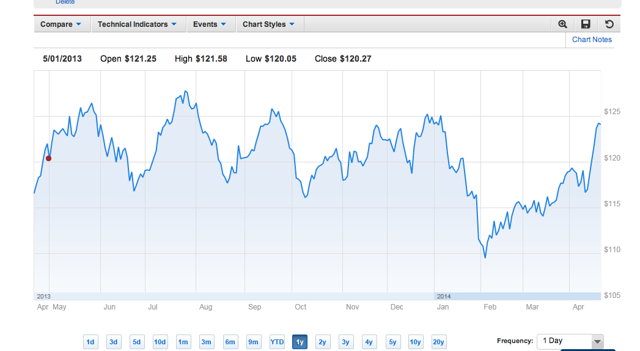 In relation to other peers' stock pricing, Chevron has been a laggard, but there have been other issues investors addressed in their "vote." Chevron recently lowered its 2017 production volumes guidance by approximately 5%. Currently, the company produces 2.6 million barrels a day, and expects to increase it to 3.1 million barrels a day (previously issued guidance of 3.3 million barrels a day), noted a recent article. However, the value in Chevron is longer term. The Permian Basin and Vaca Muerta projections combined could amount to approximately 10% of production when fully realized.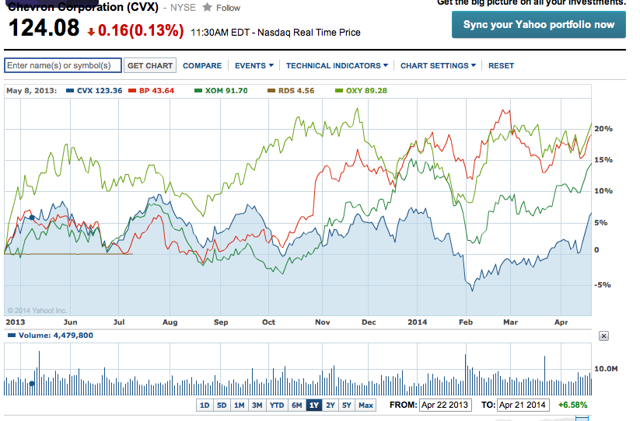 My aim is to reveal future value from the Permian Basin and Argentine shale production that may not be fully realized. While it may have become more baked into the stock price very recently, it is likely not fully cooked. Chevron will also invest in extending the life of legacy assets that combine with the shale prospects in the Permian and Neuquen Basins. Reversals to current macroeconomic conditions could dampen prospects for Chevron and the sector in general. Policy reversals in Argentina could do damage as well, but they are not imminent; Chevron has a very strong position in Argentina.
With a nicely weighted oil-portfolio and hefty LNG projects, among other portfolio attributes, Chevron appears to have a positive industry-leading value proposition. Its highlighted cost advantages will become increasingly important, especially so in shale development.
Disclosure: I have no positions in any stocks mentioned, and no plans to initiate any positions within the next 72 hours. I wrote this article myself, and it expresses my own opinions. I am not receiving compensation for it (other than from Seeking Alpha). I have no business relationship with any company whose stock is mentioned in this article.