SuperValu (NYSE:SVU): $11.20 on NYSE on July 20, 2010
52 week price range: $17.89 – 10.40
Diluted shares: 213 million
Market cap: $2,386 million
Net debt: $7,424 million
Enterprise value: $9,810 million
Annual dividend: $.35 – 3.1% yield
The stock of SuperValu, the large food retailer and wholesaler, is so undervalued that despite recent competitive weakness in its retail business, the stock is very attractive. Based on my analysis using several valuation methodologies, a fair value is $24.00 per share.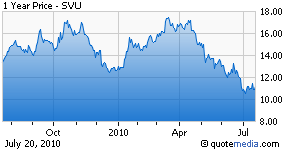 A reasonable enterprise value to EBITDA multiple applied to estimated earnings for the year ending February 26, 2011 is 6.0. This would result in a stock price of a little over $24.00 per share. It would also imply a P/E ratio of 14.0, which is also reasonable.
A discounted cash flow stable growth rate valuation model also supports a fair value of almost $25.00 per share. In this model, a $25.00 stock price is reflecting about 1.0% growth in perpetuity for SuperValu's free cash flow. Furthermore, the current stock price is reflecting about negative 11.0% growth of free cash flow in perpetuity, which seems a little absurd.
Currently the stock is trading at 6.5 times estimated EPS for the fiscal year ending February 26, 2011, and the stock price implies an enterprise value to EBITDA multiple of 4.7. This compares with P/E ratios of 11.7 and 12.1 for Kroger (NYSE:KR) and Safeway (NYSE:SWY) respectively based on estimated earnings for approximately the same forward period.
Investors might be justifying the current stock price based on the fact that SuperValu has not been competing in the retail grocery industry as well as other large companies including Wal-Mart (NYSE:WMT), Costco (NASDAQ:COST), Kroger (KR), and Safeway (SWY); and a number of smaller ones. This relative poor performance is clearly borne out by the fact that Kroger and Safeway have for several years been reporting significantly better identical store sales than SuperValu. In fact SuperValu has generated negative identical retail sales for the last two years posting negative 1.2% for the year ended February 28, 2009 and negative 5.1% for the year ended February 27, 2010.
SuperValu needs to do something differently, and Craig Herkert, who left a senior position at Wal-Mart to become CEO of SuperValu in May 2009, has taken steps to remedy the situation. Since his arrival the company has been and continues to pursue a number of initiatives designed to increase profitability. These include the following:
Sale and closure of underperforming stores

Opening new Save-A-Lot stores (both owned and licensed), which is the company's deep-discount banner

Reducing SKUs without eliminating choice and variety

Centralizing marketing and merchandising, while at the same time empowering store managers

Getting more competitive on pricing

Reducing debt even though the current level of debt is very manageable
Despite an eroding competitive position, SuperValu continues to generate over $30 billion a year of profitable retail sales. The company has many good retail locations that are conveniently located for shoppers, and the company spends adequately to maintain the stores. Also, the company earns its cost of capital, which indicates that the company is creating value for its shareholders.
Finally, because of its compelling valuation, I believe that SuperValu might be attractive to a number of private equity firms and possibly to some large non-US based food retailers that would not face antitrust problems in connection with an acquisition. Some of these potential buyers might want to wait to see some improvement in identical store sales. Others might be willing to assume that changes can be made that will bring improvement, and not need to wait to see the proof.
Company Description
SuperValu owns and operates 1,198 traditional retail stores that are located in 26 states with the heaviest concentration of stores in California and Illinois. The banners under which these stores operate are ACME, Albertsons, Bristol Farms, CUB, Farm Fresh, Hornbacher's, JEWEL-OSCO, LUCKY, SHAW'S, STAR MARKET, SHOP'N SAVE, and SHOPPERS. The company also has 1,188 deep-discount stores that operate under the Save-A-Lot banner and are located primarily in the Midwest, along the eastern seaboard, and in Texas. 333 of the Save-A-Lot stores are owned and 855 are licensed. Additionally, SuperValu is a large wholesale distributor of food products to independent retailers. These customers are located in 49 states and range in size from small convenience stores to large supercenters. SuperValu's sales mix is about 78 % retail and 22% wholesale.
click to enlarge images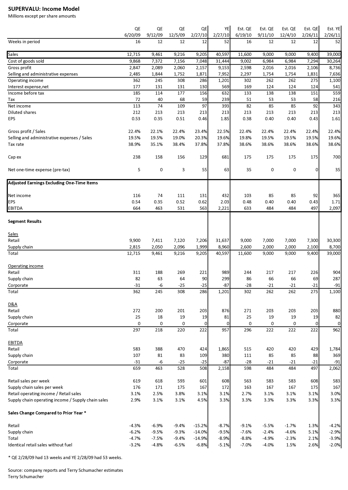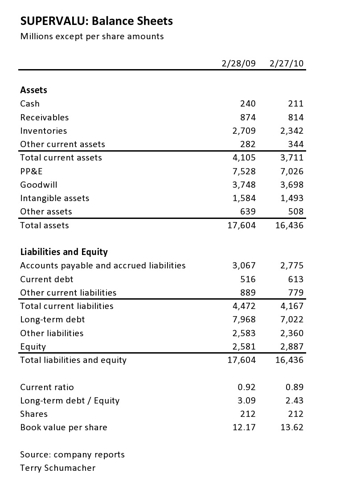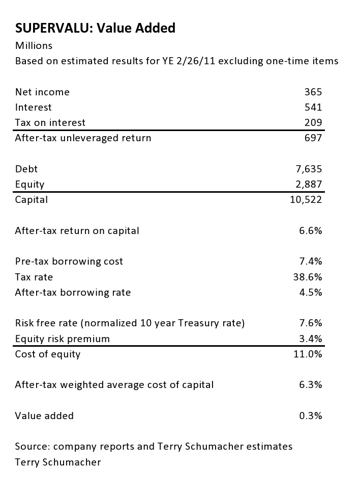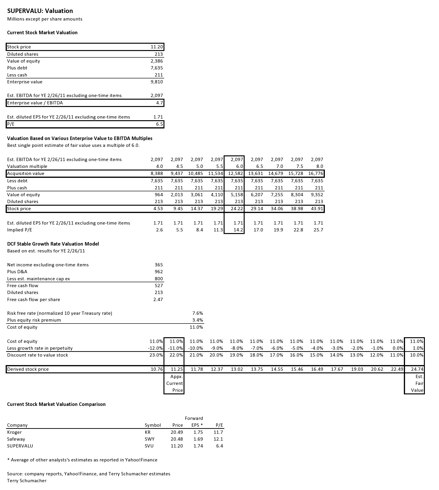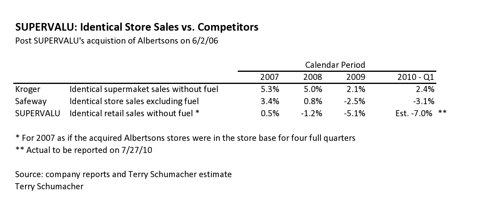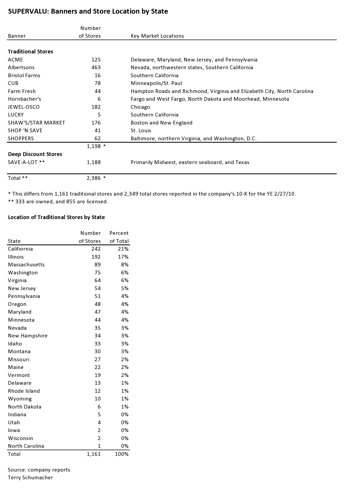 Disclosure: Terry Schumacher owns shares of SVU.