By Todd Shriber & Tom Lydon
Investors hunting for value at the sector level have turned to energy stocks and exchange traded funds in significant fashion in recent weeks. Equity-based energy sector ETFs have rewarded investors' faith.
Last Thursday, the last day U.S. markets were open, 31 ETFs hit all-time highs. Thirteen of those 31 were energy funds and that came a day after 15 ETFs reached all-time highs with seven of those being energy plays.
Highlighting the recent strength in the energy sector is just how broad the rally has been at the ETF level. Traditional cap-weighted funds, such as the Energy Select Sector SPDR (NYSEARCA:XLE), have been sturdy, but multiple ETF strategies, including equal weight, have benefited. So has intelligent indexing, explaining why the PowerShares Dynamic Energy Exploration & Production Portfolio (NYSEARCA:PXE) was among the energy ETFs racing to a new all-time high last Thursday.
PXE tracks the Dynamic Energy Exploration & Production Intellidex Index, which consider companies based on price momentum, earnings momentum, quality, management action, and value, according to PowerShares.
That strategy is working as the ETF is up 9.2% year-to-date and 6.8% in the past month. The strategy offered up by PXE is also useful for the investor looking to trim exposure to the largest U.S. oil companies, the ones that usually dominate cap-weighted ETFs. For example, Exxon Mobil (NYSE:XOM), Chevron (NYSE:CVX) and ConocoPhillips (NYSE:COP) are not found in PXE's top-10 holdings and Occidental Petroluem (NYSE:OXY) is just 4.48% of the fund's weight.
While PXE offers plenty of exposure to exploration and production companies, a trait investors are accustomed to with the largest energy ETFs, the fund also features one of the largest downstream allocations of any ETF as refining and marketing names account for 34.3% of the fund's weight.
Valero (NYSE:VLO), Phillips 66 (NYSE:PSX), Marathon Petroleum (NYSE:MPC) and Western Refining (NYSE:WNR) are four of PXE's top 17 holdings, positioning the ETF nicely for a rebound in refining stocks.
The energy sector has been viewed as a value play this year and PXE's valuation jibes with that view. PXE's P/E ratio is 15.79 and price-to-book ratio of 1.73 compare favorably with the same ratios found on some cap-weighted energy ETFs. Additionally, the Dynamic Energy Exploration & Production Intellidex Index has outperformed the S&P Oil & Gas Exploration & Production over the past three yeas and five years, according to PowerShares data.
PowerShares Dynamic Energy Exploration & Production Portfolio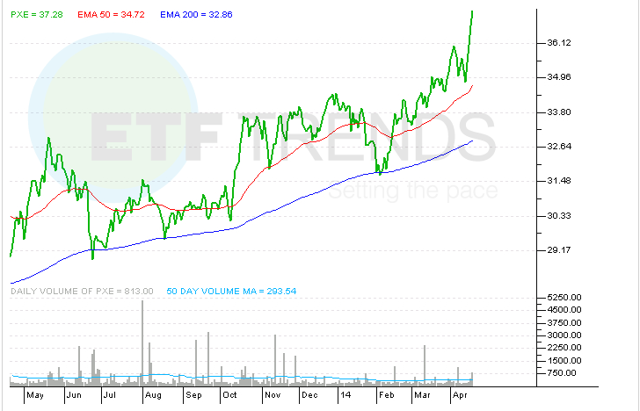 Disclosure: I have no positions in any stocks mentioned, and no plans to initiate any positions within the next 72 hours. I wrote this article myself, and it expresses my own opinions. I am not receiving compensation for it. I have no business relationship with any company whose stock is mentioned in this article.