Well, Tuesday sure screwed things up for the bears (myself included).
As you're no doubt aware, stocks exploded higher, breaking through resistance at 1,070 as well as 1,080. They finished the day just below the 50-DMA at 1,088.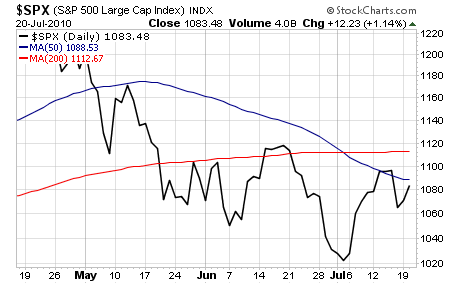 To be clear, something seemed odd on Monday. Friday's sell-off was one of the strongest in recent history, nearly matching the gruesomeness of early May's collapse from an internal standpoint.
However, Monday showed almost no follow through to the downside. Indeed, it was a listless day, with less than 1 billion shares trading on the NYSE.
That's all well and good; you can take a "breather" after a collapse like Friday. But we should have definitely seen the action move to the downside again yesterday (Tuesday) if we were going to enter the full-blown collapse that Friday's move seemed to forecast.
Instead, stocks opened down from the overnight session and then worked their way higher, culminating in an explosive final two hours.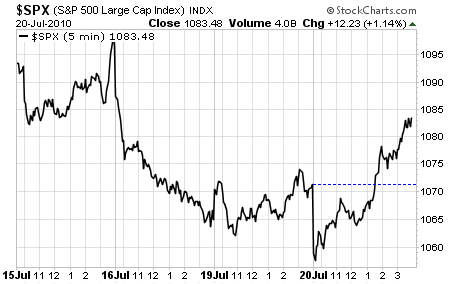 As you know, I believe a new bear market has begun. But yesterday's action definitely weakened the case for a serious collapse right this second. Unless stocks enter another free-fall today (Wednesday) then it is highly likely that something else is happening.
What that "something else" is remains to be seen. There is a LOT of talk of Quantitative Easing 2.0 circling around. And we've seen several hints that it might be coming sooner rather than later "planted" in mainstream news outlet.
In the meantime, to the upside, the S&P 500 has resistance at the 50-DMA (1,088) and 1,100. If we can decisively above the latter then we're likely going up into 1,100-1,110 with a likely test of the 200-DMA (1,112).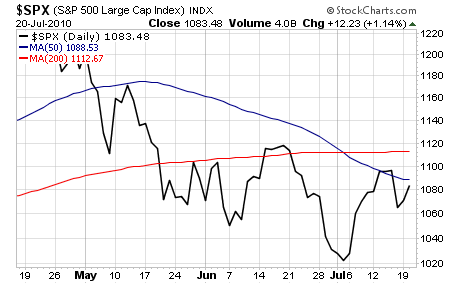 An alternative "something else", would be for the market to chop around the 50-DMA for a few days before collapsing again. We had a couple days of that last week as well as a full week of it in June, though at that time the chopping action was around the 200-DMA, not the 50-DMA.
Again, it's hard to determine what's going on right now. The only thing that is crystal clear is that volatility is greatly increasing and consequently market action is starting to get messier.
Things should clear up in the coming days. I'll provide a revised technical outlook as they do.