Okay, so the debate over Netflix (NASDAQ:NFLX) continues to rage on. On one hand, the bull camp sees a stock rising with revenues and subscribers. The bear camp sees a company with limited profitability, a poor balance sheet, and a high valuation. In recent times, the bull camp has been on the winning side, with the stock heading to new all-time highs. Today, I'll explain why the bull camp may continue to celebrate in the future.
Results are coming in better than expected:
Netflix did report first quarter results recently. Revenues were in line with analyst estimates, and earnings per share beat by a couple of pennies. Guidance was solid, and the company said all the right things in the investor letter. Here are some key takeaways that further the bull argument.
First, while the number of domestic streaming total subs was in line with Netflix guidance, the number of paid subscribers was ahead of the company's guidance. This translated to better than expected revenues. Additionally, the company has been able to grow its domestic streaming contribution margin percentage handily in recent years, with more growth expected ahead. In Q1 2012, this number stood at 14.31%, and in the latest quarter, it was 25.20%. This improvement is due to a sizable rise in domestic streaming gross margins, as well as economies of scale that have helped with marketing costs. Netflix continues to target a 400 basis point year-over-year rise in its domestic streaming contribution margin percentage. In Q1 2014, Netflix beat that goal.
The second item is international. Two years ago (Q1 again), the international segment had a gross profit (really loss) of more than $50 million. In the most recent quarter, the gross profit of this segment was a positive $21.8 million. The company expects current international operations to be profitable later this year. Overall, the international segment will stay at a loss when new markets are entered, but that will certainly help with subscriber growth.
With results coming in better than expected, 2014 analyst estimates have risen steadily over the past year, as seen below.

Revenue estimates have increased nicely, but it really is the EPS rise that is impressive. Additionally, the price raise coming up should further help margins and the bottom line. Don't forget, we haven't even finished a third of the year. If the company continues to report strong results, 2014 actual numbers could be well above current estimates in the table above.
The price raise - this is NOT 2011:
Netflix alluded to a price raise in the investor letter. Many bears have stated, "Well, you know what happened the last time Netflix raised prices." Yes, we know the history, as Netflix shares went from more than $300 to just over $50. They eventually rallied back to a high of $458 before the recent fall and rebound.
However, the two price raises are with vastly different business models. In Q4 of 2011, Netflix started giving us a lot more details on the financial performance of its segments. In that quarter, domestic streaming contribution margin was about $58 million, while DVD contribution margin was about $195 million. In that quarter alone, Netflix lost almost 2.8 million DVD subs. In the following quarter (Q1 of 2012), DVD contribution margins fell by more than $48 million, while domestic streaming contribution margins rose by less than $15 million. As a result, company profits fell, and Netflix actually lost money that quarter (also thanks to international expansion that took place at the same time).
So let's fast forward to the present time. DVD contribution margins are under $98 million, while domestic streaming is over $201 million. In Q1, domestic streaming contribution margin rose by nearly $28 million, while DVD fell by about $13 million. The fall in DVD was due to the postage rate hike, which is a usual Q1 hit. In Q2, Netflix expects DVD contribution margins to decline by about $6 million, with domestic streaming to rise by roughly $45 million. The key point here is that the last time the company raised prices, it caused a significant amount of DVD subs to flee, and that segment was the bread and butter of the company.
Additionally, the argument that Netflix subs will just cancel over higher prices doesn't quite fly, and certainly not at present. First, an extra dollar or two a month is nothing for the value that the company believes it is providing. You're basically talking about a couple of expensive cups of coffee per year, or about the cost it is to see one movie in a theater. The second point is that current subscribers are going to remain with current prices for a generous time period, probably a year or maybe two. Only new subscribers are going to face the higher rate. Even at $9 or $10 a month in the United States, Netflix should still be able to attract a fair number of new subscribers.
There is one issue here that Netflix needs to decide on. Does the company raise prices for all current subs at the same time, or stagger it a bit so that things are a little smoother? For instance, Netflix could say that all Netflix members by May 1st, 2014 will see higher prices as of July 1st, 2015. That would push higher prices to all on the same date. My suggestion would be to stagger it based on how long the subscriber has had the service, rewarding those that have been loyal for longer. So for instance, anyone who has had the service for less than a year starts on July 1st, 2015, 1-2 years starts on October 1st, 2015, and so on. This way, it would be staggered a little and could ease the impact if subscribers decide to cancel.
The other key point here is that Netflix brings in $8 a month of revenues per current streaming subscriber (normal plan, rounded to nearest dollar, and other priced plans are available). Netflix guided to just over 35 million paid subscribers for Q2, so let's use that number for this argument. That's $280 million in monthly revenues. If Netflix raises prices by $1, the subscriber number would have to drop to 31.11 million for total revenues to decline. If prices rise to $10 a month, the subscriber number would have to drop to 28 million. Do you really think 7 million subscribers would leave if Netflix raises prices just $24 a year? Even if 5 million left, which seems highly unlikely for a $2 monthly raise, it's still an extra $20 million a month in revenues. A chunk of that would go directly to the bottom line, further improving EPS. Again, higher prices won't start for another year or so, so I don't see a lot of current subscribers canceling anytime soon.
Just to sum things up, those thinking the price raise is a repeat of 2011 are sadly mistaken. This is a much different business now. In the last year, DVD contribution margins have dipped by $16 million (Q1 to Q1), while domestic streaming contribution margins are up by $70 million. Additionally, the price raise shouldn't take place for at least 12 months for current subscribers, and is likely to boost the top and bottom line by a decent amount.
Competitors - price raises and content deals:
Netflix would not be the only one that's raising prices. We just saw Amazon (NASDAQ:AMZN) raise its price for Prime, the subscription service that includes Prime Instant Video, a Netflix like service. Additionally, Amazon's service is not an either or. You get your cable from one provider or another, but you can have Prime and Netflix. In fact, on the conference call, Netflix CEO Reed Hastings said that he is a Prime subscriber, and that many Netflix employees are as well. A lot of arguments from the bear camp over competition don't work because many consumers subscribe to multiple services. I was worried about competition a lot more in the past, but my worries have decreased. Netflix's strength is one reason, but my next point factors in as well.
Prime Instant Video has not been the content grabber it was in recent years. Amazon went from about 5,000 titles when the service launched to more than 40,000 titles early last year. Amazon recently announced a deal to bring in my favorite show 24. However, many of the company's announced deals in 2014 were for single TV shows. There doesn't appear to be any bulk content deals, or at least not as many as Amazon was striking in the past. Amazon hasn't exactly been very profitable or had great cash flow either, so questions remain on how competitive Prime may actually be. In full disclosure, I do not currently subscribe to any streaming service.
In terms of new entrants to the space, everyone always brings up Google (NASDAQ:GOOG) and Apple (NASDAQ:AAPL). Yes, these two tech giants sure have deep pockets and could enter the space if looking for revenues. But let's try to think about this logically. First, a number of content deals that Netflix, Amazon, and others have are exclusive. Until those deals run out, a new entrant can't bid on them. Second, and this is especially true for Apple, it would take tens of millions of subscribers just to move the needle for overall company revenues. Apple is expected to do about $180 billion in revenues for its current fiscal year. Is there really enough here to move the needle? Is having a Netflix-like service going to dramatically increase the amount of iPads and iPhones sold? Probably not. The third item is profitability. Why would a name like Apple go into such a low margin business, especially one that would lose money upfront? Apple's service would lose money upfront, especially since the content selection would be marginal at best. The Apple bear camp always criticizes Apple for declining margins, so I'm sure the bear camp would enjoy a move like this. I don't see it happening anytime soon, and that bodes well for Netflix.
Balance sheet - is it actually weaker?
There are a number of bears that complain about the company's balance sheet, cash flow, etc. Sure, Netflix does not produce a tremendous amount of cash. However, concerns over the balance sheet may be exaggerated a bit. In the following table, I've detailed some key financial numbers and ratios over the past two years. Dollar values are in thousands.

*Liabilities to assets ratio.
Net cash and working capital have risen nicely in the past two years, partly due to the equity sale. The current ratio is up a little and the debt ratio is also down. In fact, Amazon's debt ratio has been rising steadily in recent years.
Then there is the argument over content liabilities and off-balance sheet liabilities. Netflix reported $7.1 billion in streaming content liabilities at the end of Q1 2014, down from $7.3 billion at the end of 2013 but up from $5.7 billion a year ago. Those off-balance sheet liabilities are around $3.9 billion or so, up from about $3.3 billion in the year ago period. While we don't have the official 10-Q filing yet, it appears that the off-balance sheet portion will not have risen as fast as the total content liability number has.
Additionally, the bear camp has been arguing for quite a while now that these liabilities would send Netflix to bankruptcy. When the problems of 2011 started, I was in the bear camp, and I continued to be for a while. However, I've been changing my mind over time, because these issues that were supposed to kill Netflix still have not. Many thought Netflix would be bankrupt by now. The company is not close to that currently, and has the ability to raise funds through debt or even some equity if needed.
Shorts are giving up:
When it comes to those short Netflix, they are certainly heading for the exit. Netflix became a heavily shorted stock during the first two-thirds of 2012 as many bet against the company. But a few good quarterly reports and Icahn's purchase changed the mind of many. As you can see from the chart below, short interest for Netflix continues to plunge.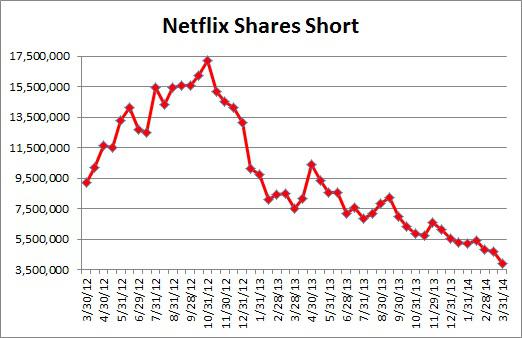 At the end of March update, just over 3.9 million shares were short Netflix. That's well under 10% of the outstanding count, and well below the 17.2 million shares short peak. More than 77% of shorts have covered since the peak, putting Netflix short interest at its lowest point in more than two years. There certainly has been a large sentiment change regarding this stock.
Valuation - Just too many variables:
I hear a lot of arguments that Netflix is too expensive. When it comes to valuation, there are many ways to look at this name. Price to sales or price to earnings are the two main metrics, while others may choose to use a price per subscriber value. The problem with all of those bear arguments is that you can make an equal bull argument for each metric. For instance, here are a few examples:
Netflix currently trades for about 90 times expected 2014 EPS. Well, Amazon trades for about 170 times expected 2014 EPS. In the end, I think Netflix will show more EPS growth in 2014 than Amazon will.
Netflix currently trades for about 4.1 times expected 2014 revenues. Google trades for about 5.5 times expected 2014 revenues. Netflix certainly appears to have greater revenue growth (percentage wise) potential going forward.
I can certainly understand the bear camp's argument for valuation, and in the past, I was on that side of the fence. However, in this market, I just feel the valuation argument just doesn't work. For every bearish argument you can make, you can easily find an equal bullish argument. In the end, the street seems comfortable with this valuation, because the stock is around $370, not $70. In fact, the average analyst target is $386, and that average will probably rise a bit as analysts digest the Q1 report.
Back in January, I discussed how I thought Netflix could easily trade for 3 to 5 times sales. In arguing this case, I detailed how I thought a good trading range for Netflix was $270 to $450, with a midpoint of $360. I recommended that investors look at a short position above $425, and that certainly would have been a good trade with Netflix racing to a high of $458 before falling. About a week ago, I posted a stocktalk recommending that investors cover that short, which would have banked a profit of about $100 or so.
That being said, I am going to adjust the trading range a bit. First, let me say that Q2 guidance was pretty decent. Considering how Netflix says Q2 is bad seasonally, I was expecting domestic streaming sub adds to be somewhere between 0 and 0.50 million. Netflix came in at 0.52 million. Also, the profitability situation improved, and I think the price raise will help going forward. I think we can adjust the trading range upwards to a new range of $300 to $500. Obviously, that means a $400 midpoint, which would be bullish given where shares currently trade.
Final thoughts:
In the end, many of the Netflix bear arguments just are not as valid as they used to be. Netflix's business model has changed a lot in recent years, which means the collapse of 2011 cannot be compared to current times. The company has greatly improved the profitability of its streaming segments, and while DVD has declined, it still is helping out a bit.
In the end, there is still a great opportunity out there for Netflix. The company has a long way to go in terms of both domestic and international growth. Just look at what the company said at the end of its investor letter (this is streaming only).
We are approaching 50 million global members, but that is far short of HBO's 130 million. We are eager to close the gap.
Even if you only think Netflix has an opportunity to get to 100 million members, that's still more than double where the company is now. So why can't the company grow from its current market cap of about $22 billion? Lately, the shorts have been running and the bear camp is losing the debate. While there will be some stock price volatility over time, Netflix is in the midst of being a great long term growth story. The recent pullback was a great opportunity for investors, and investors should consider Netflix when it trades down to the lower part of my above mentioned range. Wait for the next pullback, and buy on the dip.
Disclosure: I have no positions in any stocks mentioned, and no plans to initiate any positions within the next 72 hours. I wrote this article myself, and it expresses my own opinions. I am not receiving compensation for it (other than from Seeking Alpha). I have no business relationship with any company whose stock is mentioned in this article.
Additional disclosure: Investors are always reminded that before making any investment, you should do your own proper due diligence on any name directly or indirectly mentioned in this article. Investors should also consider seeking advice from a broker or financial adviser before making any investment decisions. Any material in this article should be considered general information, and not relied on as a formal investment recommendation.