As I examine the field for potential long stock candidates, one of my first screens is ownership trends among institutions, insiders, and shorting traders.
Having said that, ownership represents just one of the tests a stock should undergo before we click the buy button in our brokerage accounts. I think of it as a macro test, a big picture scan that indicates general health of the stock.
In this article we'll look at Wal-Mart (NYSE:WMT); earlier articles looked at the competing discount giants Target and Costco. Ownership analyses offer perspectives on long positions we might not otherwise see. Before searching out what these non-retail investing groups have done Wal-Mart shares, we'll first take a quick look at the company.

So far, so good. But looking further at WMT's key statistics, we note the float is much smaller than the number of outstanding shares. That difference may be explained by looking at the holdings of Walton family members, based on Bloomberg reporting: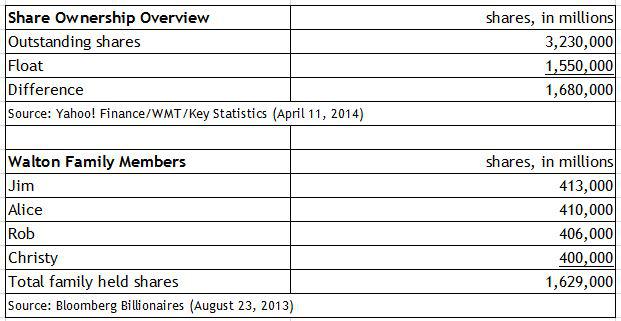 According to Yahoo! Finance / Thomson Reuters, family members own just over 51% of the company:
Institutional Investors Buying
Based on the number of shares outstanding, Wal-Mart has a relatively low level of institutional ownership, at 30.17%, according to filings for the periods ending on December 31st. By comparison, Target has 86.06% and Costco has 75.46% (unless otherwise noted, all data in this section come from nasdaq.com's institutional ownership pages). However, when we calculate institutional holdings in terms of the float (1.55 billion), we see a more conventional proportion, 62.8%.
Looking further, we ask if ownership among institutional investors has changed much recently. That information has been summarized in the following table:

Overall, we see net ownership increased by almost 9 million shares, representing about 0.9% of total shares held by institutions on April 21, 2014. As noted, institutional investors own 30.7% of Wal-Mart's shares when calculated on shares outstanding, and according to fidelity.com, that's made up of 9.6% by mutual funds, and 21.1% by the remaining types of institutionals.
Vontobel Asset Management Inc. was the biggest institutional buyer, adding 1,149,698 shares in a new position taken in the final quarter of 2013. The biggest reduction among institutional sellers came from Lazard Asset Management LLC, which reduced its holdings by almost 3 million shares.
Sellers Lead Insider Activity
Nasdaq's website also provides helpful information about insider transactions for the previous quarter, based on data provided to the SEC (Form 3 and Form 4). Unlike institutional data, insider data shows transactions for the past three months and 12 months from the current date (or nearly current date).
As the following table shows, net positions for both three and 12 months show selling volume exceeding buying volume (by a small margin, based on the size of the float and outstanding shares).

Not surprisingly, most of the activity reported for insiders involves company officers and their stock options. Officially, we see such transactions recorded as Acquisition (Non-Open Market) and Disposition (Non-Open Market). Non-Open Market means the transactions have taken place beyond the stock markets; we can assume they mostly involve transactions with and within the Wal-Mart corporation.
In addition, we see a few officers selling shares through stock markets from time to time. Recently, for example, William S. (Bill) Simon, President and CEO of Wal-Mart U.S.A. sold 35,504 shares on March 21st.
Short Interest Low
Flipping the ownership coin over, let's look at short interest in Wal-Mart. Short interest refers to the proportion or percentage of the float, or outstanding shares, that have been sold short.
A trader shorts a stock by borrowing shares from a broker, then selling them. If the price of the stock falls, as the trader expects, he or she can then buy back the shares at a profit. If the price rises, the trader will have to take a loss.
Observers look at short interest readings as a sentiment indicator. If the short interest is high or rising, they consider it a bearish sign. On the other hand, low or declining short interest indicates bullish sentiment.
Short interest in Wal-Mart, as calculated by GuruFocus is 1.55%, which means that 1.55% of the float is short, while 98.45% is long. To put the number in some context, competitors Target and Costco show short interests of 4.31% and 0.86% respectively.
We can add extra context by looking at a chart of historical short interest, again at GuruFocus: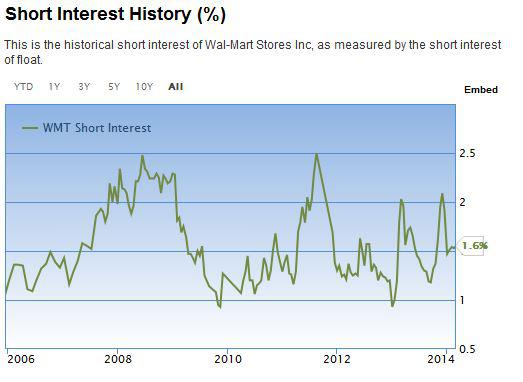 The chart shows Wal-Mart short interest ranging between 1% and 2.5% over the roughly eight years since 2006. It reached highs of around 2.5% (more bearish) in 2008 and in 2011, with lows just below 1% (less bearish) in 2009 and 2013. At the moment, we can see it sits in about the middle of the range.
Conclusion
We've looked at three aspects of Wal-Mart ownership, as a preliminary screen before further considering a long position.
Institutional interest comes in as a positive, particularly for a mature company, with buyers prevailing by nearly 1%.
Insiders are net sellers, with sells modestly outnumbering buys. Keep in mind most insider acquisitions involve the exercise of stock options and subsequent sale, by officers and directors.
Considering short interest, I would consider WMT a safe stock at this point. While we have seen lower levels of short interest since 2006, this level hardly makes me uncomfortable.
Overall, this screen of institutional, insider, and short interest gives us a slightly bullish perspective on WMT's prospects. However, we see no great enthusiasm or concern in either direction, so I would rate it neutral and, for me at least, not a prospect for further investigation.
Disclosure: I have no positions in any stocks mentioned, and no plans to initiate any positions within the next 72 hours. I wrote this article myself, and it expresses my own opinions. I am not receiving compensation for it (other than from Seeking Alpha). I have no business relationship with any company whose stock is mentioned in this article.