With the stock market still near its all-time highs looking for deeply undervalued companies that fit our investment criteria has been difficult. The internet industry is particularly painful for us to explore due to the ridiculous valuations. However, there exists a "pseudo internet company" that represents the best value in sector.
Liquidity Services (LQDT) began its life as Liquidation.com during its founding in November of 1999. The company commenced operations in early 2000. LQDT developed its online auction marketplace platform and began auctioning merchandise primarily for small commercial sellers and government agencies. In 2001, after the dotcom bubble crashed the company changed its name to Liquidity Services, Inc. The company got its big break in June 2001 when LQDT was awarded its first major Department of Defense contract known know as the "Surplus Contract". Under this agreement, LQDT became the exclusive contractor with the DLA Disposition Services, for the sale of usable DoD surplus assets in the United States.
Pseudo Internet Company
It is hard to classify LQDT as one type of company. Is it an auctioneer like Ritchie Brothers (RBA) or more like eBay (EBAY)?
From the company's 10K:
We operate leading online auction marketplaces for surplus and salvage assets. We enable buyers and sellers to transact in an efficient, online auction environment offering over 500 product categories. Our marketplaces provide professional buyers access to a global, organized supply of surplus and salvage assets presented with customer focused information including digital images and other relevant product information along with services to efficiently complete the transaction. Additionally, we enable our corporate and government sellers to enhance their financial return on excess assets by providing liquid marketplaces and value-added services that integrate sales and marketing, logistics and transaction settlement into a single offering. We organize our products into categories across major industry verticals such as consumer electronics, general merchandise, apparel, scientific equipment, aerospace parts and equipment, technology hardware, energy equipment, industrial capital assets, fleet and transportation equipment, and specialty equipment. Our online auction marketplaces are liquidation.com, govliquidation.com, govdeals.com, networkintl.com, truckcenter.com, secondipity.com, and go-dove.com.
In our opinion LQDT is an internet company because the company uses the internet to sell its goods and has no physical presence as its dominates means of sales.
People may have differing opinions but to us it is very clear. The current valuation for this internet company is deeply undervalued. LQDT and its management team is getting a bum rap from Wall Street and retail investors.
Since the company's inception during the bubble crash revenue in fiscal 2002 was $44.46 million then rocketed 1134% to $505.86 million in 2013. During that 11-year period the compound average growth rate was 24.7%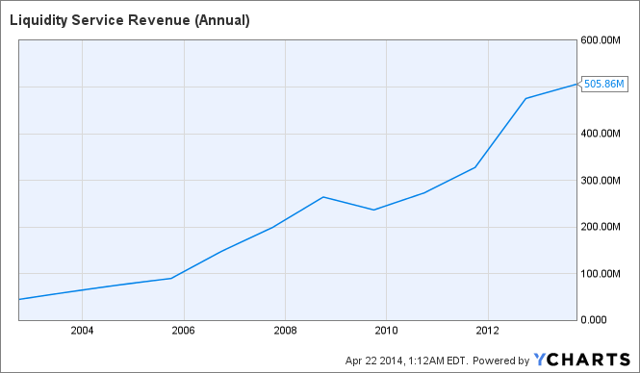 Click to enlarge
LQDT Revenue (Annual) data by YCharts
The stock reached an all-time high in 2012 peaking near $65 per share. As you can see from the chart below after hitting the pinnacle LQDT has bounced a few times but cumulatively made a 45-degree angle to the down side. Traders may love the action but for long-term investors this is nothing less than torture after losing 48% in the past 52 weeks alone.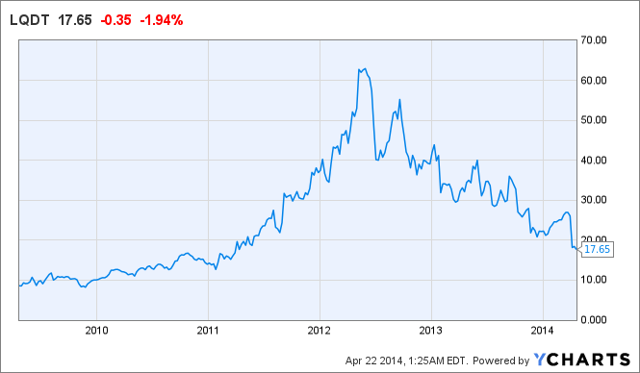 Click to enlarge
What's The Problem?
Shares of LQDT came to our attention after dropping from the $26 dollar levels on March 31st to the $18 range on April 3rd. To us it sure looks like someone got the jump on the DoD contract issues LQDT announced on April 3rd.
For a very good description of the contracts with the DoD a fellow Seeking Alpha writer does an excellent job in this article.
Basically, LQDT's fiscal 2015 EBITDA is going to be materially affected. Is this all an overreaction? Will management find a way to make up for the lost business? This is the battle waging between the longs and the shorts right now.
Valuation
LQDT has 32.29 million shares outstanding. At the current price $17.68 the market capitalization is $570.85 million. The company has net cash of $101.5 million thus bringing LQDT's enterprise value to $469.35.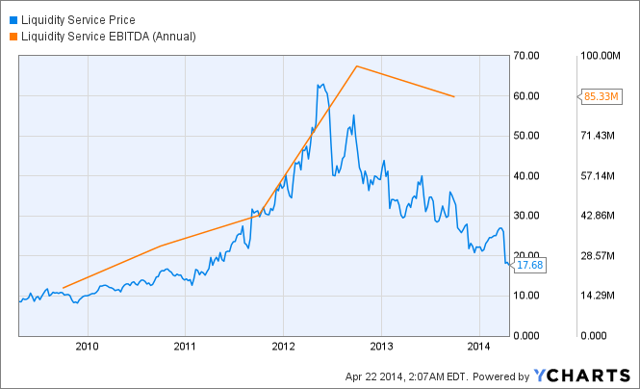 Click to enlarge
2013 EBITDA was $85.33 million...thus the enterprise value to EBITDA multiple is 5.5 times. Compare that to eBay at 14.98 or Ritchie Brothers at 13.63 times 2013 EV/EBITDA. 2014 EBITDA will most likely be unchanged versus 2013 but the current price decline is reflective on 2015 and beyond being terrible.
5.5 times EV/EBITDA is extremely inexpensive. The forward multiple based on 2015 is unknown at this point but we do know it will be lower. This is exactly why the stock is tanking. However, management has 9 months to put together a solution and we are betting they will get the job done.
The DoD contracts affect on EBITDA is unknown to us but what we were able to locate are earnings per share estimates from Wall Street.

Let's assume the mean 2015 EPS is achieved which equates to EPS dropping 22.2% from 2014 to 2015. Since the DoD contract debacle has occurred the stock has dropped 32.1% from 3/31 to now. The decline in LQDT is warranted but we believe it is overdone at this point.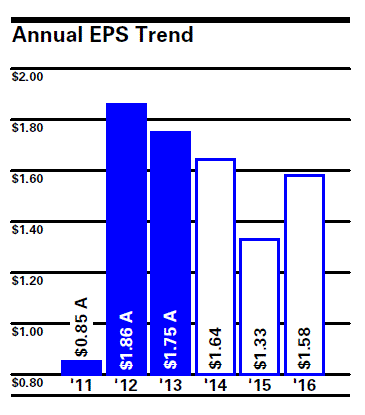 There are currently 8.61 million shares of LQDT short representing a lot of doubters. In the past 15 days of trading 12 have been down and 3 has been up. The LQDT story is going to be interesting as it unfolds over the next few weeks when details of the contract is released.
The big question on all the longs' minds should be "where is the bottom"? One indication I'm paying close attention to is if and when LQDT buys back its stock. In the most recent LQDT SEC Filing the company shows it was not shy about putting money to work in buying back shares.
During the year ended September 30, 2009, 707,462 shares were purchased under the program for approximately $3,874,000. ($5.48 average)
During the year ended September 30, 2010, 1,225,019 shares were purchased under the program for approximately $14,471,000. ($11.83 average)
During the year ended September 30, 2011, 229,575 shares were purchased under the program for approximately $3,541,000. ($15.42 average)
During the year ended September 30, 2012, 505,067 shares were purchased under the program for approximately $30,000,000. ($59.39 average)
However, during the three months ended December 31, 2013, no shares were purchased under the program. As of December 31, 2013 and February 5, 2014, approximately $31,000,000 and $50,000,000, respectively, may yet be expended under the program.
With the Q2 reporting period coming, LQDT is in a quiet period so there will be no buyback program going on. However, after May 8th we'd like to see the company commit the entire $50,000,000. If the buyback was to occur at $18 per share it would reduce the float by 2.78 million shares which is roughly over 10%.
At $17.63 per share all of the support levels have broken and it's difficult to predict the bottom. If the stock holds the $16-$17 levels it should setup for a nice rebound into the mid $20s over the next 12 months. LQDT's stock action prior to the DoD contracts tells me there are people "in the know". If the $16-$17 levels break down convincingly prior to the Q2 earnings call we would take our losses and buy after the reporting period.
Disclosure: I am long LQDT. I wrote this article myself, and it expresses my own opinions. I am not receiving compensation for it (other than from Seeking Alpha). I have no business relationship with any company whose stock is mentioned in this article.
Additional disclosure: I own shares of LQDT at an average of $18.85 per share.