Existing home sales for March were released today by the National Association of Realtors. The report showed a small sequential decline from February. More troubling, it showed an overall 7.5% year over year decline from March, with double-digit declines in the West and Midwest regions. The seasonally adjusted annualized rate, or SAAR, of 4.59mm homes was the lowest sales rate since July 2012. Furthermore, the SAAR for March was down 15% from its high-point in July 2013. While the headline numbers are cause for concern, a detailed analysis of the data that the NAR includes in its report shows a continued deterioration in the overall housing market.
In my previous articles I have suggested that the housing market is going to enter a serious decline this year. Today's existing home sales report for March reinforces my view. This graph from the NAR website (link above) shows an overall view of the declining trend in existing home sales: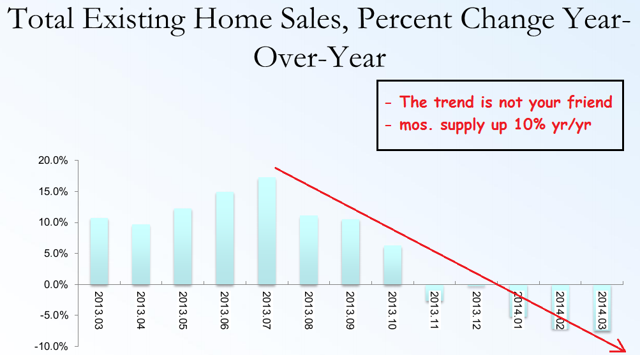 As you can see, a relatively steep decline in the year over year sales trend started in July and it has been, on average, getting more negative for five months in a row. Note that this data is seasonally adjusted and annualized, which cleanses seasonality from the numbers and allows us to analyze month to month data on an "apples to apples" basis.
Breaking down the homes sales report by region shows a more significant deterioration in housing sales than is represented by the over 7.5% decline. The Midwest and West regions, which account for more than 50% of total sales, were down 10.3% and 13.4% respectively. The weather has been the excuse for weak data up to this point. While the Midwest was slightly colder than average during March, the West was warmer than average. This would suggest that the bad weather narrative is beginning to lose its credibility. Furthermore, looking at the data from February to March, both the Northeast and Midwest showed slight gains, which implies that homebuyers were not deterred by cold weather. But sales dropped 3% and 3.7% from February in the South and West respectively, which again indicates that harsh weather was not a factor in declining home sales.
Another trend in the details of the sales data is the decline in the investor segment of market demand. I suggested in my Housing Bubble 2.0/Housing Crash 2.0 article that the investor cohort would drop off significantly in 2014 and this would leave a demand-void that would force volume and prices lower. While prices are still rising year over year somewhat, the investor segment is dropping out. In March (from the link at the top), all cash sales were 33% vs. 35% in February. Individual investor sales, which account for 71% of total cash sales, dropped to 17% of total sales from 21% in February. As discussed in previous articles, big institutional buyers have pulled back their home buying significantly this year (Blackstone for instance, which has been the biggest buyer). If the decline in individual investor/flipper buyers becomes a serial trend, the total deterioration in the primary demand for homes - investors + 1st time buyers - will put extraordinary downward pressure on prices and sales volume.
Finally is the issue of inventory. "Low inventory" has been one of the factors that housing market analysts have used to explain the declining trend in sales. While I have detailed why the NAR-produced inventory metric is problematic in past articles, its report today showed inventory was up 5% in March from February (link at the top). More significantly, the months supply metric spiked up 10% year over year. While that data addresses the entire country, this chart from Redfin.com shows that listings in the 19 largest metro areas jumped 27.4% from February to March and 6.3% year over year: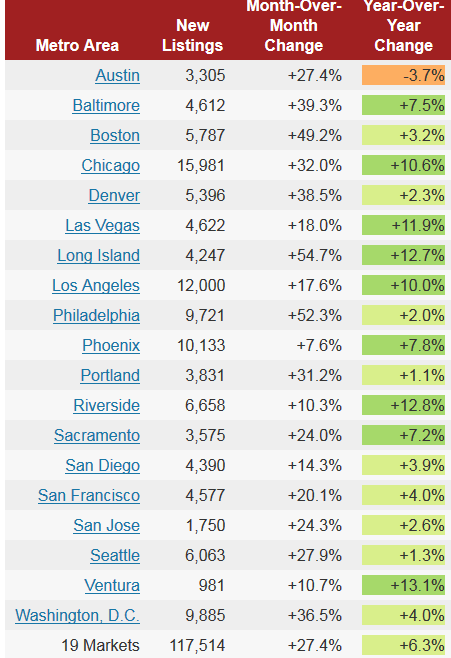 Based on both the NAR and the Redfin data, I would argue that "low inventory" is becoming less of a factor in the declining sales reports, if not completely irrelevant.
Based on an analysis of the data I presented above, I reiterate my view that the housing market is going to see a decline in sales volume this year, something I believe is not being anticipated by investors. While investors are dropping out of the purchase market, the void is not being filled by the traditional "organic" demand component of the market, the first-time buyers (40% of the market historically). This is because the demographics in this cohort are not finding jobs which pay enough to support the cost of owing a home. This fact is reflected in the median household income and wage data that is released by several sources.
With my outlook for housing in mind, I continue to recommend expressing a bearish view on the housing market by selling or shorting select homebuilder stocks. As I pointed out in my previous article on this sector, the Dow Jones Home Construction Index (DJUSHB) continues to diverge negatively from the S&P 500 and Dow. In fact, the DJUSHB hit an intra-day low for the year last Thursday (April 17th). I am currently short DR Horton (NYSE:DHI), KB Homes (NYSE:KBH) and Ryland (NYSE:RYL) and am well in the money on all three. I also think Lennar (NYSE:LEN), Pulte (NYSE:PHI) and Beazer (NYSE:BZH) offer attractive short-sale opportunities.
Disclosure: I am short DHI, KBH, RYL. I wrote this article myself, and it expresses my own opinions. I am not receiving compensation for it (other than from Seeking Alpha). I have no business relationship with any company whose stock is mentioned in this article.