Amazon (NASDAQ:AMZN) is set to report earnings tomorrow, Thursday, April 24th. Amazon has performed extremely well as an investment for the long-term, as the trend of internet shopping continues to grab hold of new demographics every year.
Amazon's 12 month gains have been limited to 22.5%, as the stock has had a rough start to 2014, correcting as much as 17.5% in the last four months. It's likely that the major move Amazon makes post-earnings is going to establish its next major technical trend direction.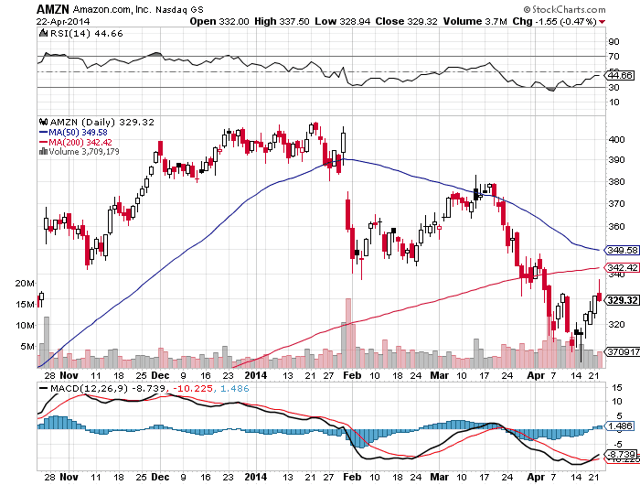 Click to enlarge
Amazon's stock has been part and parcel with the recent outflow of investors from momentum stocks like Tesla (NASDAQ:TSLA), Chipotle (NYSE:CMG) and Netflix (NASDAQ:NFLX); who have seemingly moved to greener (and safer) pastures in stocks like 3M (NYSE:MMM) and P&G (NYSE:PG).
For Amazon, analysts are expecting EPS of $0.23 for the current quarter, on revenues of $19.43 billion. These numbers compare to $0.18 on revenues of $16.07 billion the same quarter the year prior.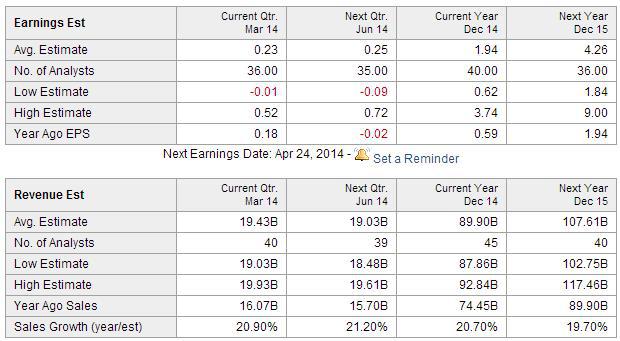 Amazon trades at an extremely high multiple, but if it can continue to grow its top line the way that analysts predict, this company could still technically be in the "start up" stages of its renaissance, a la a Google (GOOG, GOOGL) ten years ago.
Amazon currently sports a forward P/E of 186. Wow.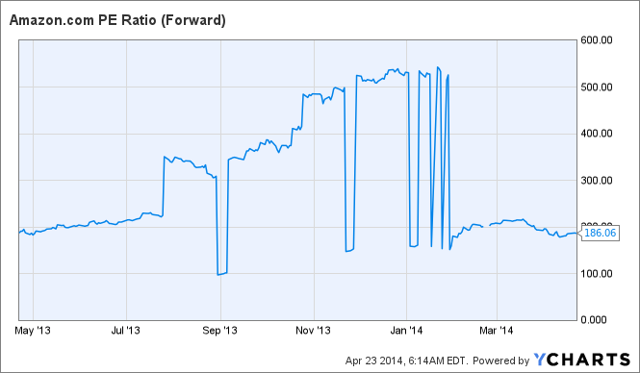 Click to enlarge
AMZN PE Ratio (Forward) data by YCharts
An area of concern for Amazon remains their U.S. growth (which is moving quickly), to their International growth (which is growing, just not as quickly). You could attribute this to the amount Amazon has reinvested in delivery and fulfillment in the U.S., however, International numbers are likely to be scrutinized this coming quarter.
Shareholders and investors will also be looking for color on some of Amazon's recent changes - how the price change in PRIME (from $79 to $99) is faring, and how the company's new set top "Fire" box has been performing. Short of knowing that Amazon sold out of the box from the get go, Amazon hasn't offered up much more to the public.
Over the last month, there have also been reports about Amazon getting ready to launch a mobile phone and break into mobile. The public will be waiting to hear for a bit more color on this, as well. I wrote about why I thought an Amazon phone could be a catastrophe for the company just weeks ago - I argued that mobile is likely a tougher nut to crack than Amazon thinks, and that a phone could negatively affect the company's margins going forward.
Additionally, it was recently reported that Amazon was not looking to go down the road of Bitcoin for payment - but that the company was working on other mobile wallet solutions - not unlike what Facebook (NASDAQ:FB) seems to be doing, as well. The mobile wallet niche is going to grow enormously over the coming years.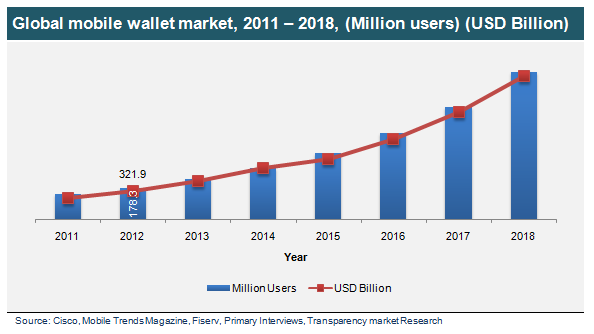 Due to Amazon's current valuation, this will be one I'll likely be sitting on the sidelines for. If I do wind up playing earnings, it'll be a short term options trade. I'm neutral on Amazon going forward and have no positions.
I'm looking forward to tomorrow's update from the company, and wish investors the best of luck.
Disclosure: I have no positions in any stocks mentioned, and no plans to initiate any positions within the next 72 hours. I wrote this article myself, and it expresses my own opinions. I am not receiving compensation for it (other than from Seeking Alpha). I have no business relationship with any company whose stock is mentioned in this article.
Additional disclosure: I have AAPL calls, NFLX calls and puts, and FB calls and puts.