When a company demonstrates a stronger-than-expected quarter, most investors have a tendency to a take a closer look at that particular company. In this article, I not only wanted to highlight a number of reasons why I'm staying bullish on shares of Nabors Industries Ltd. (NYSE:NBR), but also take a closer look at the company's pretty solid Q1 earnings performance.
Company Overview
Headquartered in Hamilton, Bermuda, Nabors Industries Ltd. together with its subsidiaries provides various drilling and rig services as well as completion and production services. The company also offers equipment manufacturing, instrumentation optimization software, and directional drilling services. In addition to those services Nabors also provides completion, life-of-well maintenance, and eventual plugging and abandonment of wells.
It should also be noted that the company markets approximately 485 land drilling rigs for oil and gas land drilling operations in the United States, Canada, and approximately 20 other countries worldwide. It also markets approximately 445 rigs for land well-servicing and work over services in the United States and approximately 104 rigs for land well-servicing and workover services in Canada. In addition to the 104 rigs its markets in Canada the company provides 38 platform-based, 8 jackup-based, and 4 barge rigs in the United States and internationally.
Nabors Demonstrates A Solid First Quarter
On Tuesday, and after all three major indexes closed fairly positive on the session, Nabors Industries reported the results of a very solid first quarter. Analysts had been expecting the company to earn $0.14/share on revenue of $1.55 billion; however, RRC impressed both investors and analysts when the company reported earnings of $0.16/share on revenue of $1.56 billion.
One of the more notable factors behind NBR's impressive quarterly earnings performance was clearly the operating income that was generated as a result of its Rig Services segment. On a quarterly basis, the company's Q1 2014 segment-based operating income of $8.7 million demonstrated an increase of approximately $10.9 million over the prior-quarters loss of $2.2 million. If the company can demonstrated a sustainable uptrend in its Rig Services operating income over the next 12-24 months, there's a very good chance the company's earnings growth could be positively impacted.
Recent Performance & Trend Behavior
On Tuesday, shares of NBR, which currently possess a market cap of $7.48 billion, a forward P/E ratio of 14.66, and a dividend yield of 0.63% (0.16), settled at a price of $25.23/share. Based on a closing price of $25.23/share, shares of NBR are trading 4.12% above their 20-day simple moving average, 11.57% above their 50-day simple moving average, and 40.67% above their 200-day simple moving average.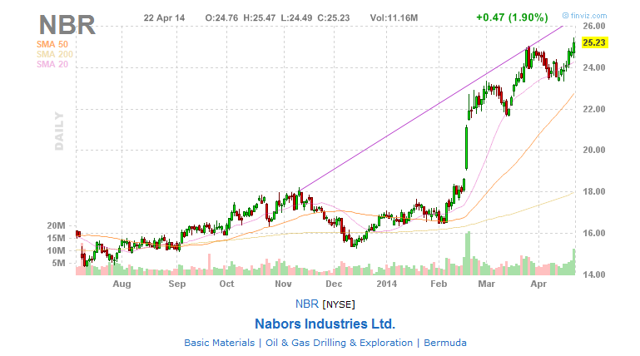 Click to enlarge
It should be noted that these numbers indicate a short-term and long-term uptrend for the stock, which generally translates into a moderate buying mode for both near-term traders and long-term investors. If the company can continue to surpass earnings as was the case during the first quarter there's a very good chance these trends could continue demonstrate a positive uptrend.
Comparative Forward P/E Ratios Set Nabors Apart From Its Peers
Although the above referenced numbers indicate a long-term uptrend for the company's stock, I actually think its share price of $25.23/share offers investors a considerable point of entry. Why? Well, I think that when shares are trading at a much better forward P/E ratio than a number of their sector-based peers, a great buying opportunity is created for most long-term investors.
As of Tuesday's close, Nabors Industries forward P/E ratio of 14.66 was much lower than the forward P/E ratio of both W&T Offshore (NYSE:WTI) (Forward P/E Ratio of 23.50 as of 4/22) and Patterson-UTI Energy (NASDAQ:PTEN) (Forward P/E Ratio of 19.12 as of 4/22) which signals a greater level of affordability for those who may be looking to establish a position in Nabors, especially when compared to a number of its peers.
Conclusion
For those of you who may be considering a position in the Nabors, I strongly recommend keeping a close eye on the company's recent trend performance, its ability to continue to demonstrate steady earnings growth, and its ability to continue to enhance shareholder value over the next 12-24 months, as each of these factors could play a role in the company's long-term growth.
Disclosure: I have no positions in any stocks mentioned, but may initiate a long position in NBR over the next 72 hours. I wrote this article myself, and it expresses my own opinions. I am not receiving compensation for it (other than from Seeking Alpha). I have no business relationship with any company whose stock is mentioned in this article.