General Electric (NYSE:GE) has been a leader in industry since the 19th century.
Formed from a merger of the Edison General Electric Company and the Thomson-Houston Company, a manufacturer of dynamos and electric light, the company went on to produce a wide range of products for transportation, energy and household use.
Throughout its history, GE has been interested in promoting programs for educational excellence, improved health, and greater understanding between people.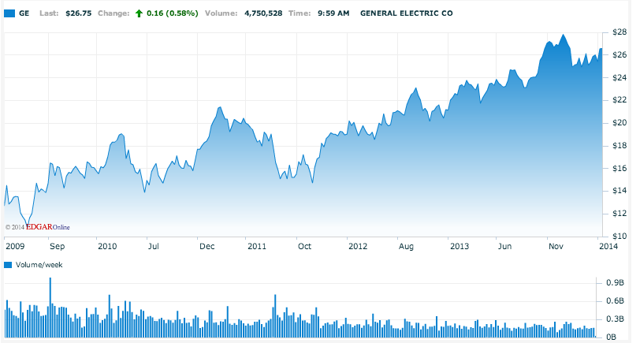 Click to enlarge
(Nasdaq.com)
GE's Philanthropic Commitment
For decades, the company has extended its influence and energy to the philanthropic arena, with a wide range of programs both nationally and internationally. Since 1892, the company has led the way in technological innovation and practical solutions.
However, over the years, GE has also become a force in the philanthropic community, providing funding for a variety of programs that have helped communities and nations advance technologically, academically, and sociologically.
GE and its CEO Jeff Immelt are members of the Committee Encouraging Corporate Philanthropy (CECP), a movement over 150 CEOs of many Fortune 500 Companies that believe societal improvement is critical to business performance. (More information on CECP here.)
The GE Foundation
General Electric began taking an interest in philanthropic efforts during the 1950s. The foundation began making grants in 1953, with funding for the American Red Cross, the United Negro College Fund, Massachusetts Institute of Technology, Johns Hopkins and other institutions to advance charitable air, education and research in the country.
Its Corporate Alumni became a model for corporate-sponsored education gift-giving for the nation. In the 1990s, GE began to expand its philanthropic interests outside the country to advance education opportunities and environmental understanding around the world.
Advancing Healthcare in Developing Nations via SEED Program
GE's interest in helping to fund advances in healthcare in poor nations around the world is a relatively recent outgrowth of the company's efforts. Donating ultrasound machines, x-rays and other equipment requires intensive research into whether these nations are able to utilize the equipment properly.
The GE Foundation has awarded more the $100 million to health projects in 15 countries since 2004. The company's latest teaming with the SEED organization will bring the Vscan ultrasound unit to areas of undeveloped countries that have little access to high-tech medical equipped.
SEED works with the Peace Corps to train volunteer doctors and nurses for work in some of the most medically underserved nations on the planet. These ultrasound units, about the size of a smartphone, can help to monitor fetuses, detect heart problems and check for internal bleeding, saving thousands of lives each year in these areas.
Philanthropic Efforts As Investments
The leadership at GE doesn't engage in philanthropic programs only for "feel-good" reasons. These efforts have helped the company both understand the needs of these developing countries, and design new products to fill demand.
CECP is one of many portals GE uses to more deeply understand who their colleagues and competitors are in countries in which they work-a powerful network for understanding international capital flows and markets.
Many argue that engaging in corporate philanthropy propels companies like GE to examine the policies shaping the company more critically; in addition, highlighting corporate engagement in social and environmental issues is increasingly important for retaining high-level employees, particularly of younger generations.
Both CEO Jeff Immelt and Vice President for Corporate Citizenship Bob Corcoran appreciate the value of the foundation's work in advancing GE's overall goals of higher profits and increased shareholder value.
Positive Conclusion For GE Investors
A company as global and deeply entrenched in industry as GE must be thinking strategically and creatively at all levels to continue progressing and competing with its peers and consistently delivering what its shareholders expect.
Harnessing philanthropic programs as tools for deeper global understanding and sharper sense of markets is critical for R&D, building company morale, and moving forward in an increasingly interconnected world.
GE shareholders should be very optimistic on GE's engagement with CECP and its own foundation work, along with increasing efforts to focus on its core business, and a lineup of potentially very strong successors to Jeff Immelt.
Disclosure: I have no positions in any stocks mentioned, and no plans to initiate any positions within the next 72 hours. I wrote this article myself, and it expresses my own opinions. I am not receiving compensation for it (other than from Seeking Alpha). I have no business relationship with any company whose stock is mentioned in this article.