The prevailing wisdom in the market today is that stocks, collectively, are expensive and that a "sizeable correction," however one wants to define one, is needed and/or forthcoming. While I won't belabor you with current and backward-looking quantitative data to prove the point, let's just agree that the market is trading at a valuation ratio in excess of what might be considered average.
While the market could be considered "pricey" on a historical basis, a look at the "doubling" performance of SPY (NYSEARCA:SPY) over the past five years evinces a rather orderly upwards move following our nation's near financial collapse in 2008-09.
SPY - 5 Years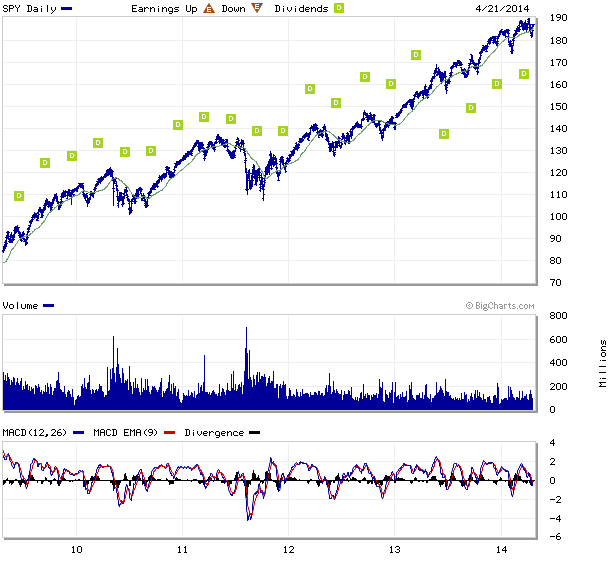 This would contrast with the hyperbolic buy frenzy that occurred in technology, Internet, and growth stocks in the late 90s. The Nasdaq 100 Index made a 7-fold move in 5 years, subsequently losing 75% of its value in less than two years. History tells us that the chart below represented a bubble. It seems far less likely that historians will refer to the chart above as a bubble.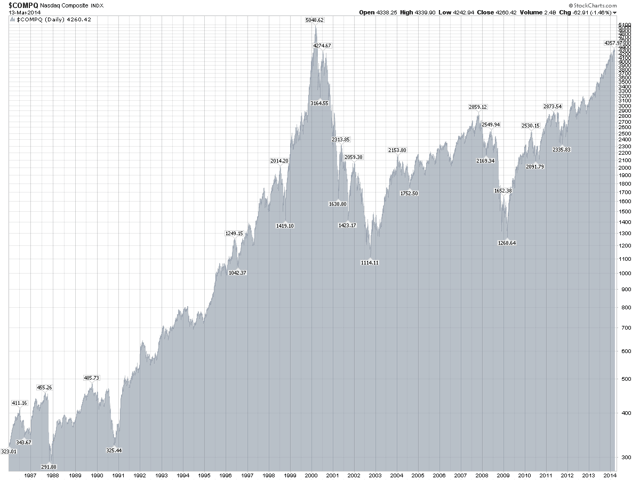 Click to enlarge
But despite our inclinations that the market is overheated, I feel it's imperative for investors to consider why stocks may be historically expensive before making drastic portfolio timing decisions based on knee-jerk feelings. As I opined in an article last year, "Bursting The Bubble Mentality," there seems to be thoughtful rationale as to why investors have pushed valuations higher on a wholesale level in today's market. Some pro-equity investor considerations may include:
Better forward risk-adjusted return perception of stocks relative to other assets including bonds, real estate, and cash.
Better yields and yield growth opportunities relative to bonds and risk-free alternatives in a ZIRP and rising rate world.
By and large positive sector and corporate fundamentals with a sense of a slowly improving economic climate.
An assumed soft landing coming out of QE.
In that article, I also opined that to an extent, we may be seeing a degree of "leaving the station" buy mentality, with certain investors scared of missing out on a continuing, perpetual rally. These are the same kinds of unsophisticated investors that tend to bail on the market at the first signs of weakness.
So while I think it's undeniable that stocks are on the expensive side, there appears to be good reason for investor gravitation to equities versus other assets in today's economy. Still, logic tells us that as the value of any kind of investment asset, whether on an individual or collective basis, rises in asymmetric fashion to its traditional worth, its market value becomes incrementally increasingly difficult to justify, and downside risk of the asset's pricing rises. Once any market decides, for whatever reason, that the rising value of the asset cannot be justified, it will most certainly begin to lose value.
It took quite a while in the late 90s for investors and analysts to figure out that not every company with a name ending with ".com," would actually turn a profit. As soon as corporate reality replaced dotcom hysteria, Nasdaq 5000 turned into Nasdaq 4000, 3000, 2000, and almost 1000 in fairly swift fashion.
While stocks have doubled over the past five years, other assets outside the equity realm have had mixed returns. The broad market for antique furniture, for example, has plummeted as of late. Real estate has by and large underperformed historical averages, while initiation of grading standards has offered a quasi-renaissance to baseball card collecting. We know that gold has increased in value over the past decade, but diamonds have barely kept up with inflation for decades, following a boom/bust cycle around 1980. The better move would have been to buy Tiffany's (NYSE:TIF) IPO in 1987.
My point is like other investments, equities are prone to periods, sometimes lengthy ones, of both historical under and overvaluation. Trying to predict when a secular change may occur may be a fool's errand, at best.
Correction Catalysts
While I consider the broader equity market vulnerable to a correction given the general gravitation to stocks we have seen over the past five years, logic again dictates that something must catalyze the move. With valuations on the rise, even sophisticated investors may be riding the brake, more inclined to sell than buy equities.
Since March of 2009, when the market bottomed out, we have seen a multitude of small-scale sell-offs, including a 5% move lower earlier this year. However, the "biggie" since 2009 was a nearly 20% move to the downside in 2011, based on debt fears over Greece, Spain, Italy, and Portugal. Those fears have since dissipated.
I would opine that there is nothing substantive today that would create a mad rush to the exits, although there are a number of developments that could hearken the development of a quick and/or attritive-type sell-off. Those might include:
Escalation of the situation in Ukraine and associated U.S./Russian tension.
Signs that the U.S. economy will be in for a hard landing with accelerating QE taper deployment.
Corporate earnings on a wholesale level show signs of anemia.
Rising interest rates create interest in assets outside of stocks.
Flare-up of Eurozone debt worries.
Sudden geopolitical events, including the oft-speculated Israel/Iran situation.
Although I'm not inclined to think that stocks will meaningfully sell off without a catalyst or "just because" - there's always that possibility. But given the general upwards momentum that equity markets possess and the desire of corporations to build value, it seems more likely that stocks would tend to flatline or even trend higher than they would lower based on "no news." And frankly, the contrarian in me says that the more articles I see calling for a severe correction, the less likely that a severe correction is likely to occur.
Strategy Session
So what is an investor to do if they perceive general market valuation risk, but is unsure or apathetic about the future odds of a correction? I think there's a number of strategic moves to consider:
Incrementally raise cash as perception of general and stock-specific risk increases. Dry powder is always a good thing. Cash is king, even when it earns nothing.
Sell calls on perceived "at risk" stocks to generate return but not immediately generate unwanted capital gains.
Purchase protective puts.
Ease into and out of positions, rather than hastily move in and out of stocks, i.e. pare and accumulate, or trade around positions, as market conditions dictate.
Swap higher P/E and higher PEG stocks for more reasonably valued equities.
Do nothing if you have the time frame to ride out a correction and/or volatile market environment.
My personal feel is that tactical investing, i.e. being mostly invested, but rebalancing assets and hedging a portfolio on a regular or periodic basis as macroeconomic and position-specific conditions dictate, is the best method to achieve alpha during these uncertain times. Remain invested, but play defense. Since we don't know if a correction will actually occur or not, be on the lookout for opportunities, but remember that the market has doubled over the past five years. Consider whether the likelihood of a meaningful correction outweighs the likelihood of a meaningful move higher over the next half-decade, and act accordingly.
From a security-specific perspective, diversity is certainly your friend in uncertain times. I recommend overweighting portfolios with low P/E equity-income names that can minimally act as step-up CDs and optimistically provide robust total return going forward. I like Conoco (NYSE:COP), Cisco (NASDAQ:CSCO), Apple (NASDAQ:AAPL), Aflac (NYSE:AFL) and American Realty Capital Properties (ARCP) at these levels.
And while they aren't quite as cheap, and thus, I would not overweight them, I think some household names with business momentum are worthwhile here; General Electric (NYSE:GE), Disney (NYSE:DIS), Union Pacific (NYSE:UNP), Dunkin' Brands (NASDAQ:DNKN), Google (NASDAQ:GOOG), (NASDAQ:GOOGL) and Home Depot (NYSE:HD) would fit into that category.
For the more aggressive portion of a portfolio, I would consider Latin America's Costco - PriceSmart (NASDAQ:PSMT), algal-oil purveyor Solazyme (SZYM), American Eagle (NYSE:AEO), and I might even close my eyes and buy Amazon (NASDAQ:AMZN) on the pullback near $300.
Conclusion
Despite continued calls for a meaningful pullback in the market, stocks continue to trend higher. While logic may tell us the odds of a correction may be increasing, one won't likely occur without some sort of tangible catalyst. Thus, without Nostradamus-like capability, the most prudent course of action for long-term investors is to position portfolios defensively in the face of perceived increasing generalized capital risk. While a significant stock re-pricing event could be in the offing, there might be equal reason to believe that we are in the early innings of a higher equity valuation paradigm, making market abandonment or a substantial cash raise a poor choice.
Disclosure: I am long AAPL, ARCP, DNKN, SZYM, COP, GE, UNP, AFL, CSCO, HD, DIS, PSMT. I wrote this article myself, and it expresses my own opinions. I am not receiving compensation for it (other than from Seeking Alpha). I have no business relationship with any company whose stock is mentioned in this article.
Disclaimer: The above should not be considered or construed as individualized or specific investment advice. Do your own research and consult a professional, if necessary, before making investment decisions.