"Devices are where experiences come together. On Surface Pro, a lot of the experience is on the device, but all of the applications that run on the device have back ends in the cloud."

- Microsoft CEO Satya Nadella
I picked up a little Microsoft (NASDAQ:MSFT) yesterday for the first time in a long time. I think Nadella is the guy that's going to make moves for the company, and I'm looking forward to what the company is going to have to say during its coming earnings report, this Thursday.
All eyes will be focused on the message that Nadella delivers, and the way that he's going to get it across to investors and analysts.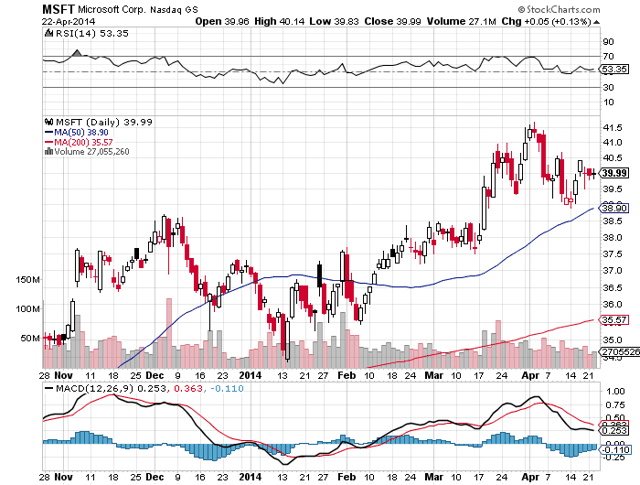 Microsoft has been lucrative to those who have staked positions over the last 12 months - yielding over 30% in that short time. The company has also posted gains of roughly 7% for the year 2014 so far.
Since Nadella has been on board, investors seem to have taken a shine to him, as evidenced by Microsoft's 10% rise in the last three months.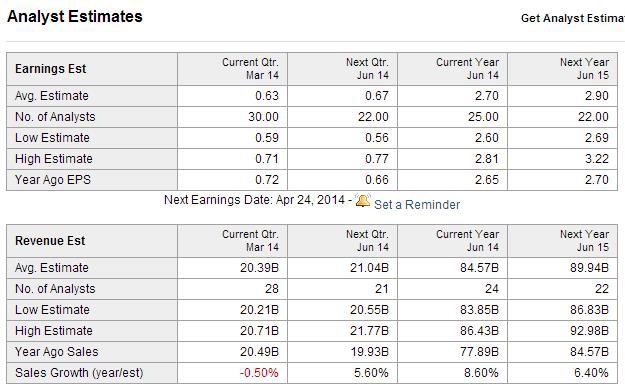 Analysts are going to be expecting EPS of $0.63 on revenues of $20.39 billion. Last year's numbers for the same quarter were EPS of $0.72 on revenue of $20.49 billion.
Mobile is likely to be one of the primary focus as investors look for color on how Microsoft plans to gel with Nokia (NYSE:NOK) and what the company's vision is for mobile. The deal between the two giants is made final the day after the earnings call.
ValueWalk reported:
The call will come Thursday, one day before the company will finalize its controversial $7.2 billion acquisition of the Finnish handset maker. While the deal was announced in September, that was Ballmer's doing. Given the timing of the call, expect Nadella to be asked a number of questions about the deal including how he plans to integrate Nokia Corporation (ADR) (NYSE:NOK) (BIT:NOK1V) (HEL:NOK1V)'s 32,000 employees into their new home at Microsoft.

Righting the ship at Microsoft Corporation (NASDAQ:MSFT) is a big ask and Nadella will certainly be asked how he expects to build on the growth in sales and earnings with Q2 revenues the best in ten quarters as the company moves towards devices and services.

Expect CFO Amy Hood to help take the pressure off Nadella, trained as an engineer, with regards to tax rates, foreign currencies, and other fiscal concerns. Nadella is expected to focus on Microsoft's work in the cloud with Azure.
Microsoft's extremely forward thinking move of porting Office over to the iPad saw 12 million downloads over the span of a week. The question will be how much of that is monetized for Microsoft?
Additionally, how has the ending of XP gone, and have we received any idea as to what is going to be next after Windows 8.1?
How has Microsoft been affected by PC sales seemingly starting to bottom?
Personally, I'd also love to hear more on Xbox One, its timeline for profitability and plans for the future. Xbox One sales have "outpaced those of its predecessor, the Xbox 360", according to Seeking Alpha's breaking news the other day.
Though Xbox still lags behind Sony (NYSE:SNE), I contend that getting an Xbox into living rooms is a great way to expand the Microsoft ecosystem through households - and will eventually be a great way to monetize other types of media like streaming TV and movies. In other words, instead of creating a set-top box that also has video game capabilities, Microsoft has a video game box, which they can give set-top capabilities. They can back their way in, in essence.
We're also likely to hear about Microsoft's new Azure Intelligent Systems Service - Microsoft's new foray into the cloud:
So, what we have here is an earnings call with very little focus on the numbers, and more of a focus on the new CEO and his plans.
Make no mistake, this is going to be Nadella's chance to address the world and his future plans for the company. This is the right forum for Nadella to come out, establish a clear vision, and show that he can back up his words. Investors and analysts have been waiting for this particular call for years now, ever since the rumors of Ballmer's leaving started.
Nadella has no choice but to get this call right.
This could very well be the most important call of Nadella's life thus far. As a newfound MSFT long, I'll be listening in closely to what Mr. Nadella has to say, and likely reporting on it afterward. Best of luck to all Microsoft investors.
Disclosure: I am long MSFT. I wrote this article myself, and it expresses my own opinions. I am not receiving compensation for it (other than from Seeking Alpha). I have no business relationship with any company whose stock is mentioned in this article.