Recently Citi Equity Research released an updated list of global bond refugee stocks. Stocks with higher dividends ands lower volatility as an alternative to bond investments. Among companies making the cut Bristol-Myers Squib (NYSE:BMY) with a current dividend yield of 2.9%. Below we continue our bond refugee review with BMY
Previously Reviewed Bond Refugee Stocks

Bond Refugee Recommend Actions:

Overall Bond Refugee Rating: Unattractive as Bond Refugee
Valuation: Overvalued as Bond Refugee
Dividend Stability: Unattractive as Bond Refugee
Background
BMY engages in the development and marketing of bio-pharmaceutical products. BMY has undergone a transformation in the last several years aiming to focus on bio pharmaceuticals. BMY has spun-off non-core assets such as nutritional products, personal care and others. Since 2011 BMY lost patent protection for key profit drivers such as Plavix and Avapro. BMY continues to focus research and development in the areas highlighted below while evolving to a bio pharmaceutical company.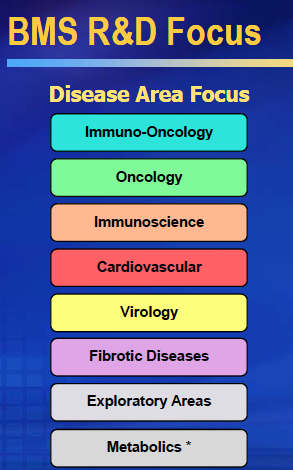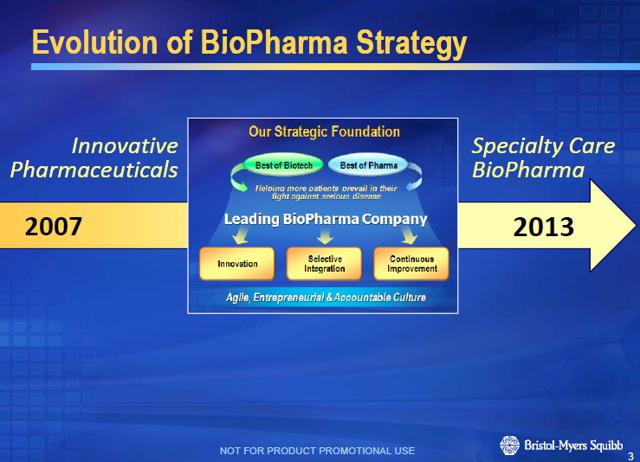 Valuation
BMY has an $84.2 billion market capitalization and enterprise value of $84.5 Billion. BMY trades at a heft to premium to both he S&P 500 and health care sector. BMY's PE is 33.1 and 30.5 on a trailing and forward earnings basis respectively. Analysts estimate BMY's earnings will grow at 14.33% annually over the next five years versus 11.85% and 11.76% for the S&P500 and healthcare sector respectively.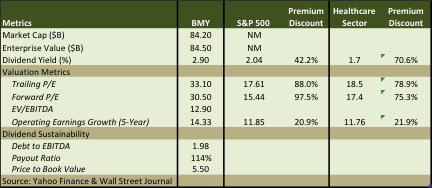 We rate BMY as overvalued based on bond refugee criteria that stresses relative value and stability of income.
BMY trades at significantly higher earnings multiple than the S&P 500 and healthcare sector on both a trailing and forward basis.
BMY's projected five-year growth rate of 14.33% is approximately 250 basis points above the S&P 500 (NYSEARCA:SPY) and healthcare sector growth rates.
BMY's above average growth rate does not justify a substantial earnings multiple premium for a bond refugee investor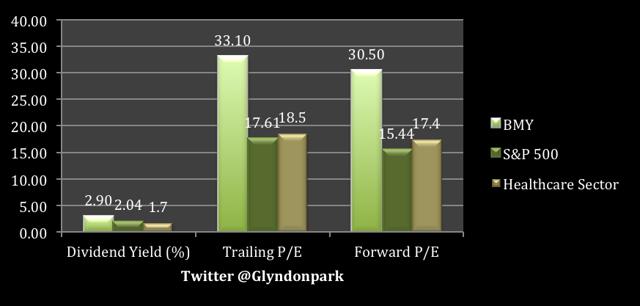 Dividend Stability
BMY has an outstanding dividend track record of increasing substantially over the last 25 years. BMY has a fairly modest debt level that is well covered by current cash flow. The company's debt to EBITDA ration of 1.98. BMY is paying out 114% of trailing earnings.
We rate BMY's dividend stability as unattractive based on bond refugee criteria:
Current payout ratio exceeds current earnings
Projected payout ratio is above stable levels
BMY's emphasis on developing bio pharmaceuticals and disposition of more predictable products sets.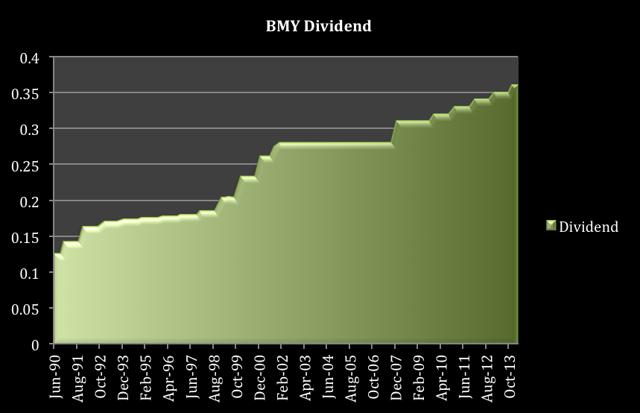 Sources:
Yahoo Finance
Standard and Poors
Wall Street Journal
Bristol Myers Investor Relations
Disclosure: I am long BMY. I wrote this article myself, and it expresses my own opinions. I am not receiving compensation for it (other than from Seeking Alpha). I have no business relationship with any company whose stock is mentioned in this article.