By David Russell
Yahoo (NASDAQ:YHOO) is falling on a bad earnings report, but one investor is betting on a rebound.
optionMONSTER's Heat Seeker tracking system detected the purchase of 35,000 January 16 calls for $0.64 and the sale of an equal number January 12.50 puts for $0.77. It was the largest trade to cross our monitors so far today.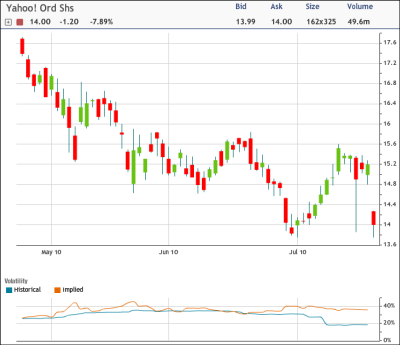 YHOO fell 7.89 percent to $14 in afternoon trading and has lost about 24 percent of its value since mid-April. The Internet-media stock gapped lower at the open after a decline in banner ads caused second-quarter revenue to miss analysts' forecasts.
Today's option trade generated a credit of $0.13 and will simulate a long position in the stock. It will make money if YHOO pushes toward $16 by expiration and lose money if it falls below $12.50. If the shares remain between the two strikes, the position will expire worthless and the investor will keep the small credit.
Despite today's decline, the stock seems to have important support around $13.90 and also around $12.50. That may have given the investor the confidence to sell the puts around this level.
There is also selling in the October 12 puts and the August 13 puts. Overall in the name, more puts are sold than bought, and purchases accounted for the bulk of call volume, according to Heat Seeker.
That reflects a general belief that YHOO is near a bottom and that a rebound is more widely expected than further downside.
More than 148,000 contracts have changed hands in the name so far today, more than seven times the average amount.

Disclosure: No positions