If you looked at Salesforce.com's (NYSE:CRM) trailing year return on equity, assets or net margin, you wouldn't be convinced that it was a good investment. However, the company has delivered share price growth of nearly 30% in a year. Had it not been the decline (see graph below) that started after Salesforce announced its fourth quarter result at the end of February this year, the gain on investment per annum would've been more than 50% on share price alone.

Source: Ycharts
Temporary market sentiments shouldn't distort the long-term view, especially in the market in which Salesforce operates. This article will focus on some of the past details explaining why share value decreased, and then we will look at some specifics to determine the future prospects of this stock.
Historic Performance

Source: 10K
During the last year, the total revenue of Salesforce increased by 33% to $4.1 billion. A similar growth rate was observed in subscriptions that account for more than 90% of the company's total revenue. The increase was attributed to volume-driven increases from new customers, upgrades, and additional subscriptions from existing customers and a decline in churn rate compared to the last year. The company continued to invest in customer programs and initiatives, that together with longer contract durations and increasing enterprise adoption, helped it to reduce its churn rate.
Costs worsened as they increased to $968 million, pushing the cost ratio up 200 bps from 22% last year to 24%. The reason was additional employee-related costs of $103 million as Salesforce increased its customer support and professional services headcount by 58% in one year to meet the higher demand for services from customers, of which a big portion was related to the acquisition of ExactTarget. Other cost increases related to service delivery were primarily driven by increasing data center capacity, depreciation and amortization expenses, along with subcontractor and professional services costs.
Salesforce Spends More Than Half of its Revenue on Marketing
R&D remained near to its historical level, increasing just 100 bps from last year to a total revenue share of 14%. The most important cost for Salesforce was and continues to be its marketing expenditure. Marketing and sales expenses were $2.2 billion or 53% of total revenue for fiscal year 2014. The company's marketing headcount increased 33% last year as more personnel were added to focus on adding new customers and increasing penetration within the existing customer base.
While other costs played their part, they weren't as important as above. The net result was diluted EPS of negative $0.39 down 18% more than last year. The continuous negative EPS over the last three years, despite industry top line growth is the reason why investors have become frustrated with the bottom line performance. This probably explains the decrease in share price after the latest earnings release.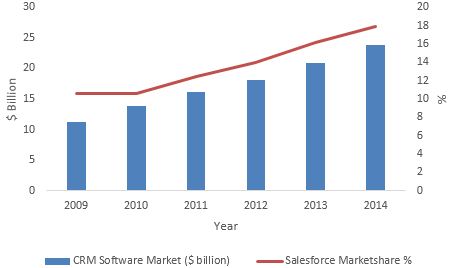 Source: Trefis
I believe investors should know a few points before they start having a negative perspective of the company. The graph above shows that Salesforce's market share has constantly grown from 2010 onwards along with the expanding CRM software market. I am sure out of all the factors that have caused this to happen, a lot of credit can be given to the higher marketing expense the company has incurred to increase its brand awareness. This is also why revenue from Europe and Asia Pacific increased 26% last year compared to 2013.
Cloud computing is still a relatively new arena with companies moving towards it at their own pace. An enterprise software forecast from Gartner shows that the CRM market will grow to $36.5 billion worldwide by 2017. CRM leads all enterprise software categories in projected growth, with a CAGR of 15.1% from 2012 to 2017. With these prospects, marketing seems to be a good choice. The benefits will be realized later when the industry reaches a saturation point and pre-established brands are chosen to service existing clients.
Secondly, the company's recently announced strategy to reap in more revenue seems to be a profitable undertaking for the future. The company's new Industries Business Unit "IBU" that it is forming will deliver social, mobile, and connected cloud solutions for six global industries:(financial services, insurance, healthcare, retail, media, public sector, and automotive).
By restructuring its team to industry particulars, Salesforce plans to capitalize on creating business operations, recruiting and training workers to gain proficiency in individual industries as an additional boost to the top line. The company has announced that it will grow its current team of industry experts, develop an ecosystem of preferred partners and create transformational solutions that will leverage the power of the trusted Salesforce1 platform for each sector.
Bottom Line
To report growing profits, every firm requires ongoing revenue growth. While cost control is essential, without a growing revenue stream, there is not much that could be done to generate return for investors. Salesforce's revenue growth for the past three years has stood at 35%. This is three times more than what the growing industry has generally experienced. Investors should watch for the point at which the company establishes a hold level for its market share that it desires, and at that point, it should reduce its marketing expenses in the future. This should bring its profit level to a satisfactory point. Based on the above-mentioned reasons, I think Salesforce is a good investment and therefore, it gets a long-term Buy rating.
Disclosure: I have no positions in any stocks mentioned, and no plans to initiate any positions within the next 72 hours. I wrote this article myself, and it expresses my own opinions. I am not receiving compensation for it (other than from Seeking Alpha). I have no business relationship with any company whose stock is mentioned in this article.