Shares of Gevo, Inc. (NASDAQ:GEVO) soared $0.31 to $1.18 per share at the close Tuesday, up 35.6% for the day, on further evidence of Gevo's potential for supplying the world with technologies anticipated to offset rapidly rising fossil-fuel prices.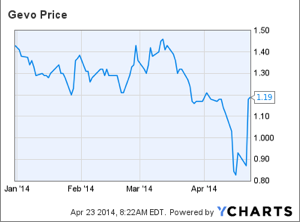 GEVO announced Deutsche Lufthansa AG would like to begin testing GEVO's isobutanol-derived jet fuel for commercial flight carriers. The tests will be conducted with the support of the European Commission.
To get a feel for our initial macro analysis of GEVO, refer back to our article of Feb. 25, Gevo: Misconceptions Create A Cheap Stock.
A synopsis of the article include:
ñ Holds more than 400 patents and ongoing proprietary techniques to successful produce isobutanol, a second-generation compound to ethanol.
ñ Company's product is a "drop-in" to the existing distribution channels, requiring no delays to market due to a lack of infrastructure.
ñ GEVO runway to market is much shorter and less capital-intensive than competitors such as Solazyme (SZYM) and KiOR (NASDAQ:KIOR).
ñ Licensing of the company's technology (Gevo's Integrated Fermentation Technology , or GIFT) will not require building of new plants. Instead, existing plants can retrofit some or all of its capacity for the production of isobutanol at a fraction of the cost and favorable ROI.
ñ End-user requires no modification to vehicle engine.
ñ Global demand for fossil fuel substitutes expected to increase indefinitely
ñ Company backed by French multinational, "Supermajor" oil and gas company, Total S.A.
After witnessing the violent move higher in GEVO Tuesday, it appears that any meaningful news about potential GEVO customers, especially as large as Deutsche Lufthansa, will punish those investors who hold short positions of the day of the announcements.
Note: Also see how important fuel costs are to the airline industry, in general, with an excellent article about Lufthansa's statistics, entitled, "Lufthansa's Fuel Cost Mitigation." Unhedged or sustained increases to fuel costs are the no. 1 reason for bankruptcy of a major airliner.
However, those short GEVO cite production delays and looming cash flow problems at GEVO in 2014.
Here, we discuss briefly why we feel Deutsche Lufthansa's decision to take the next step with GEVO hints as to the conclusion drawn following the airline's due diligence investigation on the chances of a GEVO survival.
Production Delays
Complaints of production delays due to unexpected issues at the Luverne plant in Minnesota shouldn't overly distress investors, in our opinion.
We expect delays from time to time in production, as the process of producing isobutanol is more a trial-and-error proposition than a question of management's competency. Remember, GEVO is dealing with material that is organic, which means it is alive.
Living materials must be managed creatively through experience. No manual yet exists for the process of developing a second-generation ethanol. GEVO is writing that manual.
If investors would read the amount of time that GEVO CEO Pat Gruber takes delineating the 11-step process of the company's proprietary GIFT system during GEVO's Q4 conference call in late March, they should come to appreciate the intricacy of offering cost-cutting and sustainable solutions to a 20 BGPY (Billion Gallons per Year) of global operating ethanol production capacity (according to Wikipedia's entry of GEVO).
It is, therefore, our opinion that complaints waged by some investors of deficient production management at GEVO don't appreciate the expertise and patience needed to perfect a production process of living matter.
Or look at it this way: Instead of long FDA trials to approval of a new drug, GEVO is fine-tuning a production process of commercialization that must satisfy government and industry standards. In essence, we see the difficulty of the products' production serving as the company's moat against newcomers; it's no different from that all-important moat of protection needed to recover from development costs incurred to launch a new and exotic pharmaceutical drug.
We suggest that investors look at Deutsche Lufthansa's decision to take the next step to test GEVO's isobutanol on the airline's commercial fleet - from Lufthansa's previous decision in November 2013 to initially evaluate isobutanol - as an additional reason to hold the stock for the longer term. To us, the news confirms that Gruber and Company offer a viable solution to an airline industry desperate to harness fuel costs.
The Fly in the Ointment
Long runways to profitability require lots of cash - cash that GEVO has very little of. Though GEVO has announced that 2014 production will split between ethanol and isobutanol (3-plus:1) at its facilities, the cash-burn rate still remains an issue in 2014, in our opinion.
Though during GEVO's Q4 conference call, Interim CFO Mike Willis didn't address when the company will need to raise capital, he did state:
"We expect our cash burn to continue to decrease over the coming quarters as a result of one transition due to the side by side model whereby we improve the utilization of the assets of Luverne and increase cash flow of the plant; two, the TriplePoint restructuring which meaningfully decreases our debt service charges; and three, our continuing expense control measures."
With approximately $24M of cash on its books and a burn rate of approximately $13M to $17M (last several quarters), GEVO may not make the year, even though the company will be selling ethanol during fiscal 2014.
Gruber stated in the Q4 conference call that, GEVO is expected to produce at the "10s of thousands of gallons range in the near term," while the company continues to perfect the batching processes of the GIFT system. We don't know what "near term" actually means, and "10s of thousands of gallons" means very little as well. Therefore, no meaningful guidance is expected in 2014.
Conclusion and Risks
Though GEVO's tiny market cap of $58.7M, $8.2M of revenue, and multimillion dollar losses, categorize this stock as high-risk, we at JasonBondPicks.com consider GEVO a potential high-return research and development stock.
Fifty-eight percent of the company's stock is held by mutual fund and professional institution investors, suggesting to us that GEVO has the support of strong hands whose collective decisions to take a stake in the company were probably influenced at least by the support of the deep pockets of France's Total.
However, risk-adverse investors should not consider this stock due to the speculative nature of the GEVO's revenue stream and production history. But those investors with adequate risk capital may find GEVO an interesting alternative energy stock that will most likely attract momentum investors and exciting short-covering rallies from time to time.
We recommend that no more than a few percentage points of one's overall investment portfolio should be allocated to one stock, especially development companies such as GEVO.
Short interest in the stock is quite high, at 22.8% (maybe lower, as of Tuesday), providing additional and rapid buying of the stock anytime favorable news is released by the company. Therefore, we believe shorting the stock is quite dangerous due to the stock's history of violent moves to the upside, as evidenced by large pops in the share prices following Tuesday's and November's announcements regarding Lufthansa.
Though GEVO's ethanol, isobutanol, high-performance race car fuels, Paraxylene (NYSE:PX)/Polyethylene Terephthalate (PET) products serve a ready marketplace, the company may not receive adequate funding to meet contractual obligations with creditors and customers. (Read about GEVO's varied product markets and customers: 7 Things You Don't Know About Gevo And Why You'll Miss It Becoming A Household Name.
However, we believe GEVO has a compelling enough business model and plenty of intermittent successes to attract and secure funding to complete its patented GIFT process. In fact, we believe funding may come from a source(s) that are also considering purchasing the company for its licensing revenue following the completion of GEVO's development.
We will continue to update our thoughts on GEVO as developments permit.
Disclosure: I am long GEVO. I wrote this article myself, and it expresses my own opinions. I am not receiving compensation for it (other than from Seeking Alpha). I have no business relationship with any company whose stock is mentioned in this article.
Editor's Note: This article covers one or more stocks trading at less than $1 per share and/or with less than a $100 million market cap. Please be aware of the risks associated with these stocks.