By: Craig Bowles
Overview
Caterpillar Inc. (NYSE:CAT) is slated to report 1Q 2014 earnings before the opening bell on Thursday, April 24th. The earnings release is expected at approximately 7:30 a.m. EST with an 11:00 a.m. conference call webcast available through Caterpillar Investor Relations. The company is a component of the Dow Industrial Average and S&P 500 Index. Late in the business cycle, the size and cyclical nature of the company increases in importance to the overall market and as an economic indicator.

Outliers & Strategy
Key measures:
Earnings Per Share: Caterpillar typically reports a "clean" figure but will provide an adjusted number if needed that compares with consensus estimates. The current Street estimate is $1.24 (range $1.03 to $1.35). (Source: Yahoo! Finance).
Revenues: Analysts expect a decline of 0.5% y/y to $13.14 bln (range $12.34 bln to $13.74 bln).
Look for Caterpillar to possibly provide an updated forecast for 2014:
Adjusted Earnings Per Share Guidance (FY2014). Current guidance is $5.85. Analyst consensus is $5.93 (range $5.70 to $6.25).
Earnings Per Share Guidance (FY2014). Current guidance is $5.30.
Revenues Guidance (FY2014): Current guidance is $56 bln. Analyst consensus is $56.29 bln (range $55.44 bln to $57.25 bln).
Caterpillar's P/E on trailing earnings is 18.0 compared to a five-year average of 20.2 and the industry's 13.9. The dividend yield is 2.3% compared to a five-year average of 2.2% and the industry's average of 1.8%, so there's some relative value.
Insiders have sold 109,265 shares during the last six months. Caterpillar's 2007 $7.5 billion stock buyback program runs through December 31, 2015 but the company already approved another $10 billion to be available for stock repurchases through 2018, so this is more than doubling the rate of repurchases.
Late in the economic cycle, the more cyclical Caterpillar would matter even more than the less cyclical Verizon (NYSE:VZ) (which reports in the morning) when affecting the Dow and this is enhanced given the CAT weighting of 6% vs. VZ's 2.3%.
Caterpillar shares have a 1-day average price change on earnings over the past eight quarters of 4.23%. Options are pricing in an implied move of 3.38% on earnings.
Recent News
04/22: Deutsche Bank says CAT shares have been strong due to buybacks but the mining business should be nearing a bottom, according to a post on Barron's Blogs.
04/22: Caterpillar's cost cuts could offset weakness from the global mining sector, according to a post at Forbes.com.
04/21: Caterpillar cut the value of its CEO's pay package by 32% to $12 million in 2013 as profits fell by a third, according to USA Today.
04/02: While a Senate hearing was held over whether Caterpillar should pay more taxes, questions arose as to whether the company is doing enough to avoid paying taxes, according to the Wall Street Journal.
03/24: Caterpillar negatives add up after losing a major contract in its home state of Illinois to produce locomotives for high-speed passenger-rail service, tax issues, and worries over the Russia-Ukraine conflict, according to Zacks Equity Research.
Technical Review
Caterpillar's stock has recently moved up from 2012/2013 support at $80.00. Recent balance of $100-$102 is the initial support with the next balance at $96. Upside resistance was above $110 in 2011 and 2012, so having spent three years basically in a trading range increases the likelihood of a large move in either direction. (Chart courtesy of StockCharts.com)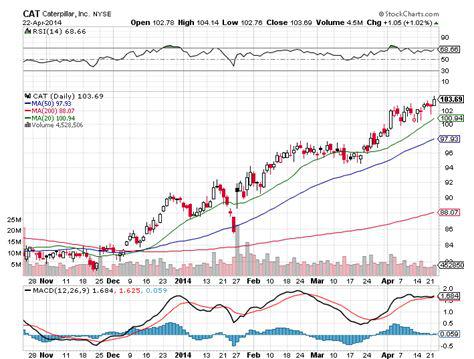 Summary
The company previously gave both GAAP and Non-GAAP for 2014 guidance, so the report could give a Non-GAAP or Adjusted EPS to compare to consensus even though they don't normally report that. Guidance and current numbers both matter. With traders more optimistic than analysts, the company probably needs to produce an EPS above $1.30 to support a further advance in the stock. Analyst consensus has seen revenue expectations reduced even in the last 24 hours.
DISCLAIMER: By using this report, you acknowledge that Selerity, Inc. is in no way liable for losses or gains arising out of commentary, analysis, and or data in this report. Your investment decisions and recommendations are made entirely at your discretion. Selerity does not own securities in companies that they write about, is not an investment adviser, and the content contained herein is not an endorsement to buy or sell any securities. No content published as part of this report constitutes a recommendation that any particular investment, security, portfolio of securities, transaction or investment strategy is suitable for any specific person.
Disclosure: I have no positions in any stocks mentioned, and no plans to initiate any positions within the next 72 hours. I wrote this article myself, and it expresses my own opinions. I am not receiving compensation for it (other than from Seeking Alpha). I have no business relationship with any company whose stock is mentioned in this article.