Although ARM Holdings (NASDAQ:ARMH) posted a healthy y/y revenue increase of 16% to $305.2 million and a 17.5% y/y increase in operating income to $124.7 million, growth in royalty revenues on ARM processor shipments grew by only 3% to $144.5 million. Processor shipments grew 11% y/y to 2.9 billion, but this was less than the typical annual growth ARM has enjoyed of ~15% and flat from 2013 Q4. ARM was quick to attribute the slowdown to "inventory corrections," but it's possible that we could be seeing the first impacts of Intel's (NASDAQ:INTC) long-awaited assault on mobile.
More Bumps Ahead
ARM's revenue growth was propelled by strength in licensing, up 37% y/y to $130 million. ARM added 26 processor licenses in the quarter with 6 new licensees. Now that Apple's A7 processor has demonstrated the goodness of ARM's 64-bit architecture, numerous companies have jumped on the ARM 64-bit bandwagon, licensing ARM designs.
Qualcomm (NASDAQ:QCOM) has announced new 64-bit processors such as the Snapdragon 808 and 810, 610 and 615 and 410. Unlike previous 32 bit Qualcomm processors, these all feature ARM designed Cortex A53 or A57 64-bit cores, underscoring the urgent need of the ARM processor makers to move to 64 bit.
Strength in licensing bodes well for the long-term prospects of the ARM ecosystem, but the near term could see more bumps ahead. For instance, Qualcomm's 64-bit processors are not expected to begin entering full scale production until the second half of the year.
Similarly, ARM reported that server processors (think AMD's Seattle) are not expected to begin full scale production until 2015. Long lead times are just a fact of life in bringing new processor designs into production.
The fact that most of the ARM processor makers will just be getting 64 bit into production later this year (with the exception of Apple (NASDAQ:AAPL)), leaves the door open for Intel to make significant inroads in tablet and smartphone markets. Intel has already unveiled its Merrifield smartphone processors at Mobile World Congress in February. Merrifield is the smartphone variant of Bay Trail, also fabricated on Intel's 22 nm FinFET process. Although no Merrifield smartphones have appeared yet, Intel apparently inked a number of deals at MWC with the likes of Asus and Lenovo.
It's very likely that Intel will price Merrifield just as aggressively as its Bay Trail tablet processors, although we haven't heard any shipment targets announced as we did for Intel tablets (40 million for 2014).
In smartphones and tablets, ARM enjoys some advantage as the incumbent (95% share in smartphones, 50% share in tablets and laptops), so I expect the damage that Intel does this year to be minimal. For instance, if Intel meets its objective of selling 40 million tablet processors in 2014, that would only be 13.5% of the 2013 market. 40 million tablets would also be considerably less than the 2013 growth of 79 million tablets, according to Gartner.
With Intel moving aggressively into mobile, I think it's very likely that ARM processor shipment growth will slow markedly or even come to a halt. ARM's revenue growth has historically kept pace with processor shipment growth as shown below.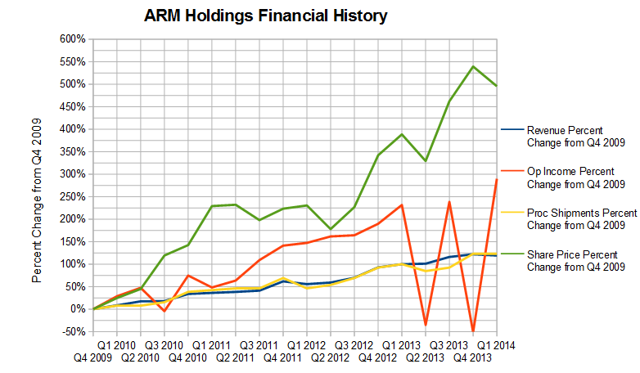 Hope for New Markets
ARM is also very bullish about growth in markets where ARM devices are currently under represented, such as the server market (<1%) and in microcontrollers (22%) according to ARM. But ARM acknowledges that there's no real sales volume in servers until 2015. The microcontroller business is all about smart connected appliances, the Internet of Things, but not necessarily mobile things.
In both areas, Intel will not cede market share without a fight. The Data Center Group (DCG) and the Internet of Things Group (ITG) were both bright spots for Intel in Q1. DCG revenue grew by 11% while ITG grew by 32% year-over-year. Intel's x86 architecture provides comfortable familiarity for developers for both types of platforms. The strength of the newly formed ITG group also reflects the fact that smart appliances aren't necessarily battery powered or mobile, so Intel architecture is not disadvantaged as it has been in mobile.
A Pivotal Year
Faced with really tough competition from Intel in smartphones, tablets, servers and microcontrollers, I sense that this is going to be a very difficult year for the ARM ecosystem. Do I believe that Intel will kill off ARM as so many Intel supporters have expected? No, I really don't, but it will be tough going for ARM this year.
In addition to the relative slowness of ARM processor makers such as Qualcomm in getting its 64-bit chips into production, there is the slowness of the ARM foundries in getting processes competitive with Intel into production. With these two advantages, Intel will begin to take significant market share, even if it costs Intel a lot of money to do so.
These gains will undoubtedly be trumpeted by Intel supporters as signs of Intel's ultimate victory, but the gains are likely to be a short-term Pyrrhic victory at best. Later this year, ARM makers will begin delivering 64-bit processors competitive with Merrifield. Qualcomm has even announced that the Snapdragon 810, a quad core 64-bit device, will be manufactured using a 20 nm process, so Intel's process advantage will begin to become eroded as well.
At some point late this year or early 2015, various ARM foundries will make good on their promises to begin 14 nm FinFET production, finally and irrevocably erasing Intel's process advantage. The ARM ecosystem will not emerge from 2014 unscathed, but it has a bright future ahead.
ARM investors will have to weather some stormy weather in 2014, as Intel's gains are harped about by Intel-friendly writers and analysts. Some pullback in ARM's stock is inevitable, but temporary. I will regard these as buying opportunities.
Disclosure: I have no positions in any stocks mentioned, and no plans to initiate any positions within the next 72 hours. I wrote this article myself, and it expresses my own opinions. I am not receiving compensation for it (other than from Seeking Alpha). I have no business relationship with any company whose stock is mentioned in this article.