The tech wars continue to heat up, and the internet of things continues to get more and more crowded. Some of the offerings are copycat products, while others actually improve the original product and user experience. We think that is the case with some of the recent moves in the content on demand/streaming services segment of the tech market and want to visit that today. We think it is a good time to review this area, because competition is very tough and all of the big names are involved in some way or another. Plus, as we thought, the Nasdaq has reversed course and headed higher after finding support recently.
Chart of the Day:
The Nasdaq has found support and bounced off of that level nicely in the last few sessions, and that we view as a positive for the market. We hope that we do some base building and do not head straight up from here, as that would be unhealthy, in our view. Instead, we would like to see some consolidation and then a nice gradual move higher.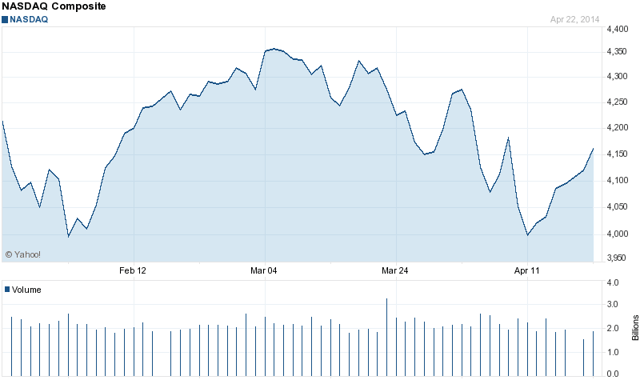 Source: Yahoo Finance
We have economic news today, and it is as follows:
MBA Mortgage Index (7:00 a.m. EST): Est: N/A Actual: -3.3%
New Home Sales (10:00 a.m. EST): Est: 455k Actual: 384k
Crude Inventories (10:30 a.m. EST): Est: N/A Actual: 3.524 M
Asian markets finished mostly higher today:
All Ordinaries -- up 0.70%
Shanghai Composite -- down 0.26%
Nikkei 225 -- up 1.09%
NZSE 50 -- up 0.74%
Seoul Composite -- down 0.19%
In Europe, markets are trading lower this morning:
CAC 40 -- down 0.67%
DAX -- down 0.55%
FTSE 100 -- down 0.25%
OSE -- down 1.07%
Amazon Making Moves
In an interestingly timed announcement, Amazon (NASDAQ:AMZN) and Time Warner's (NYSE:TWX) HBO unit today agreed to a content deal that would allow Amazon to stream older HBO shows to its Amazon Prime subscribers (see press release here). The agreement goes into effect next month, and will now enable Amazon Prime subscribers to stream the shows without having to pay a separate fee to purchase each episode, as is now the case.
Amazon shares have really come under pressure since rising above the $400/share level earlier this year. The Fire TV and other devices might reignite the momentum trade moving forward.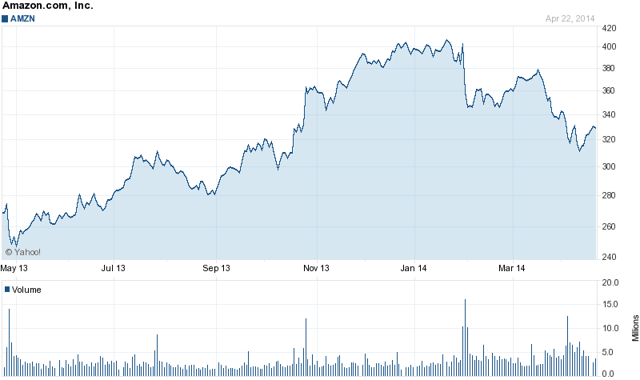 Source: Yahoo Finance
This is a big deal as it adds to the library of Amazon's Prime offering, while also weakening Netflix's (NASDAQ:NFLX) standing a bit, as they will only be allowed to offer the HBO shows via DVDs by mail. Long-term, everyone should do fine, as we think that each of these services will develop into a type of content "channel" and consumers will buy all three. In the short term, however, it might have an effect on early adopters, but it is important to remember that there are a lot of issues at play at this stage.
Fire TV To Benefit?
The deal might help Amazon sell more Fire TV devices, but the early results from our tech friends indicate that the device will not need much help selling. Our current device is a Roku, which we love. The Roku is also the most popular device among our tech friends who work for some of the largest companies in the Valley, as well as some interesting start-ups across the country, which in some cases make competing devices. The second-most popular device among this group is Apple's (NASDAQ:AAPL) AppleTV, but the complaint there is that it feels like an orphan in the Apple product offering because of the lack of emphasis.
With that said, some in this group has already tried the Fire TV, and among those who have tried it, it is now their main device. They really enjoy the ease of use and like the added features that other devices do not have. This is the same trend we have seen now a few times among device makers, so at this early stage, we think that the odds are fairly good that Fire TV will gain traction in the market; especially when one considers the fact that Amazon can put this product on the home page and email blast customers about it as much as it wants.
Going forward, we would not be surprised to see a package deal around Christmas time, where Amazon potentially offered a bundle to new customers. Something along the lines of buy our Fire TV streaming device and get three months of Amazon Prime free simply by activating an account with a credit card. There are a lot of possibilities now that Amazon has a streaming device of its own, and we think that this will allow it to compete better not only with Apple, but Google (NASDAQ:GOOG) too. This puts it in even more direct competition with the search giant's own Chromecast device and Play service.
Disclosure: I have no positions in any stocks mentioned, and no plans to initiate any positions within the next 72 hours. I wrote this article myself, and it expresses my own opinions. I am not receiving compensation for it (other than from Seeking Alpha). I have no business relationship with any company whose stock is mentioned in this article. AAPL has previously been recommended.