Southwest Airlines (NYSE:LUV) will release its 1st Quarter Earnings Report on Thursday, April 24th. The company is coming off of record numbers in the fourth quarter of last year, and a year that saw the stock price rise 84% in total. Here's a view of Southwest against the benchmark for the past year: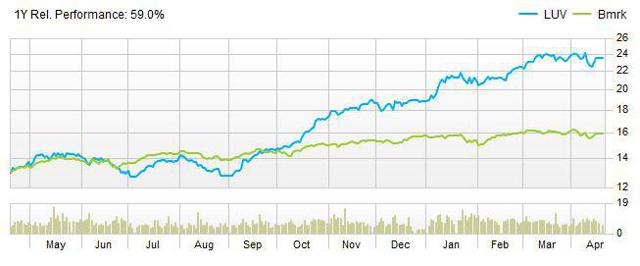 What to Expect for Q1 '14
Earnings per share for Q1 of 2014 are projected to be up 112% to $.17, according to FactSet, up from $.07 in the first quarter of last year. This boost will help lead Southwest towards its projected 2014 EPS of $1.42, which would be up 35% from 2013's value of $1.05.
Operating revenues for Q1 are also projected to be 2.1% up to 4.2 billion, compared to Q1 of '13. In addition to this, net income is expected to have increased 95% to $115 million compared to the first quarter of last year.
DCF and Analysis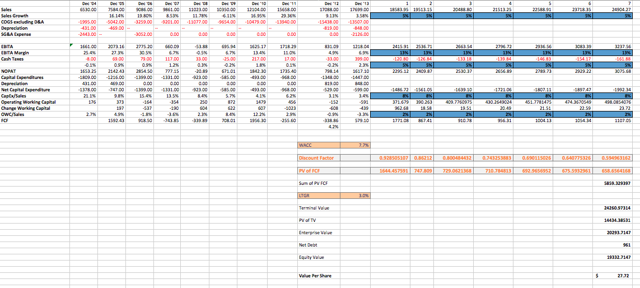 I'm extremely encouraged about the potential future of Southwest, after completing a DCF. Even while using relatively modest rates for predictions, the stock's predicted value per share shows an increase to $27.72. I chose a sales growth rate of 5% to demonstrate a worst-case scenario type of situation- Southwest's average sales growth rate for the past 7 years has been 12.13%, and the company seems to be on pace to follow this trend. If growth rates remain around the 10% range, the predicted value per share sky rockets into the mid-to-high 30s range. I also chose to use a much higher cash tax rate than the average for the past years of data listed. I chose to do this because of the uncertainty surrounding the future of the corporate tax structure. Should taxes for Southwest stay where they are, a value in the mid-$30 range become even more feasible. Two other big factors in the final predicted value per share of this DCF are the WACC and the long-term growth rate. Although unlikely, if Southwest's weighted average cost of capital increases, the predicted value per share could plummet. On the other hand, if the economy grows at a rate better than 3%, this particular DCF shows that the stock price could eclipse the $40 range.
DCF's aren't always accurate, but I'm particularly confident in this model. What I consider to be pretty modest assumptions for this model still yields a noteworthy increase in the share price. Make of it what you will, but Southwest has the potential to soar higher, should it keep even a fraction of its current pace intact.
Sources:
Southwest Investor Relations Interactive Chart
Southwest 2014 4th Quarter Earnings Report
Disclosure: I have no positions in any stocks mentioned, but may initiate a long position in LUV over the next 72 hours. I wrote this article myself, and it expresses my own opinions. I am not receiving compensation for it (other than from Seeking Alpha). I have no business relationship with any company whose stock is mentioned in this article.