Introduction
When Advanced Micro Devices (NYSE:AMD) launched the R9 295X2, the world's fastest graphics card, it may have well screamed "we're back" because this is truly what it meant. Prior to this card's launch, I thought that AMD had burned the last of its fumes for its high-end consumer graphics force by releasing the R9 290X & R9 290 at the end of last year. These were both brilliant products that put AMD back in the game by offering the best performance per dollar available on the market. At the time of the R9 290X's release it was the best card on the market and even with a MSRP of $550, it was still better than the former $1,000 champion, Nvidia's Titan. It excited me because the competition between the red and green has been absent for so long - hence Nvidia's (NASDAQ:NVDA) ability to originally get away with such an outrageous price on the Titan. For this article, I would like to briefly focus on the new R9 295X2 while drawing an important perspective in seeing what this truly means for a company that's in the middle of a turnaround.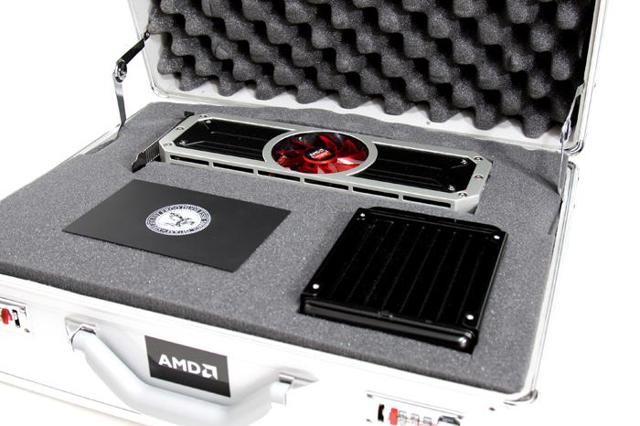 Source: Guru3D
The R9295X2
Earlier, an article published by contributor Alcarez Research shed plenty of light on the details of the R9 295X2 so instead of spending the entire article writing about it, I would like to just briefly discuss its abilities and features while elaborating on its importance to the industry. However, as this is some exciting new tech, I might get too into it so I apologize if you are already familiar with the new speed demon.
The R9 295X2 is a single unit GPU that actually consists of two higher clocked R9 290X cards which were AMD's former top of the line. Out of the box - or in this case an awesome looking briefcase - you will come across a heavy 12 inch aluminum covered dual slot card with an outstanding Astec closed loop water cooling system. Adding water-cooling is definitely a first for a reference design, but this is the fastest graphics card available and part of me was wondering how long it would take for a stock water cooled system. The R9 290X reference design was infamous for running at very high temperatures while using what sounded like a jet turbine to keep it cool so placing two of those extremely hot cores on one unit was just begging for a non-traditional cooling system. In addition, the water-cooled system also adds some benefits such as reduced throttling, noise levels and a very comfortable temperature of 60 degrees when loaded - a temperature that was often in the 90s for the reference 290X.
This card is clearly not for everyone and its most certainly no joke. Requiring 500 watts to run is much higher than any other card out there. The dual 8-pin connectors require at least 28 amps of current each, which means that a power supply around the 1000 watt range is the recommended food. Also, to make the ultimate 4k gaming dream come true, there is an astounding 8GB of GDDR5 memory onboard, which is a lot for a graphics card. The results are pretty much neck-and-neck with the R9 290X in crossfire and for some games close to the 780Ti in SLI.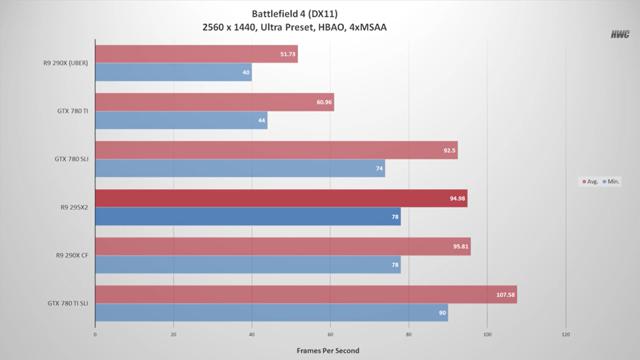 Source: Hardware Canucks
Priced at $1,500, it costs more than a pair of two R9 290Xs or even 780Tis, but it's still half of the whopping $3,000 tag on the upcoming Titan Z by Nvidia. However, AMD deserves the premium as the card is a very unique design and rather compact when considering its performance. With its two slot design, you can actually fit it into the increasingly popular compact mini ITX cases, as seen below. In my opinion, the compact design along with the cooler temperatures and quiet design are great reasons that are bound to attract many enthusiasts.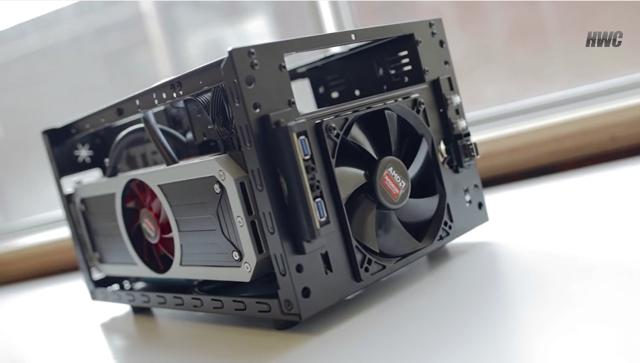 Source: Hardware Canucks
The Competition Has Returned
AMD's struggles in the last few years was pretty much due to its inability to compete with its main competitors, Nvidia and Intel (NASDAQ:INTC). With Intel stomping all over AMD in the last few years a whole new story, Nvidia has also taken significant market share from AMD. However, with AMD's launch of the Hawaii-Series graphics cards, it has shown signs of its return. I was very impressed with its barrage of competitive launches and I expected it to be short lived but with the release of the latest 295X2, I was wrong.
When AMD launched the R9 290X just about everyone except Nvidia had a reason to rejoice. Finally, high-end performance was available to people who weren't willing to pay $1000.00 for a Titan graphics card, which was contributing to Nvidia's record margins. As a result, Nvidia significantly decreased the price of the Titan to $600 and launched the 780Ti as if it was holding it for a special occasion where it would be faced with competition. After the 780Ti that slightly topped the R9 290X, AMD followed through with the R9 290, which was a slightly toned down version of the 290X but priced so cheaply that it easily turned heads. The R9 290 was offering just about the best performance dollar on the market. For this case, it was the usual old competition between the two we were familiar with.

This kind of competition is important for the growth of the entire industry. And last month, Nvidia announced the Titan Z, a dual GPU similar to the R9 295X2 but without a water cooler. Although details are limited on the card, it will be featuring 12GB of RAM, which is much more than the R9 295X2. Also a lot more is the price. At $3,000 it's difficult to judge whether or not such a price can be justified with the R9 295X2 on the market but we'll have to wait and see.
Conclusion
AMD's response to Nvidia's Titan Z is a very important step in realizing the possibility of it building a successful competitive future. AMD's graphics cards have been selling great and with Mantle on its side gaining serious momentum, we are still only witnessing the horizon of AMD's capabilities. With improved competition, a strong quarter and a finely executed restructure plan, it is clear that AMD is back.
Disclosure: I am long AMD. I wrote this article myself, and it expresses my own opinions. I am not receiving compensation for it (other than from Seeking Alpha). I have no business relationship with any company whose stock is mentioned in this article.