In my last article, I suggested that dividend income investors consider adding Annaly Capital (NYSE:NLY) as a dividend opportunity stock, for more income. You can review the overview right here.
Another sector that offers higher yields and can be assigned a risk allocation, is the business development company sector. This sector does better in good or improving economies, and lends money at slightly higher interest rates than banks or other lenders. In return, these companies receive more income from the higher rates charged and in many cases take an equity position in the company they lend to as well.
To maintain a BDC status for tax purposes, these companies must pay at least 90% of their taxable income as dividends to shareholders, much like the mREIT sector. The major difference is that a BDC is a lender of funds directly to businesses it chooses and in more cases than not, also takes an equity position. This creates a double opportunity for growth if any of the businesses they lend to happen to grow significantly.
Another difference that a BDC has over an ETF that has a higher yield is that it is not a passive investment and can be managed for greater performance over the longer term, rather than letting the ETF call the shots.
Main Street Capital Corporation (NYSE:MAIN) Is A Solid Stock To Add To A Dividend Income Portfolio
Some of the key fundamentals of MAIN are as follows:
A very reasonable forward PE of 13.02.
A current dividend yield of 6.30%.
A price to book value of 1.60.
Over 9% of stock is held by insiders.
Over 30% of stock is held by institutions.
Profit margins exceeding 83%.
Although earnings slipped last quarter by 13.5%, revenues grew by more than 27%.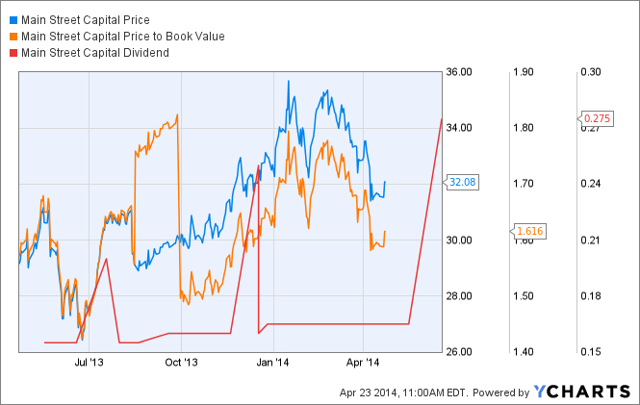 Click to enlarge
MAIN data by YCharts
As you can easily see from the chart, the dividends have increased while the price to book value has decreased, and the current share price is lower than in January by about 12%.
The increase in dividends shows better taxable earnings passed on to shareholders even though the share price has dropped. This offers a unique opportunity for dividend income investors to take advantage of an improving economy, a reduced share price, and a dividend increase.
The stock will go ex-dividend on May 16th and be paid on June 16th.
I believe this stock is a solid buy at current prices and along with a dividend yield of 6.30% could show another 12% upside in capital appreciation from its high in January. Going forward, as the economy improves, so will the earnings outlook of MAIN.
The Headwinds
Obviously, this is not a dividend champion stock as the dividends paid will fluctuate. The investment should have a risk allocation of between 2-4% in a balanced dividend portfolio, and needs to be monitored more closely than regular dividend paying stocks.
Be mindful of the following issues:
Even though interest rates are low, banks are still reluctant to lend to smaller start up businesses as the risk/reward ratio is not favorable to banks. If interest rates increase, that ratio will become more favorable for banks to lend, and will impact the BDC business model.
If banks decide to lend more even at current rates, they do not require equity stakes and can offer lower rates. If this occurs (which does not seem likely right now) it will impact MAIN as well as all BDC stocks.
If the economy stalls or retreats, the businesses that MAIN lends to will have less ability to succeed and to repay their loans, or offer any equity appreciation. This issue will result in defaults and lower earnings for MAIN and other BDC stocks.
If any or all of the issues noted happen to occur, shareholders will face lower dividends and a falling share price.
While there are risks in any investment, BDC stocks fall into the higher risk category and should be allocated as such to limit some of the downside. That being said, I believe the economy is now lending itself to a favorable position in MAIN shares.
The Bottom Line
With a 6.30% dividend yield and a lower price than from the beginning of 2014, I believe this stock offers a compelling opportunity for capital appreciation as well as dividend income for a retirement portfolio. A return to recent highs offers a 12% upside in capital appreciation.
Disclaimer: The opinions of this author are not recommendations to either buy or sell any security. Please remember to do your own research prior to making any investment decisions.
Disclosure: I am long NLY. I wrote this article myself, and it expresses my own opinions. I am not receiving compensation for it (other than from Seeking Alpha). I have no business relationship with any company whose stock is mentioned in this article.