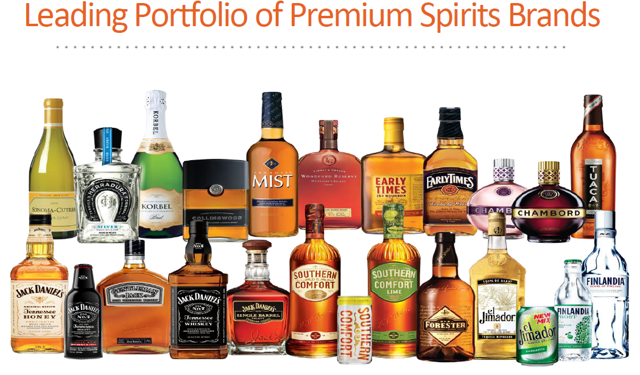 Click to enlarge
Source: Barclay's Back to School Investor Presentation
Brown-Forman (NYSE:BF.B) manufactures and sells alcoholic beverages domestically and internationally. The business flagship brand is Jack Daniels. They also own Sonoma wines, Korbel Champagne, Chambord, Tuaca, Southern Comfort, El Jimador, and Finlandia.
Current State of Affairs
Brown Forman is expecting high single digit growth this year. The company had an underlying net sales increase of 8% for 2013. Brown-Forman's Jack Daniels brand experienced volume growth of 6% in 2013. The brand's continued strong performance comes from the resurgence of drinking Whiskey over the last decade.
Brown-Forman will continue growing its Tequila and Whiskey brands organically rather than through acquisitions. Brown-Forman can afford to grow these categories organically because the Jack Daniel's and El Jimador brands exhibit significant value to consumers. Expanding their strong brands to innovative new products (think Jack Daniels Tennessee Honey and El Jimador New Mix) will increase sales.
Brown-Forman strategy for Vodka is to innovate with their strong Finlandia brand, while being on the look-out for value-adding acquisitions. Finally, Brown-Forman is expected to expand into other spirits (such as Scotch) through acquisitions.
Brown-Forman is realizing a substantial portion of growth from their international products. The table below shows Brown-Forman's sales by geography.

Source: Brown-Forman 2013 Annual Report
Shareholder Returns & Catalysts
Brown-Forman has historically been very shareholder friendly.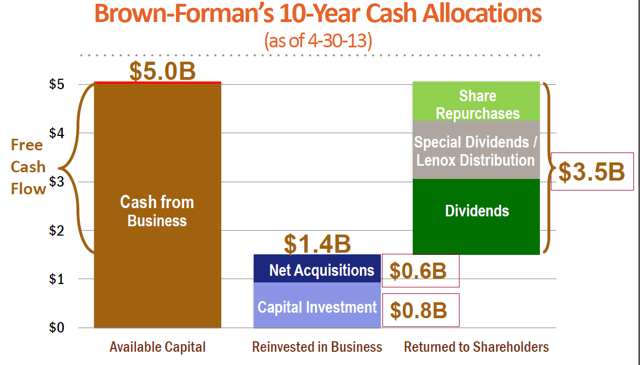 Click to enlarge
Source: Barclay's Back to School Investor Presentation
Shareholders of Brown-Forman can expect returns from organic growth (6% to 8%), dividends (1.5%), and share buybacks (1%) for a total return of between 8.5% and 10.5%, assuming no change in the valuation multiple.
The catalyst for Brown-Forman's growth is their strong brands, innovative new products, and rapidly growing emerging market sales. Emerging market sales increased by 12% in 2013. Brown Forman expects to make further acquisitions in non Tequila and Whiskey spirits.
It should be noted that Brown-Forman is most likely overvalued (see next section on valuation), so shareholders may see reduced returns as the P/E multiple reverts to its historical average. The overvalued status of Brown-Forman also means that their share repurchases are not returning full value to shareholders.
Valuation
Brown-Forman's P/E ratio is currently just below 30. The company's historical average P/E ratio is about 21. The business is trading at close to a 1.5x premium, based on their P/E ratio.
Peer P/E Comparison

Business

Ticker

P/E

Brown-Forman

BF.B

29.97

Beam, Inc.

37.22

Diageo

17.52

Constellation Brands

9.2
Brown-Forman appears to be somewhat overvalued compared to its peers.
Dividend Aristocrat Comparison
Brown-Forman ranks at number 64 out of 102 compared to other stocks with 25+ years of increasing dividends using the 5 buy rules from the 8 Rules of Dividend Investing. It compares unfavorably primarily due to its low dividend yield. As Brown-Forman's price decreases, the company's rank will increase.
Rule 1: 25+ Years of dividend increases
Rank: Brown-Forman has paid increasing dividends for 30 consecutive years.
Why it Matters: The Dividend Aristocrats (stocks with 25+ years of rising dividends) have outperformed the S&P 500 over the last 10 years by 2.88% per year.
Source: S&P 500 Dividend Aristocrats Factsheet
Rule 2: Rank Stocks by Dividend Yield
Rank: Brown-Forman has a dividend yield of 1.57% which ranks them at 80 out of 102.
Why it Matters: The highest yielding quintile of stocks outperformed the lowest yielding quintile of stocks by 1.76% per year from 1928 through 2013.
Source: Dividends: A Review of Historical Returns
Rule 3: Rank stocks by payout ratio
Rank: Brown-Forman has a payout ratio of 35.30% which ranks them at 55 out of 102.
Why it Matters: High yield low payout ratio stocks outperformed high yield high payout ratio stocks by 8.2% per year from 1990 to 2006.
Source: High Yield, Low Payout by Barefoot, Patel, & Yao, page 3
Rule 4: Rank stocks by revenue per share growth
Rank: Brown-Forman has a revenue per share growth rate of 4.29% over the last 10 years, ranking them 62 out of 102.
Why it Matters: Growing dividend stocks have outperformed stocks with unchanging dividends by 2.4% per year from 1972 to 2013.
Source: Rising Dividends Fund, Oppenheimer, page 4
Rule 5: Rank stocks by their standard deviation
Rank: Brown-Forman's long-term standard deviation of 23.15% ranks them at 26 out of 102
Why it Matters: The S&P Low Volatility index outperformed the S&P 500 by 2.00% per year for the 20 year period ending September 30th, 2011.
Source: Low & Slow Could Win the Race, page 3
Conclusion
Brown-Forman is a fantastic business with very strong brands and a long history of consistent growth and shareholder friendly management.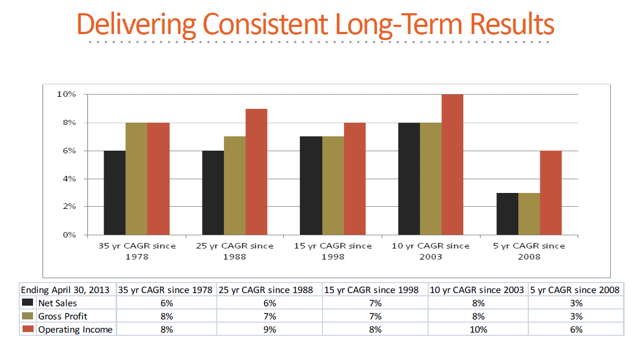 Click to enlarge
Source: Barclay's Back to School Investor Presentation
The future is bright for Brown-Forman, as they continue to grow in the high single digits while paying a dividend and repurchasing shares.
The downside to investing in Brown-Forman is the steep price to earnings. The company is significantly overvalued. I would purchase when the P/E ratio hits their historical average of around 20.
Disclosure: I have no positions in any stocks mentioned, and no plans to initiate any positions within the next 72 hours. I wrote this article myself, and it expresses my own opinions. I am not receiving compensation for it (other than from Seeking Alpha). I have no business relationship with any company whose stock is mentioned in this article.