Once again, talks between Barrick Gold (NYSE:ABX) and Newmont Mining (NYSE:NEM), two of the biggest gold producers in the world today, have collapsed.
While there was hope for a deal by early this week, the two giants were unable to come up with an agreement.
Gold (NYSEARCA:IAU) fell 28 percent in 2013, the largest annual drop in the price of gold since 1981.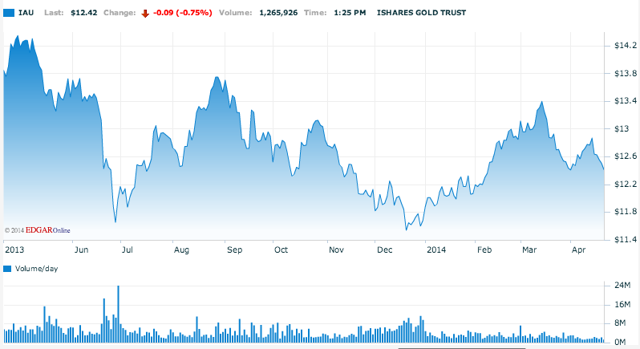 Click to enlarge
(Nasdaq.com)
Losing Its Shimmer
According to the Wall Street Journal Market Data Group, in 2011 gold prices rallied between $1,600 to $1,800 a troy ounce, but now in 2013 and 2014, they fluctuate between the $1,200 and $1,400 range.
As a result, Barrick began to cut its gold reserves, and Newmont Mining's profit took a plunge.
Analysts in the precious metals industry believe that price drops occurred when the Federal Reserve began to ease down on its economic stimulation efforts. Although the stimulus packages sparked inflation, it supported the price of gold, because investors used the precious metal as a hedge.
It was against this background, then, that there was much hope for the merging of these two gigantic companies. Their combined strength would have created a $30 billion market value with mines in Asia, Africa, and North and South America.
A Look At The Numbers
In order to understand this situation more clearly, let's take a brief look at numbers behind gold and its alloy copper for both mining companies:
Barrick Gold
In 2013, the company produced 7.17 million ounces of gold and 539 million pounds of copper. It hired 25,000 employees and had a market capitalization of $21 billion.
Gold Mines:
• Cortez Mine, Nevada
• Goldstrike Mine, Nevada
• Pueblo Viejo Mine, Dominican Republic
Copper Mines:
• Zaldivar Mine, Chile
• Lumwana Mine, Zambia
Newmont Mining
In 2013, the company produced 5.1 million ounces of gold and 144 million pounds of copper. It hired 32,000 employees and contractors and had a market capitalization of $11.8 billion.
Gold mines:
• La Herradura, Mexico
• Minera Yanacocha, Peru
• Boddington, Western Australia
• Nevada mining operations (14 open-pit; 4 underground mines; and 14 processing facilities.)
A Lost Opportunity
One way to understand how powerful a merger this might have been is to do a little reverse engineering. Imagine that such a merger had occurred early last year.
Looking at these numbers for 2013, working together, these two mining giants would have produced 12.27 million ounces of gold with 683 million pounds of copper. If the two had found a way to combine strengths, it is unlikely that Barrick's shares would have slumped a full 21% over the last 12 months and it would have a much higher market value than $21 billion.
Meanwhile, from the Newmont side of the equation, it is unlikely that its shares would have fallen a good 35% over the past year and that its market value would now only be $12 billion.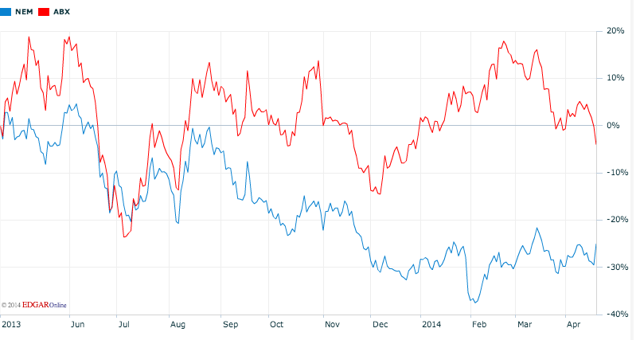 Click to enlarge
(Nasdaq.com)
Currently, in order to stay profitable, both companies have been getting rid of their assets to lower costs and increase profits. Barrick has about $1 billion in divestitures, while Newmont has generated about $600 million from their asset sales since 2013.
Looking at current examples of mergers, we see that companies that merge can quickly seize opportunities that they could not have secured if they were working independently. For instance, when Yamana Gold and Agnico-Eagles Mines agreed to buy Osisko Mining Corp for 3.5 billion, they were able to beat out an offer from a formidable competitor, Goldcorp Inc. (NYSE:GG).
Negative Outlook For Investors
Investors should not be keen on either ABX or NEM as gold prices continue to decline, particularly as the economy recovers, and highly successful investors like Warren Buffett (NYSE:BRK.B) continue to elucidate its relative lack of worth.
We recommend more reliable core holdings, such as Johnson & Johnson (NYSE:JNJ), Wells Fargo (NYSE:WFC), and, our favorite growth stock, Berkshire Hathaway (NYSE:BRK.A).
We invite readers wishing to read and join the discussion about gold markets on a regular basis to click the +FOLLOW button above the title of this article.
Disclosure: I have no positions in any stocks mentioned, and no plans to initiate any positions within the next 72 hours. I wrote this article myself, and it expresses my own opinions. I am not receiving compensation for it (other than from Seeking Alpha). I have no business relationship with any company whose stock is mentioned in this article.