Intel Corporation (NASDAQ:INTC) reported first quarter results that were better than I anticipated. Including the second quarter forecast, Intel is on track to deliver full-year results that are inline with my optimistic (bullish) forecast. Adding to that optimism is the improvement in profitability.
Looking into 2014, I think Intel remains very well positioned within the data center. Obviously notebook and desktop sales may be somewhat sluggish. But I think the company has competitive offerings in the 2-in-1 space. Also, the Internet of Things and Software groups should perform relatively well. On the other hand, I don't think Intel will be truly competitive in mobile until 2016.
With that factored in, the intrinsic value estimate has been revised to at least $28.58 from $30 per share.
Recent Developments
McAfee is delivering a framework that brings network and endpoint together through centralized management and that integrates with both global and local threat intelligence to deliver visibility across all threat vectors.
Intel shipped 5 million tablet processors in the first quarter. The company is aiming for 40 million during 2014.
The Intel Smart Device Innovation Center in Shenzhen is being established to accelerate the delivery of Intel technology-based devices to the China market.
Intel's SoFIA 3G platform is on track to ship to OEMs in the fourth-quarter of 2014.
INTC completed the acquisition of BASIS Science, a privately held company and the creator of the Basis band, the world's most advanced health tracker and web and mobile service.
Samsung and Global Foundries inked a deal that makes them the 800-pound gorilla in the foundry business.
Analyst's Note
Intel Corporation is a semiconductor chipmaker which develops integrated digital technology products, mainly integrated circuits ("IC"), for industries such as computing and communications.
At the industry level, I continue to think of the PC market as contracting in 2014 with the enterprise segment being significantly stronger than the consumer segment. I have a generally favorable outlook for the data center in 2014, which I expect to grow in the low-to-mid single digits. The Internet of Things and mobile and communications markets are growth markets. Software sales are expected to grow in the low-to-mid single digits.
Turning to the first quarter, Intel's numbers came in pretty much inline with the forecast. There was definitely more strength in PC and Data Center than I anticipated, but the consolidated results were more or less what I expected. I came into this year expecting a 3% decline in consolidated revenues with +2% as the optimistic forecast.
| | | |
| --- | --- | --- |
| For the quarter ending (in millions of dollars except per share data): | 2013-06 | 2014-06E |
| Revenues | 12811 | 13000 |
| Gross profit | 7470 | 8190 |
| Operating income | 2719 | 2890 |
| Net income | 2000 | 2145 |
| Diluted EPS | 0.39 | 0.42 |
Looking at the second quarter forecast of $13B of revenues, it seems as though INTC is tracking closer to the optimistic forecast. If revenues come in at the lower end of guidance, INTC would be between the base case and optimistic forecasts. The outcome of the second quarter will to a large extent depend on what happens in PC, but the signs are generally good in that market. When HP (NYSE:HPQ) reports, investors will get some color on what has happened in the PC market, post-INTC disclosures. Simply stated, the financial performance is on the bullish path.
| | | |
| --- | --- | --- |
| For the year ending (in millions of dollars except per share data): | 2013-12 | 2014-12E |
| Revenues | 52708 | 51184 |
| Gross profit | 31521 | 31222 |
| Operating income | 12291 | 12622 |
| Net income | 9620 | 9036 |
| Diluted EPS | 1.89 | 1.77 |
For the full year, I increased the gross margin estimate and increased the share count estimate. Net income is adversely impacted by the expiration of the R&D tax credit, but Congress is expected to extend the R&D tax credit retroactively in the coming months. Generally, the 2014 fiscal year is shaping up to be better than I anticipated at the end of 2013.
| | | | |
| --- | --- | --- | --- |
| Cloudera revenues forecasts | Big Data: Optimistic $70B | Big Data: Base case $50B | Big Data: Pessimistic $30B |
| Market share: Optimistic 30% | $21B | $15B | $9B |
| Market share: Base case 20% | $14B | $10B | $6B |
| Market share: Pessimistic 10% | $7B | $5B | $3B |
Intel and Cloudera reached a strategic agreement to create a leadership platform for Big Data. The companies provided a forecast for the Big Data market that states the market size will grow to $50 billion in 2020. The above table estimates the revenue that Cloudera could generate from the Big Data market. Under the base-case scenario, the Big Data market grows to $50B and Cloudera earns a 20% share of the market; this results in $10 billion of annual revenue. The most optimistic forecast calls for $21billion of annual revenue and the most pessimistic forecast calls for $3 billion of annual revenue.
Other than that, the liquidity is ample and the solvency position appears solid. For the rest of 2014, I'm looking for continued stabilization in the PC business and strong performance from the Data Center segment. In my opinion, those are the key drivers for this year. As we get into the back half of the year and into 2015, I think mobile and IoT may start to become bigger stories. Intel is forecasted to earn more than its cost of equity during 2014.
General Risks
A change in the mix of platforms among Data Center, PC Client, Mobile and Communications, and Internet of Things could adversely impact Intel's net revenue and profit margins.
Recently introduced products with higher costs could adversely impact profitability.
Given that technology firms rely heavily on intellectual property, Intel investors face risks emanating from IP-related incidents.
Material settlements related to adverse litigation outcomes may adversely impact the results of operations and value of Intel's common equity shares.
A significant decline in sales from the Data Center operating segment could cause reported results to differ materially from expectations.
A material decline in IT and/or consumer expenditures could adversely impact the results of operations and cause reported results to differ materially from expectations.
The share price is likely to be volatile in the future and investors could lose a portion or all of their investment. Additionally, Intel is unsuitable for some investors.
This section does not discuss all risks related to an investment in INTC.
Portfolio And Valuation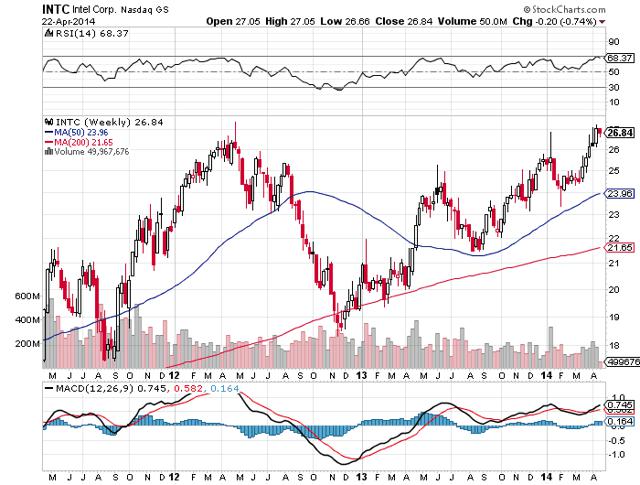 Intel remains in a bull market of primary and intermediate degree. This level is a key level to watch for a trend change, but based on the fundamentals, I'm expecting INTC to continue trending toward $30 per share.
| | | |
| --- | --- | --- |
| Monthly expected return | Quarterly expected return | Quarterly standard deviation of returns |
| 1.42% | 4.26% | 11.27% |
| | | |
| --- | --- | --- |
| | Intrinsic value estimates | Forward multiplier valuations based on pessimistic intrinsic value |
| Optimistic | $74.30 | P/E: 16.16 |
| Base case | $51.44 | P/S: 2.85 |
| Pessimistic | $28.58 | P/BV: 2.45 |
| | | P/CFO: 7.30 |
Based on the fundamentals of the firm, Intel's base case intrinsic value is $51.44 per share. For now, I'll stick with an intrinsic value of $28.58 per share. This is down from the prior estimate of $30 per share as I tweaked the model slightly to reflect the incremental information. At the estimated 2014 values and the pessimistic valuation, Intel would be trading just north of its five-year average valuations.
Disclosure: I am long INTC. I wrote this article myself, and it expresses my own opinions. I am not receiving compensation for it (other than from Seeking Alpha). I have no business relationship with any company whose stock is mentioned in this article.