SA contributor Bret Jensen recently published an interesting piece pitting two giants, Microsoft Corporation (NASDAQ:MSFT) and The Coca-Cola company (NYSE:KO) against each other. Right off the bat, we like and respect Bret's work, and he is one of the few authors we follow. This article is just an attempt to have a healthy debate about two massively followed stocks.
Bret compared the two stocks on Valuation, Growth, Environment, and Dividends and concluded Microsoft wins on every category. To be fair, Bret did mention this is the conclusion for the rest of 2014 at least, but this article takes the opposite side on why Coca-Cola is a better stock than Microsoft for now and perhaps forever. Let us get into the details.
Dividend Streak: As Bret has mentioned in his article, Coca-Cola has been paying dividends for decades. In fact, the company has put together an impressive dividend growth streak of 52 years. That is more than half a century for emphasis. Over half a century Coca-Cola has been through many recessions, depressions, market crashes and still stands tall when it comes to dividend reliability.
Microsoft's dividend growth rate has been very strong recently, but long-term investors would have seen many a flash in the pan, and that is why companies like Coca-Cola are considered near and dear.
Business Environment: I do not want to place a bet on what Microsoft will be doing in 10 years. But I am almost certain that Coca-Cola will still be serving billions of chilled cans every single day. In other words, the business is almost too simple these days for Coca-Cola to maintain its status. The same cannot be said for Microsoft or any other technology company that needs to evolve or die.
That is not to say that Coca-Cola can just rest on its laurels, but the need to keep evolving is less critical. The innovation/evolution factor is the very reason why Microsoft's stock stalled between 2003 and 2013, often dubbed as the "lost decade."
Price Target And (lack of) Growth:
According to Yahoo Finance, the average price target on Microsoft is $40.01, which is exactly where the stock is trading right now. Perhaps as indicated in this article, Microsoft's stock is way ahead of itself now.
Coca-Cola has a price target of $44.05, which is 8% from the current market price.
Coca-Cola is expected to grow earnings at 6.7%/yr for the next 5 years, while Microsoft's is at 7.6%. In other words, there is little to separate the two here, and investors must acknowledge that both are perhaps past their days of growth. This is where Coca-Cola's cost-cutting efforts and its amazing distribution system come in handy to squeeze more profits for investors.
Coca-Cola is trading at a premium when we look at the PE ratio, and this has almost always been the case. The section below might answer why.
Volatility:
Coca-Cola is often seen as a "safe(r)" stock. It carries a beta of 0.35 that is half of Microsoft's 0.70. This cushion will come in handy during market sell-offs.
During the 2008/09 market crisis, Microsoft went from $35 to a low of $15. Coca-Cola went from $32 to $19. In terms of percentages, that represents a 60% loss in capital for Microsoft investors versus 40% for Coke investors. Granted, almost all the good stocks found their way back soon enough, but this is perhaps why Coca-Cola has a premium, because of the relative protection during down time and the dividend cushion.
Even during the height of the 2008/09 turmoil, Coca-Cola barely yielded 4%. That means, history tells us this stock's doomsday bottom is $30 based on the current annual dividend of $1.22. While one might say that is a 33% downside, we are talking about a 50% or more correction scenario for the market.
Insiders: Even insiders at both companies seem to think that one stock has a lot more upside than the other. The table below shows numerous insider purchases for Coca-Cola recently, while the last insider buying at Microsoft was in June 2012.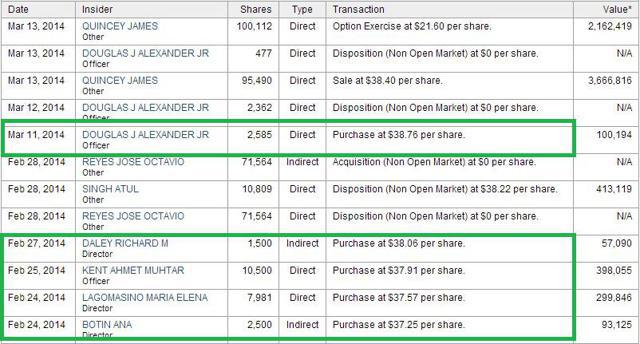 (Source: Yahoo Finance)
Extrapolation:
The first table below shows the expected yield on cost for investors in Microsoft, assuming the dividends grow at 10%/yr. While this is lower than the numbers Microsoft has managed so far in the last 5 years, we must remember only two companies have managed to increase their dividends by at least 10% for 15 years.
The second table below shows the expected yield on cost for investors in Coca-Cola, assuming the dividends grow at 7%/yr. This sounds much more manageable, because Coca-Cola has been doing this for years and still has plenty of room for dividend increases still.
The point being, even with the higher dividend growth rate for Microsoft, there is little to separate the two. We would be more willing to bet on Coca-Cola giving a 7%/yr dividend increase over Microsoft doing a 10%/yr dividend increase for a decade.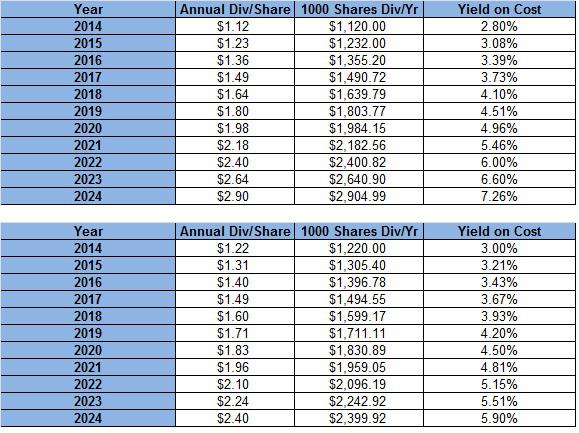 (Source: Current share price and dividend data from Yahoo Finance)
Conclusion: There is no doubt that Microsoft is a good stock to own for dividends in the tech space given its cash strength and dividend coverage. But if there is a head on collision between the two stocks to pick one, we pick Coca-Cola for its safety. Microsoft's growth prospects aren't that high either, and the market has consistently awarded low multiples to old tech giants like Microsoft, Intel (NASDAQ:INTC) and Cisco Systems (NASDAQ:CSCO). This is unlikely to change, barring some amazing new product.
Disclosure: I am long KO. I wrote this article myself, and it expresses my own opinions. I am not receiving compensation for it (other than from Seeking Alpha). I have no business relationship with any company whose stock is mentioned in this article.