It's hard to imagine a company other than IBM (NYSE:IBM) as the epitome of "old tech." Gone are the days of hardware manufacturing as the company has reinvented itself into an IT service company. IBM now has one of the largest armies of IT consultants in the world and often competes head to head with Accenture (NYSE:ACN). We wrote about Accenture back in September 2012 when we thought it was the best technology dividend play (Accenture May Be The Best Dividend Play In Technology). It has since climbed to $84.23 and recently closed at $79.64. With a dividend yield of 2.34%, it still has a higher dividend yield than IBM. But I think that it's finally IBM's turn to shine.
Accenture has clearly had better results over the last couple of years with over 9% revenue growth compared to IBM's flat results. But EPS estimates for this year are indicating signs of life for Big Blue. EPS growth is expected to be 18% for IBM while Accenture is only looking at 4.7% growth. Next year those estimates go up to 20% for IBM as earnings growth accelerates.

Source: Morningstar
At current valuations, investors may do well to swap out of Accenture and invest in IBM if you are looking to take some profits and keep exposure to the IT services industry.
IBM looks cheap on both a P/E and forward P/E basis as well as relative to its five-year average. Combined with EPS growth in the double digits and you could potentially have some nice returns from "old tech."

Source: Morningstar
IBM currently trades at a discount to its intrinsic value. With EPS estimates in the double digits and expected growth at 10%+ over the long term, the stock can potentially generate a 17% annualized return over the next five years, as the stock price climbs to $434.10 and the dividend grows to $6.48 per share.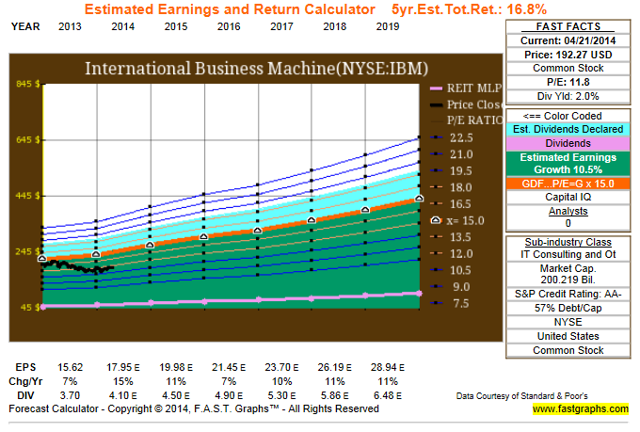 With these types of numbers, it looks to me like IBM is back on the buy list while Accenture takes a breather. While the stock has pulled back in the last week, it looks like the 50-day moving average has crossed the 200-day moving average, which could be a good sign of an entry point.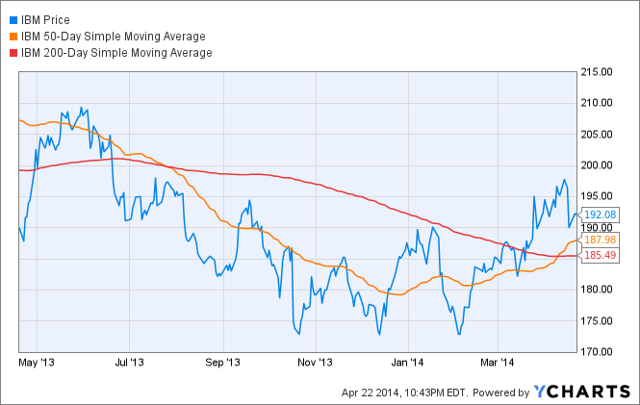 I wouldn't suggest investing in any stock simply by evaluating charts, but if you're positive on a stock, as we are with IBM, technicals can indicate good buy and sell points. As I already mentioned, IBM is a buy, and it is currently at a nice entry point.
Disclosure: I have no positions in any stocks mentioned, but may initiate a long position in IBM over the next 72 hours. I wrote this article myself, and it expresses my own opinions. I am not receiving compensation for it (other than from Seeking Alpha). I have no business relationship with any company whose stock is mentioned in this article.